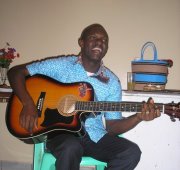 The first thing an Akere-Maimo aide would tell you is that they enjoy the soft-spoken nature of the young communicator. Others have described him as a gentleman who is intimately attached to whatever job he is doing. His glittering smile quickly attracts attention, but his intellectual strength puts this lover of arts on the rails of the communication profession Akere has chosen. Even at the Yaounde-based Malaria Consortium-Cameroon Coalition Against Malaria (MC-CCAM) organization where he is Advocacy and Communication
Officer, colleagues would confirm Akere breeds ingenuity. Yet, fewer know the Health Communication specialist is a talented singer, who is soon emerging with a maiden album. He can occasionally be caught at a Yaounde Monte Juvence recording studio packaging what will be an explosive LB in the coming months. TIPTOPSTARS' editor Ernest Kanjo strolled into Akere's career to find out more about his project. The chat with the Sacred Heart College Mankon SHC old boy was exciting.
Ernest Kanjo (EK); Hi Akere!
Akere-Maimo (AM): Hello Kanjo! Thanks for granting me this special interview.
EK: Could you trace your way into the world of art
AM: It may interest you to know that I grew up as a multi-talented child – a child prodigy so to speak. While at primary school in Small Mankon, Bamenda where I had Ibo friends, I outsmarted them in pencil drawing. That is to tell you I began this art journey with Fine Art as the key driver. In fact, I was born with the silver pencil as Kedia Basebang once described me on his show, World of Art on CRTV's Mt Cameroon FM. While I continued my primary school education in my mother's village, Nkar, I learnt how to draw on trees, presented artworks for school handwork evaluation, practised the juju dance and crafted my local guitar at the tender age of 7. I was quite enterprising as I made some money out of this divine gift thanks to my mum and family friends. The story goes how I held the school spellbound and almost destabilised manual labour in St Mary's Catholic Primary School, Nkar due to a 500 FCFA bank note I drew. The entire school population and even the H/M were startled with such artistic wonders. My grandfather however advised me to steer clear of drawing bank notes because it could lead me to counterfeiting.
EK: For how long have you been in music?
AM: Let's see what my mind has in store. Yeah! I remember I composed my first song Golden Love when I was in Form I in Sacred Heart College Mankon, fondly called SAHECO City). By Form 3, I'd already started trying my fingers on the guitar with the help of Rev. Fr Martin Forgwe of PAF-MAF, Ndifonka Terence of Wax and Rev. Br Oliver of Marist Brother. In Form 4, I did my first complete song Just A Little Wonder, which eventually became a hit song in school and performed live during the 1999/2000 House Feast, a traditional student party that united both Sacred Heart College Mankon and Our Lady of Lourdes College Mankon. Credit also goes to the members of the group 4 in Million with whom I performed this song. They were Vanjo, Nzanche, Christo and Minimus.
To cut the long story short, I can say I started professional music as the school choir conductor in 1999, working in close collaboration with Nchanji Nfor, who was the Music Prefect at the time. Later on, when I left for high school in St Sylvestre College SASYCOL, Sop, I cumulated the post of Labour Prefect, Dormitory Captain and Singing Prefect. There, I met Rev. Fr Kisi Romanus, who thought us songs from the St Thomas Aquinas Major Seminary. Since then, I have worked a lot on my own and sought professional advice from artistes such as Ottou Marcellin, Fon Larry, Richard Kings, and so on. So, as you can see I have had more than 10 years experience in music.
EK: What inspired you into music?
AM: A tough one there! Well, what marvelled me when I got into the prestigious Sacred Heart College Mankon in 1994 apart from the academic prowess and excellence it has always exerted, was the singing or if you wish music in general. There, the students don't only study, but they sing and practise all forms of sports – all of which makes for an integral education. Contrary to public opinion that SAHECO is all bookwork and A grades, I bet you the school has produced some of the finest men of art and letter. Remember that all work without play makes Lum a dull girl… haahaha… I'm not stupidly proud to say I'm one of them, but I owe my source of inspiration to this great school. This I say, thanks to the Marist Brothers who gave us the fine voices to sing and taught us how to play the instruments. I also thank my classmates for recognising that special talent in me. This gave birth to a unique nickname they gave me in Form 3, Minimus, inspired from a creative character in George Orwell's Animal Farm.
EK: What genre of music do you do?
For now, I'm into variety, but I'll later on specialise in what I term "Njang Magic". This is grass fields soul fusion of Cameroon. It's a melange of sorts; a kind of soul music blended with traditional roots of the Njang rhythm and seethed with revolutionary messages. It is revolution music, music for change or advocacy, some say Reggae sung in Njang... It's relatively new, an idea I've carried on for quite some time and through which I want to sell the rich cultural values of the grass fields people of Cameroon, especially those from the North West Region. In fact, as an artiste I've learnt that you can only sell best if you brand yourself and are unique in your artistic style! Interestingly, I prefer to sing in Pidgin English and at times employ dry humour and satire to say the kind of things I feel the common man can easily understand and relate to his day-to-day life.
EK: How many songs have you composed so far?
I'm counting about a hundred songs I've written so far and twenty I've recorded.
EK: What are the themes you often exploit in your songs?
I sing about change. I sing about societal issues that plague Africa such as poor leadership, bad governance and malaise. I'm concerned about people's welfare and I advocate on their behalf for their problems to be addressed and redressed through my songs. I also sing about love for God and man, as I believe love is the only ingredient that gives life value and makes the world a better place to live in. I sing gospel music through which I profess the God's words as found in The Bible and what he reveals to me.
EK: When is your maiden album coming out?
AM: Early next year. I cannot give you a precise date as I'm still in the process of completing the album.
EK: How many tracks comprise the album?
14 songs!
EK: How long has it taken you to package it?
AM: More than 8 months.
EK: Where are the songs recorded?
AM: Choros Evangelorum located at the Yaounde Monté Jouvence neighbourhood. It is a new musical studio managed by a crew of talented guys.
EK: Who were the sound engineer and crew members?
AM: Philip of 7 Signs and Elvis: they are the guys with the diamond fingers and Mayeul TT, the overall boss supervising all projects at the studio.
EK: Any plans to do a public launch?
AM: Hopefully as soon as the album is released. I'm yet to figure out the logistics and organising team for such an event.
EK: Where did you get support to produce the album?
AM: Ugh...mmmm! To be candid, I'm self-funding my first album. Yes, I received a lot of moral support from loved ones and friends. However, I intend to sell the project to possible investors as soon as I'm done with the specimen of the album, call it maquette as the French would or demo. I'm still at the recording stage, there is mass production and marketing still coming up.
EK: Which is the production house/record label credited with your first album?
Unfortunately, none except you will suggest one for me.
EK: Worked with some artistes? Which ones?
AM: Yes. There are a host of them. I worked with Christel Yomo and Komty who featured in my first Obama Super Single. I have also worked with Rev. Fr Martin Forgwe of the PAF-MAF Brothers, Nde Ndifonka Terence (Wax), Fon Larry, Ottou Marcellin, Ateh Bazore, Richard Kings, Tiret Flash, etc.
EK: How do you intend to do promotion?
AM: Great question! I have a strategic communication plan worked out in which I'll like to make use of the mass media and social networks , call them SNWs such as Youtube, MySpace and facebook. I also intend to create an interactive website for the project through which I will be able to interact with fans and be able to sell my songs online.
EK: Any concerts envisaged?
AM: Yes, as soon as the album is ready and if I'm sure of the necessary logistics.
EK: Videos?
AM: Of course! Here I'll like to work with real professionals to come up with two or three clips that are really exceptional and that can be broadcast on popular music channels such as Trace, Africa Magic and Channel O.
EK: Foreign market plans??
AM: There are possibilities but that will depend on a number of factors. Having a reliable distribution company or agent who can handle that and with the appropriate distribution mechanism and competence to do the job.
EK: Apart from music, what other skills do you have?
I do graphic art, which tells you why I did Advertising at the Advanced School of Mass Communication, ASMAC, University of Yaounde II. I've worked as an illustrator for publishing houses like the Buea-based ANUCAM Educational Books. I'm very gifted in spatial reasoning. And don't be surprised if I become an architect some day with my innovative ideas for tourist homes and leisure centres. I love poetry and creative writing as a whole. I have more than 100 poems to my credit and a novel School Boy on which I'm working. You must have noticed I used to do a lot of writing as a freelancer while at ASMAC. I worked as Yaounde Bureau Chief for The Entrepreneur, corresponded for Profiles Magazine, EDEN newspaper, among others.
EK: Your artist's name?
AM: My friends call me MINIMUS but I prefer AKERE-MAIMO as it is unique and identifies me for who I'm and is telling of where I come from.
EK: Your hobbies…
AM: Travelling for tourist purposes and adventure, cooking, coaching, spending time with family and kids, investigative reporting, creative works, project coordination, etc.
EK: Your height…
AM: 1.6 m
EK: Role model…
AM: In music, I have many of them who inspired me: Henry Dikongue, Lokua Kanza, Richard Bona and Fon Larry. In my writing, I think of Professor Bernard Fonlon, Bate Besong, Bob Marley and Mahatma K. Gandhi.
EK: Origin…
AM: Meta and Banso.
EK: Educational background…
AM: I am a BA holder in Mass Communication (DSTIC) from the Advanced School of Mass Communication (ASMAC), University of Yaoundé II. I am currently pursuing an Masters Pro in Health Communication in the same academic institution and intend to take on another Masters in the nearest future.
EK: How do you manage music and work?
AM: I managed the two with much ease. I started doing that back in school and fast grew up with the two incorporated in me. You know, it is a question of setting up priorities at a given time and giving each activity its value and place. When it is time for work I make sure I put in my best to achieve the very best of me and when it is relaxation time, I do same. But at one point in time, your passions or talents may have an overriding effect on you such that you may forget everything else! I experienced that as a child and student, but now I'm more disciplined and do the right things at the right time.
EK: Your ambitions in music…
AM: I hope to invest in showbiz and promote young talents from Cameroon by helping them to sail to heights through my own brainchild, talentzAXIS. With the wealth of professional experience I have gained so far, the people I've known and my God-given talents, I'll like to manage things from the rear as best as a Producer. Besides, many problems emanate from showbiz in Cameroon because many people don't understand the dynamics of the industry and fear to dare by investing in the sector. Being a producer and art promoter, I'll certainly shine the light for many rather than see myself like that artiste who cares more about his fame and money. Come to think of it, you can only make real money by investing in people, talents if you wish.
EK: Any other information you'd like me to publish about you?
I'm the Advocacy & Communication Officer of the Malaria Consortium-Cameroon Coalition Against Malaria, MC-CCAM, based at the Bastos neighbourhood in Yaounde. I've worked there since April 2008. I'd a one-year contract with the Network for Adolescents and Youths in Africa (NAYA) as Media Consultant from October 2006-2007. I'm the founder and president of talentzAXIS created in September 2003 as Silverline. I'm also a founding member and Cameroon's focal point of the African Association of Communication Directors (AACD) created in 2010 at the Nelson Mandela Foundation in South Africa.
EK: Thanks for talking to TIPTOPSTARS!
AM: It was a pleasure Kanjo, I wish several of such occasions come up so that we can share what we do with the public. Congrats to TIPTOPSTARS on its great effort to promote the entertainment industry in Cameroon.