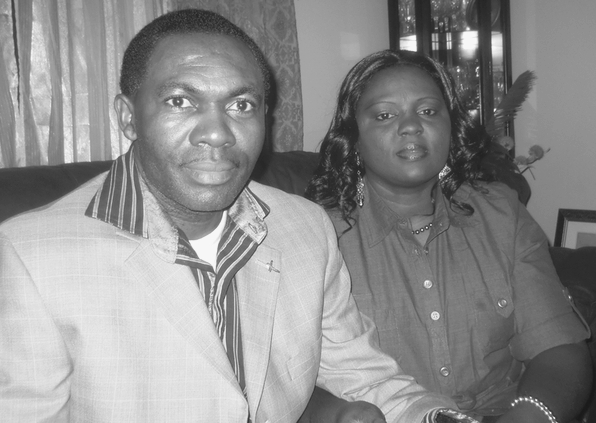 Hitherto described as embryonic, the Cameroonian film industry seems to be multiplying paces in a bid to embrace maturity. From every indication, it will sooner than later bid bye to this youthful stage in which it has for long dwelled. The indisputably speedy evolution of the seventh art in a country endowed by captivating original stories is now a fact every book maker finds delight in pointing out. Perhaps, that explains why in the past couple of years, there has been an exciting improvement in Cameroon's filmmaking business both in quality and in quantity. If this positive twist of events has transformed many into liking movies, it has also re-ignited dreams of potential stakeholders, especially people who were born in one, two or more skills in the art. That these potential players are now served with huge dozes of inspiration is no longer doubtful. Rather, they are fast emerging and getting set to take the first class compartment in the filmmaking train as it rails on towards success. Two of such people, inspired by this recent trend are Mathew Eyong and Mercy Etta. They are a young Cameroonian couple living in Ohio's chief city, Columbus in the Midwestern region of the United States of America. Incidentally, husband and wife share the same filmmaking vision. Mathew and Mercy have hosted a drawer of stories for quite some time and now think it is time to start telling them to a seemingly film-hungry Cameroonian audience. How to translate them into likeable movies is just what the two have up their sleeves. Mercy even goes beyond telling the stories by way of writing – she would also do that in the form of set performance, a thing she had attempted but prematurely halted due to her re-location 10 years ago to the USA. In the coming weeks, the determined couple will move from just ordinary observers and story hoarders to professional film producers. This is thanks to an up-coming movie project whose décor is currently being set. Interestingly, they are hitting the film production lane on a good foot – co-producing with Agbor Gilbert, today known to be one of the best-selling and most influential producers in Cameroon. The said project, billed for early 2013 was the prime reason for the producer of Before the Sunrise's recent visit to Ohio. Soon after, TIPTOPSTARS' Editor went digging into what stuff this movie-loving couple were made up. The discovery is what we find in the EXCLUSIVE WITH ERNEST KANJO (EWEK) interview conducted with Mathew and Mercy at their East Columbus residence. Excerpts!
Ernest Kanjo (EK): Hello husband and wife! Thanks for letting TIPTOPSTARS into your home.
Mathew: It's a pleasure to have you here. You're welcome!

Mercy: You're welcome Ernest, do feel free.
"We're partnering with Agbor Gilbert"
"We're psychological prepared to get into movies"
"Writing to me is God-given"
"I first went on set fifteen years ago"
EK: I hear both of you are nursing plans to serve Cameroon and the world with a must-watch movie in the coming months…
Mathew: That's correct Ernest.

EK: And I also hear Agbor Gilbert is part of this project…

Mercy: True!

EK: Could you tell me more about this project?

Mathew: Well, as you must have heard, Mercy and I have decided to get on board movie making by producing our first ever film. Shooting kicks off early next year in Cameroon, but we had since laid the groundwork. It's going to be just another Cameroonian movie whose story, we promise would have an indelible impact on the audience. We won't like to let the cat out of the bag so soon by announcing the title of the movie, but the one thing is clear - it shall be a co-production with one of the country's most renowned producers, Agbor Gilbert.
EK: Why Agbor Gilbert?

Mercy: It's true several other Cameroonians have been doing stuff and of course great stuff. It just so happened that my husband and I had been keen on this young producer because he kinds of presses the button harder and does things in an extra-ordinary way. We have taken time to watch his productions over and over and we think he is a daring producer who has a great vision. We got fascinated by his works and thought we could partner with him as we make our entry into the business. Gilbert is great and has distinguished himself.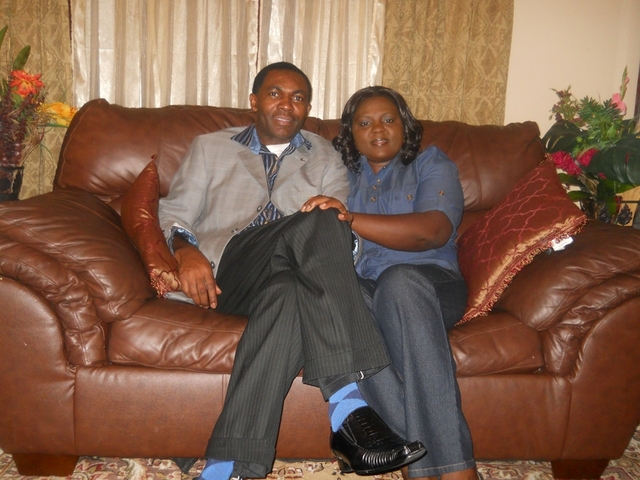 EK: We know Gilbert to be such a humble young man, yet stars like him are at times difficult to meet. Just how did you get him over to Ohio?

Mathew: Fortunately, we came across someone who has been Gilbert's peer for quite some time and through him, we got to the producer. Initial telephone conversations set the pace for the project, but the deal was cemented when Gilbert visited America in July for the Cameroon Entertainment Awards. He came over to Ohio from Maryland where he was putting up. During his two-day stay here, we held discussions on the project and I think the result of these meetings will be found in the movie we are about to produce.

EK: This is going to be a first-time experience, yet film production is not chocolate. Do your hearts beat a little faster?

Mercy: Certainly not! We knew somehow that someday, we'd get into this. So, we had since embarked on a gradual psychological preparation and now we are ready to go.

EK: Just how much are you investing in this project financially, materially and human resource wise?

Mathew: We know of course that film production is huge investment. We cannot say exactly how much money we're going to throw into it, perhaps we'll tell you what we would have spent at the end of the day. What we also know is that it is going to be a huge mobilization of people and material, but we trust God will make all of this possible.

EK: Who is the author of the story?

Mercy: Mathew.

EK: Ok…

Mathew: But my beloved wife helped me with most of the secretarial work in the writing process. She also re-directed my ink flow wherever she thought the story needed to be updating. I must laud her for that.

EK: Where will the film circulate?

Mercy: In Cameroon, Africa and worldwide.

EK: Now, let me take you back to where this whole thing began – where did the interest in writing come from?

Mathew: I think story conception and writing is an in-born talent. I'm actually God-given in this and cannot talk of any formal training in writing. Along the years, I have exercised this art, but paying little attention to it. I have a good number of stories lying in the drawers and many more are still hanging in my head, looking for the slightest opportunity to come out.

EK: Mercy

Mercy: I was born in cinema. It would please you to learn that my dad was one of the first cinema hall managers in Mamfe town. Each time he did a previewing of new films, we would rush in and watch them, making us to have a fore taste. However, my active contact with this art dates just a few months back when I conceived and wrote a drama piece on the challengers of believers living in the diaspora for my Church's convention. When it was later performed on stage, it dawned on me that I could do well in the domain. Since then, my ink has been flowing.


EK: For how long has Mathew been writing?

Mathew: I have been writing since 1997, but my first attempt at a film script was in 2001.

EK: And what are the themes you exploit when writing?

Mathew: I get inspired by daily happenings, but would rather go for stuff that would leave a moral lesson on the audience. I do well to impact Christian values on my potential audience.

EK: Mercy you show signs of acting…

Mercy: That's true Ernest. I got inspired by watching several movies, some coming from Nigeria. As a young girl back in Mamfe, I performed in drama and sketches, but my mind was far away from acting in movies until a singular opportunity propped up in 1997. I and a host of others were co-opted in a Christian movie shot by our Church. The producer might not have completed the post-production of the movie by the time I was leaving Cameroon, but I played in it though.

EK: And how would you assess that maiden performance of you?

Mercy: Hahahaha, Ernest, that was fifteen years back and I cannot re-collect all what I did in the movie. I wish I watched it to be able to tell you.

EK: Fifteen years on, what makes you think you can still act?

Mercy: My husband and a host of other nice people around see acting in me and strongly believe I can make it on set. This encourages me quite much and I can't wait to get in front of the camera once again.

EK: And Mathew, could you tell me about your relationship with movies?

Mathew: It started like a childlike curiosity when we would excitedly rush to watch open-air film projections. However, I grew up liking movies and with the coming of Nigerian films, I was drawn closer to the art. I easily became a fan of Clint Eastwood, Arnold Schwarzenegger, Jean Claude Van Damme, Sylvester Stallone, Eddie Murphy, John Wayne, Tyler Perry and Angelina Jolie. From Nollywood, actors such as Pete Edochie, Ramsey Noah and `Zack Orji won my heart.

EK: You sound as though you would dive at any opportunity to perform on set…

Mathew: Stop pulling my legs Ernest…hahahaha. Sure I love to act, but I'd rather make a name in writing first.

EK: Tell us more about Mercy when she was in Cameroon

Mercy: I lived in Mamfe my home town. I did technical education and later studied computing before becoming a secretary. That's the job I did until I left Cameroon ten years ago.

EK: Mathew…

Mathew: I grew up in Nchang, my village, situated in Manyu Division in the South West region of Cameroon. I lived in Victoria, Yoke, went to the University of Yaounde I and its Higher Teachers' training School, known the French acronym as ENS, from where I graduated with a diploma otherwise called DIPES II in Philosophy.

EK: As we round off our chat, may I know what your hobbies, best Cameroonian traditional dishes and colours are?

Mercy: There you go again…hahahahaha! My hobby is dancing to gospel tunes. On my goods you'd find me dressed in purple and if you want to be my friend on such days, serve me with a sumptuous bowl of khoki and plantains.

EK: Yes, Mathew…

Mathew: You can always catch me singing during my leisure. That's my hobby. The day you see me in blue which is my favourite colour, lure me with khoki and plaintains. I can bet for this dish.

EK: So, husband and wife have a weakness for khoki…well, thanks so much for letting TIPTOPSTARS talk with you. All the best as you put things together for the up-coming film project.

Mathew: It was a pleasure talking with you Ernest.

Mercy: My gratitude, do come whenever you need more information, we are always available. Kudos to TIPTOPSTARS!