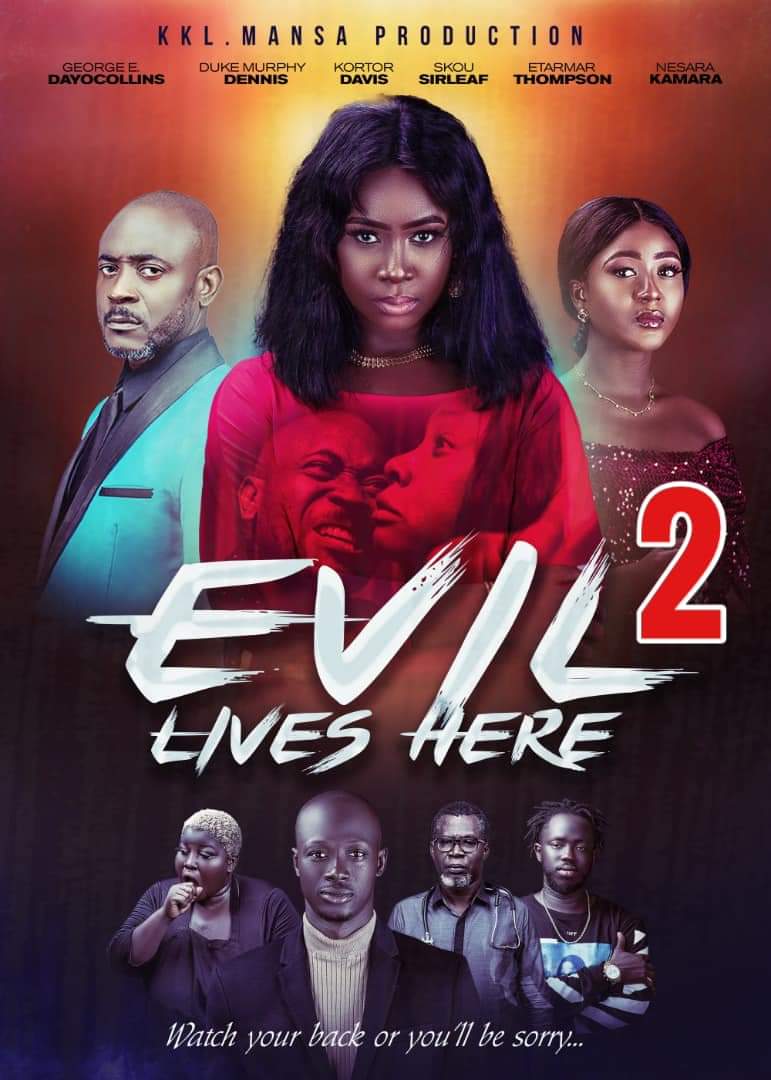 One story, two effects! Yet, a completely told story! This best describes Korto Davis' EVIL LIVES HERE and EVIL LIVES HERE 2, produced by Knock Knock Liberia/Mansa Entertainment.

If EVIL LIVES HERE and EVIL LIVES HERE 2 were going to be Korto Davis' only works, then the film director would have obtained an exceeding score in her career. In the story, Korto cinematically plays with ingredients that are required to create an indelible impact on the viewer – images, sound, shots, signs, and symbols and above all, artists' performance. But what the filmmaker stands out with is her ability to deploy cinematic language that pegs squarely in the respective phases of the story.



EVIL LIVES HERE



Though evil is the dominant theme in the story, the filmmaker reduces its impact in EVIL LIVES HERE (first part), perhaps to delay its occurrence and not to turn off subtle-hearted viewers. Could this be deliberate contrast? Otherwise, notice the opulence – status conferral cars, gorgeous attires, good times (party), highlighted in the movie's first phase.

Korto delays evil further with the conspicuous use of red, a color that represents love. It is not by chance that red dominates Kay's (Sekou M. Sirleaf) middle-class living room where he dines with his love captive. Just one example!

Since the ugly head of evil is yet to protrude, the filmmaker courageously goes with bright lighting throughout EVIL LIVES HERE, making great use of exterior scenes in the process. This is another contrasting technique to delay the pending evil.

Perhaps, more dialogue than anything else characterizes this first phase of the story. It is either Kay, engaged in lengthy conversations with Eva Freeman (Ertamar Thompson) or Roda Freeman (Korto Davis) with Frank (George E. Dayocollins). It is either Frank in exchanges with Vera (Nesera Love Kamara) or Robert (Musa Sheriff) and Roda Freeman frantically trying to make it work to no avail. If for nothing else, the story's visioner uses dialogue to lay a firm foundation for the ensuing revelation.

Meanwhile, the artists' performance in EVIL LIVES HERE puts the story at the top. Notice Eva Freeman's composure, Roda Freeman's eye-twisting gestures, Kay's admirable telegraphic movements as he revolves around his car to ferry his boss along, Vera's comic, yet respectful servant gesticulations, etc. Record high, isn't it?




EVIL LIVES HERE 2



Korto Davis wears her film directing garment in EVIL LIVES HERE 2 like never. She changes modes and moods and engages in a go-getting mission with her know-how.

The maiden flashback where Kay and his soulmate wrap up preps for the much-awaited wedding, is enough to explain why it should attract the gruesome elimination of Eva by her jealous 'sister'. The director is going to use more of such flashbacking techniques which would lay the bricks of suspense (in a plot that could be deceptively revealing) throughout the story.

Notice Korto's technique in effectively reflecting dialogue with creative acts and/or gestures. When Kay meticulously displays an admirable blend of laughter and cry (6.40m – 7.38m), it is a translation of the good and bad embedded in Dr Russ' (Duke Murphy Dennis) revelation that excitement (positive) could cause death (negative). Also, no technique can be more effective than Roda Freeman's willful release of flatus to paint disgust wrapped in Frank's desperate attempt in puncturing her egoistic plans.

But hey, the filmmaker won't let go signs and symbols that depict the movie's environment – evil. Notice the sharp syringe and imagine the pain – the knife which is going to be Roda Freeman's aide to face out (unsuccessful) out housemaid Vera – the sacrilegious/incestuous kiss with a to-be brother-in-law – the fatal liquidation of a husband! The symbol of Voice Mailing (VM) is perhaps Korto's way of painting a veritable picture of modern-day communication where nothing seems to be hidden under the sun. Even when Vera's recording is deleted, it has been backed up somewhere. Communication tech on display!

If EVIL LIVES HERE 2 is a cinematographic success story, it is largely thanks to the director's awesome romance with shots. Korto pinches on long shots, plays so well with mediums, but her strength is clearly seen in close-up and extreme close-up shots. Check out Kay's dingy mood 20.25m – 20.27m), Vera's devastating posture (25.10m - 25.34m) Kay's yelling (39.38m - 39.45m). Perhaps, Ansu K. Sirleaf's (cinematographer) award-winning shot comes at the movie's last scene (41.01m – 41.05m).

Other filmmaking techniques used in EVIL LIVES HERE 2, put the director on the high, including the originally composed sentimental sound tract that strongly bond with the somber moods that run across the story. This ties up with the solid dark costumes that characterize all scenes of the movie, except a few.



EVIL LIVES HERE

is an urban movie that tells the story of a wealthy family's adopted daughter who ruthlessly terminates her younger sister (and others in line), in protest of an unfavorable decision on their family company. Directed by Korto Davis, the movie is shot on locations in Monrovia, Liberia, starring Korto Davis, Ertamar Thompson, Sekou M. Sirleaf, George E. Dayocollins, Nesera Love Kamara and Duke Murphy Dennis. It was first released in March 2023 and is currently available on YouTube.



ABOUT THE WRITER



Ernest Kanjo is a USA-based Journalist and Writer with an interest in arts, culture, and entertainment reporting. He is founder of Apex 1 Radio – www.apex1radio.com and Editor-in-Chief of TIPTOPSTARS (online entertainment magazine) – www.tiptopstars.com. Kanjo has written extensively on the Cameroonian film industry and has several awards from his works in film reporting. He is currently undergoing training in film criticism.

Also find review of Nkanya Nkwai's SAVING MBANGO (now streaming on Amazon Prime Video), produced by Stephanie Tum and Neba Lawrence's TROUBLED KINGDOM, produced by Mairo Sanda and Fred Keyanti, at www.tiptopstars.com

, written by the same author.