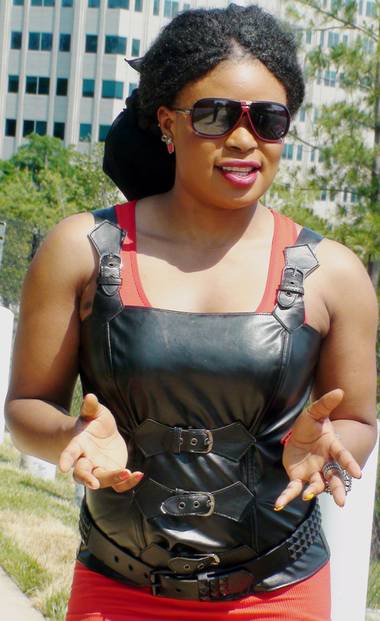 "I'm a trained director" -"I'm intuitive, free-flowing on set"
"I co-produced all Kamwood movies"-"36 websites streaming Kamwood Girls Show"-"I'm unleashing humanitarian actions by the close of 2012"

It's common knowledge that Cameroon is experiencing an exciting evolution in its entertainment industry. Within the last couple of years, a generation of extra-ordinarily talented young artists has been the reason for this progress, leaving no one indifferent. Some of these young people have distinguished themselves, attracting huge attention in the process. One of them is Trina Takoh. Living in Maryland, USA, Trina is a rare example of a multi-talented artist who would jack in everything, yet masters them all. The fair-complexioned entertainer form the North West region of Cameroon is an oral artist par excellence, yet Trina's pen produces sweet notes on film scripts. The young writer who also produces is trained to call the shots behind the camera on movie sets. "I'm a trained film director," she confirmed. Perhaps what makes Trina stand out is her contribution to growth of her beloved (as she puts it) country's entertainment industry, expressed mostly via acting and hosting of TV shows. Through these two artistic expressions, she has easily propelled herself to stardom and now enjoys a comfortable following from lovers of showbiz. In short, Trina shines, but does not lie on her laurels. "I think I'm still at the debut of my career and so I work hard to improve on my performance every day," the talented actress who has featured in several movies humbly explained. Trina was talking to TIPTOPSTARS all the way from her home in Maryland. In the chat, Editor Ernest Kanjo sought to know more about her experiences in movies, in TV hosting and other related areas. Here are excerpts of the interview with the co-presenter of Kamwood Girls Show.

Ernest Kanjo (EK): Trina, you're welcome to TIPTOPSTARS. At last we got in touch with you…

Trina Takoh (TT): Thanks very much. I'm glad I also got to you…hahahahaha!

EK: We know Trina as an excellent actress and a TV host, what else do you do in the domain of arts?

TT: I am a script writer, producer and also a trained director.

EK: That's good to know.

TT: Yep!

TRINA THE ACTRESS

EK: For how long have you been an actress?

TT: Four years.

EK: What inspired you into acting?

TT: I was obsessed with Vivica Fox, Janet Jason, Omotala Ekehinde and Nadia Buari, my favourite actresses. Each time I watched these actress, I developed a burning desire to be like them and why not beat their records. Then gradually, they inspired me and I was left with no other option than hitting the acting road myself.

EK: Tell us how you got into professional acting?


TT: I knew I was God-given in the art of acting. With the unending passion I had for it, I was determined to become an actress. Soon after my education in Nursing, I decided to pursue my dream of acting. I enrolled in several acting programmes from where I had adequate training. Upon completion, I headed for the set without any waste of time.

EK: Which is the first movie you did?

TT: Registered Nurse was my first movie. It was really my major breakthrough.

EK: Tell us about your first experience on set?

TT: My first experience on set was horrible, but I figured myself out fast enough to avoid messing up the golden opportunity I had to market my skills. I experienced first-time fright just like any other actor would do, but realized I had to relax. I told myself I could make it. I mustered courage and soon after the tally light beckoned on me, I delivered my lines, accompanied by the necessary gesticulations. My director was like 85% satisfied. Since then, it has been my thing and I derived an inexplicable pleasure each time I'm on set.

EK: Which are the movies you've featured in this far?

TT: Registered Nurse, American Visa, Freedom At 18, Step Mother, Taxi Driver, Drama Queen, Jealous Wives, American Marriage, Sister-in-Law, My Own Blood, African Man, Faithfulness.


EK: Which has been your most challenging acting job and why?

TT: Sincerely Ernest, I don't think I have had to go through any challenges. This is because I don't see them as challenges. I'm a very prayerful person. I believe so much in God and it seems like everything just falls at my feet. God has always seen me through. Talent is basically a gift from God and since my performance is as a result of that, I adapt very easily to different roles in my movies. I'm truly blessed with rich talent and deep passion for acting.

EK: What makes Trina a good actress or what would your strengths be?

TT: I have diverse skills and tools that allow me to tailor my approaches to the unique needs of each actor or actress. My perceptive communication skills also allow me to use my unique style of acting, which is free-flowing and intuitive. When working with directors, producers and other actors, I'm very supportive, flexible, clear, direct, creative and inspiring. I have great interest and passion for acting and I cherish making people happy. When people call me and tell me they were entertained by my movies, it makes my day. In addition to the job satisfaction, I derive much pleasure by doing what I love to do.

EK: What do your directors and producers say about your performance?

TT: Some have said I'm extremely connected, knowledgeable, well-trained, flexible, smart, articulate and authentic with the required confidence of a good actor. They have said I should consolidate my personal approach to working with other actors and actresses in a location and on set.

EK: What are your ambitions as an actress?

TT: First, I aim at becoming an actress who unifies the entire industry. Secondly, I'm on an onward trend of becoming a role model to young Cameroonians who would wish to be like me and do the things I have done. I'm working assiduously towards achieving that. Also, I aim at going beyond Africa and hitting the world movie stage.

EK: What would you tell aspiring actors?

TT: I'd encourage them to keep building themselves and believing in what they can do. They should be positive in their thinking and remained focused. Their dreams will definitely come true if they did that.

TRINA THE PRODUCER

EK: Tell us about Trina as a producer.

TT: I co-produced all Kamwood movies and The Kamwood Comedy Show with my father. As a movie producer and director, I can't think of anything bigger than such a service I'm rendering to my beloved country Cameroon.

TRINA THE TV HOSTESS

EK: Tell us how you became a TV hostess and how the experience has been

TT: Well, it so happened that the opportunity came and I had to grab it and become a full-fledge TV hostess alongside acting. It's been a good feeling so far with an inspiring positive feedback from the audience.

EK: What issues do you address in Kamwood Girls Show, if we may limite ourselves to this one and why that choice?

TT: We tackle several social issues including relationships, marital issues and in the course of the show, provide tips, suggestion and advice on how couples save their relationships and prevent divorce. I would say here that we devote much time on marital problems because there seems to be a whole lot of things our people need to know to avoid conflicts. We have also realized that managing conflicts in relationships can be an arduous task for many couples especially if neither of the partners is willing to take a step back and discuss things with an unbiased approach. Nevertheless, regaining the former love and bonding in relationships is possible. Instead of feeling miserable in a bad relationship, find a definite solution to your problems and be happy once again. Unhappy relationships are frustrating to handle and they can be a constant source of frustration in life. So before worries take a heavy toll on your life, why not take corrective measures to wipe out their existence? As communicators, we think it is our role to educate the masses and in the process, we contribute enormously to social development.

EK: Just how far do your shows go and with what impact on its audience?

TT: My shows have found a wide and varied audience all over the world, with viewership increasing everyday. We have 36 websites streaming our shows in and out of America.

EK: Who is your role model in TV hosting?

TT: Oprah Winfrey

TRINA AND CHILDHOOD UP-BRINGING

EK: Tell us about your childhood up-bringing.

TT: My childhood up bringing was a little bit of struggle. I still owe a lot to it though, because it shaped my life and made me what I am today. I'm spiritually very happy and the wisdom that I gained through tough times taught me a lesson and made me a better and stronger person.

TRIANA AND HUMANITARIANISM
EK: Any plans to get into humanitarian activities?

TT: Definitely! I have great plans which will surely mature before the end of this year.

EK: Anything else you intend to give back to your country?

TT: Education is what I will intend to give back home, especially to those who can't afford it.

EK: Would you say are a fulfilled artist?

TT: Yeah! Because I could see my dream come true right in the eyes of everybody.

EK: When Trina is not on a movie or TV set, what is shje doing?


TT: She is either dancing or studying. Then at other times she would go swimming. But if I'm home, you'd get an aromatic flavour of ekwang emanating out from my kitchen. Ekwang is my favourite Cameroonian traditional delicacy and I like cooking it. On my leisure as well, I go shopping, but can also settle people down for good counselling.

EK: If I'm getting you a dress, what colour would you prefer?

TT: Hahahaha, that's a smart one there Ernest! I adore read and black, yellow and black, then pink. Give me these colours and you're my friend…hahahahaha.

EK: We appreciate your time. Thanks a millie Trina!

TT: What a wonderful interview, do contact me any time for more information if there is need for it. I appreciate your concern Ernest and kudos to TIPTOPSTARS.