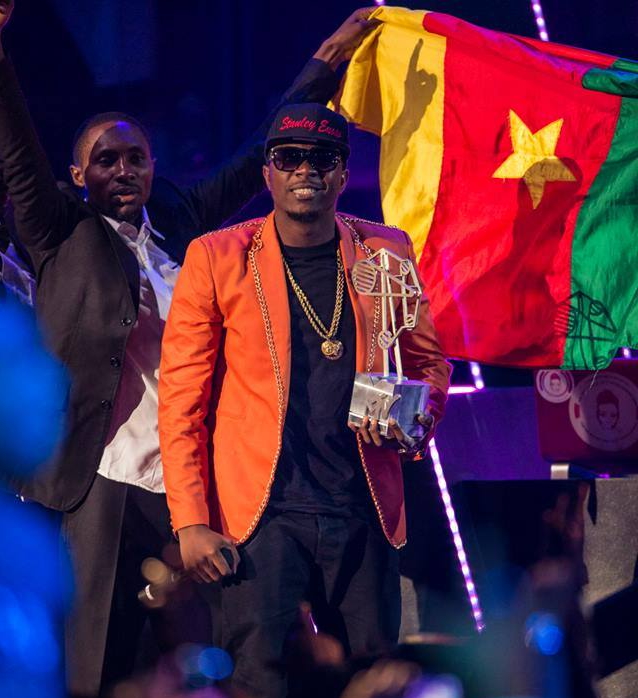 The dust raised by the highly anticipated victory of Stanley Enow in the Best New Act category of the 2014 MTV Africa Music Awards (MAMA) may not be settling any time soon. Reason: Not only is the coveted trophy the first his country is winning at MAMA, but the rap hero himself has been extraordinarily spectacular, with an impressive capacity to capture the attention of an entire people. Since he got to the limelight, the artist who hails from Manyu Division of the South West region of Cameroon has maintained a statasquo observers have agreed has been rare within the Cameroonian contemporary/urban music landscape, at least for the past couple of years. Just like the weeks preceding the pronouncement, Cameroonians as one man have saluted this victory with a lot of pump. "I'm short of words, I'm emotional, I even have some kind of feelings I can't explain," with tears running down her cheeks, one Stanley Enow fan told TIPTOPSTARS in Ohio at press time. Similar reactions can be noticed on social media network. Amongst the people this new Stanley Enow episode is closely related with is UK-based Cynthia Tabe. When we contacted her, the renowned publicist who has manned (she's been described as a woman who does more than a man would) the rap star's communication/public relations to a recognizable level told us she was ecstatic and proud of the result, but very indebted to Cameroonians and their counterparts elsewhere who did not only show love to him, but voted massively for Stanley. Cynthia spoke to Editor Ernest Kanjo on the line to London. Excerpts!

Ernest Kanjo (EK): What was the immediate reaction of Stanley Enow's public relations team soon after the news that the singer had won the MAMA in his category broke?

Cynthia Tabe (CT): The team went jubilating. We screamed for joy. We jumped, we shouted! It was excitement everywhere.

EK: Did you expect this victory and why?

CT: Honestly, we believed we had a chance of winning following the rigorous daily campaign we had embarked on and the ensuing immense support we received from the public. We also kept our eyes on other contestants in the category to see what they were doing. This helped us to position ourselves differently.

EK: Did you talk to the artist immediately you got the news and if you did, how did Stanley Enow sound – describe his feelings…

CT: I did not talk to him immediately since he was in the heart of the event. However, I noted that Stanley was very excited and proud of the outcome. I have to say here Ernest that this young man is a great believer in himself and I'm convinced he knew within him that he was a winner already.

EK: What do you guess would have been favourable to this victory?

CT: The victory, I can say, is boiled down to the daily campaign strategy we initiated and the immense support from the public. Cameroonians and non- Cameroonians alike rallied behind the rap star and when people do that, victory is only imminent. The hashtag #VoteNowHateLater circulating on twitter also played the trick.

EK: Positive reactions keep flowing in from Cameroonians all over the globe. How does that make you feel?

CT: Ecstatic and very proud. We did it. Yes, all of us did it. It was a collective effort.

EK: Stanley Enow is the first Cameroonian not only to get nominated, but to have won the MAMA. What does this mean to his close aides like you and others?

CT: It tells us we have to believe we can. It tells we have to come out of our comfort zones and do things differently to get different results. It is a lesson that we must support one another, push one another, encourage one another. It is an indication of the advantages of having a team with one mindset.

EK: The rap star has also been nominated for the AFRIMMA awards. Do you nurse hopes that he will emerge victory as well?

CT: We are hopeful. However, we will have to rally people to get voting for him. We won't take things lying down.

EK: These awards and nominations could also be considered as challenges to the artist who will be expected to live up to his now made name. What is his team which you are member doing to ensure that Stanley doesn't lay on his laurels, but should rather work harder and achieve more?

CT: Anyone who personally knows Stanley would agree with me that he is not the type who would easily recline on his laurels. He works very hard and is always thinking of how to get to the next level. I call him man no rest…hahahahaha!

EK: Could you brief us on Stanley's schedule at least in the next two months?

CT: AFRIMMA and the US tour are the main things on his calendar. We get things coming up all the time and requiring him. So there will always be other items adding as we go along.

EK: One last word to his fans…

CT: On behalf of the team, I wish to thank you all for riding along with Stanley Enow in this MAMA journey and standing by him all the time. Please take something positive from his blossoming career - believe that you too can.

EK: Cynthia thanks for talking to TIPTOPSTARS!

CT: Thank you Ernest for talking to me and a very big kiss to the TIPTOPSTARS team. We are here because of your support. Keep rocking!
Email: This e-mail address is being protected from spambots. You need JavaScript enabled to view it Tel: 00 44 7834 321 373 Twitter: @Brownschuga / @ModeMaisonPR
Facebook: www.facebook.com/ModeMaisonPR
Instagram: modemaisonpr / Pinterest: MMPR1
www.modemaisonpr.com