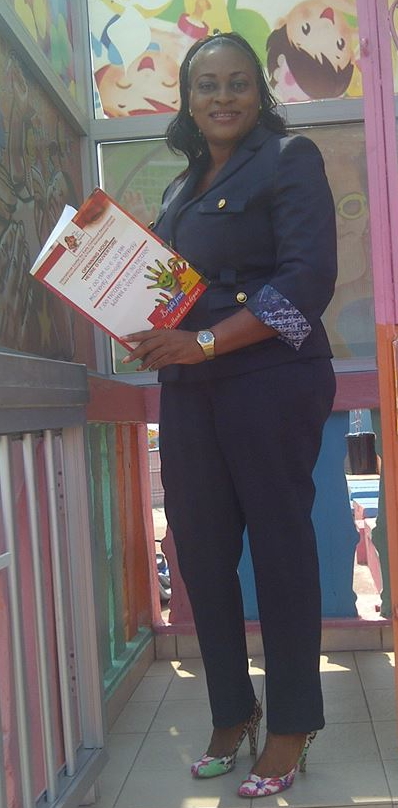 Just like an entertainment celebrity would do in their domain, Miranda Ejang Tatabods pulls heavy weights in civil and social development, specifically in the child upbringing and early education. The former United Nations staff who holds a Masters in International Resource Management and Globalization staff is simply a celebrity in this area! Her strides in child daycare management leave no one in her community indifferent. Her seven-years stay in post-war South Sudan where Mims witnessed the suffering of children as a result of a fault they never committed worked her spirit to spend her life providing the much needed comfort to the latter. The city of Douala (Cameroon's economic capital) now views the coming of MIMS KIDDIES DAYCARE CENTER as one of the country's nursery for future stars in several domains. And that the brain behind this development-oriented project is a person who sees Cameroon's tomorrow through a lens that capture the kids of today, it is worth lauding. We caught up with

MIRANDA EJANG TATABO

and on the line to Douala, she threw more light on her ambition and mission vis-ŕ-vis child up-bring and daycare management in Cameroon. The civil society agent spoke with editor Ernest Kanjo. Excerpts!

Ernest Kanjo (EK): How long have you been in the daycare business?

Miranda Ejang Tatabod (MET): I just got into it. However, my very first paid job ever was at a nursery and primary school owned by my cousin. There, I was a pre-nursery class attendant. It is here that I developed the love and interest in catering for kids, call them infants and toddlers.

EK: How old is the MIMS KIDDIES DAYCARE CENTER?

MET: The doors of the centre opened this January.

EK: What was your immediate motivation to kick off?

MET: The children's world has changed dramatically in the past four to five decades in Cameroon. More recently, economic needs and changing attitudes toward women have altered this situation. Many home makers and mothers have joined the workforce. In addition, the traditional family unit of mother, father, offspring, and the extended family unit of uncles, aunts, and grandparents isn't as dominant as it once was. A child may live with a single parent, with a parent and their friend or grandparents. Today, there's an increasing need for day care. A recognizable percentage of preschool-aged children that is younger than 5 years, in Cameroon, have mothers that are in the workforce. Within a few weeks of birth, many infants have a babysitter or care provider. Most often than not, these babysitters don't have any basic knowledge on early childhood growth and development. Therefore, they'll not be able to give the kind of early childhood experiences the infant or toddler needs or be the kind of role model they need because they didn't get that as well and this will eventually affect the later part of the child's life. Studies have shown that there are certain windows of time during which the young are especially sensitive to their environment. These varying experiences occur during a critical period-the first five years of life. Brain research confirms that the experiences young children have during this period directly affect the total development of their thinking ability, their emotional stability, their personality, and their physical growth. It is when young children learn to develop trust in adults and confidence in them. Trust and self-confidence develop in an environment where the nurturance affectionate care is consistent and steady, where there are appropriate role models, and where there's ongoing continued sensory stimulation. There can be devastating effects on who don't experience this nurturance. Also, lack of affectionate care and stimulation can cause arrested brain development, the inability to bond and form trusting relationships, learning disabilities and memory impairments, poor self esteem, and can prevent the child from achieving the developmental milestones normally attained by children in the same age group.All these put together pushed me to kick off the Mims Kiddies Daycare project.

EK: So what is your goal?

MET: The International Center for Early Childhood Development as MIMS is also called, has developed what I call the Bright-from-Start concept which aims at reflecting on the overall philosophy of the day care and the needs and goals of young Cameroonian parents in the workforce. Our goal is therefore to strengthen the bridge between the parents work and family life by creating a place that supports both parties, call it special, safe and secure or SSS.

EK: What is the current size or current enrollment?

MET: Registration opened only last week so we are looking forward to giving ten percent discount first twenty registered kids.

EK: What are your expectations?

MET: We expect to have a centre that will develop creative spirit in children. We expect to let them have access to a safe and high quality early childhood education that includes a developmentally appropriate curriculum, knowledgeable and well-trained program staff and educators, comprehensive services that support their health, nutrition, and social well-being, in an environment that respects and supports diversity. So, we're bent on developing creativity in kids.

EK: What are the leisure options does the center provide?

MET: MIMS KIDDIES has allocations for leisure activities such as swimming, digging, swinging, climbing, cutting, running, craft work, singing, storytelling, etc.

EK: Where is it situated in Douala?

MET: Behind the Total filling station at Bonateki, Deido. We can be reached at 76189720 or 98120492 or email us at mimskiddiesinternational@yahoo.com

================================================================

Miranda Ejang Tatabod, the woman

Education:

§ Diploma in Child Day Care Management

§ Masters in International Human Resource Management and Globalization

§ Post graduate certificates in International law, Human Rights Litigation and Human Rights Advocacy amongst others


Civil society career:

§ Project Coordinator, Human Resources Adviser, Management Assistant and Child Care Giver

§ Volunteers for Prison Inmates (VPI) – Mbengwi Cameroon

§ Global Network for Good Governance (GNGG) Tiko

§ Volunteer at Youths for the Fight Against HIV/AIDS

§ Human Rights Advocates for the less privileged - Juba, Sudan

§ Church worker (Sanctuary Keeper) – Winners Chapel International Bonaberi, Douala

§ Associated with the work of Orphanages (Orphelinat Compassion)

§ Human Rights Actions Against Child Abuse and UNICEF