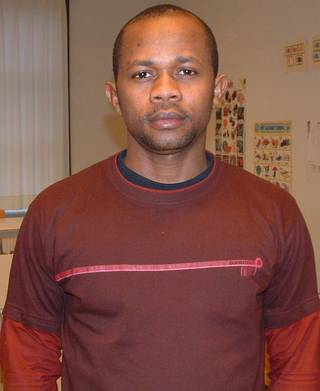 Little did Nanje John's mum knew she was preparing her son to become one of Cameroon's dependable ambassadors in fine arts, when she habitually provided the former with colour pencils. With those pencils, young Nanje designed his life, colouring the path that was eventually going to ferry him to stardom. Then with providence in his favour, he made it to the top. Today, the 1.70m-tall Belgium-based Cameroonian plastic artist is himself a trademark of the painting he had from childhood jealously shared an unconditional love with. When Nanje sweeps his brush across the board, his fingers speak volumes of meaningful things through them. Then, notice how visitors to his installations clinch on them. In short, his paintings are convincingly attractive. TIPTOPSTARS took interest in Nanje's works and decided to visit the young fine artist. In a chat with Titus Banyoh, the 37-year-old painter, born in Kumba, Meme Division of the South West region of Cameroon revealed many things including his source of inspiration, awards and other skills. Excerpt!
Titus Banyoh (TB): Hello Nanje. We are visiting you today.
Nanje John (JN):Then I'm a happy person…hahahaha! Thanks for coming and hope you're doing fine.

TB: Sure, I'm good. Tell readers of our online magazine how you came about painting.
NJ:
It's an in-born skill which was developed and explored to the fullest, thanks to my mum who encouraged me so much, especially when I was a child. She would buy colour pencils for me, sit and watch me drawing. I've been to the Belgian Aalst Arts Academy.
TB: Where do you draw your inspiration
?
NJ:
From my parents.
TB: Trace you way to professional painting.
NJ
: I hit the road in my secondary and high school days, when I won several prizes. I would vividly remember that in 1994, then a student of the Cameroon College of Arts and Science, CCAS Kumba, I won the best artist award at the inter-school competition. I moved to St. Francis High School Kumba to win the same prize two years later.
TB: At the national level…
NJ:
At the national level, I represented the South West region at the 1998 National Festival of Arts and Culture, FENAC in Ebolowa and did same in the year 2000 in Limbe. I got an honorary diploma for my participation from the former Minister of State in charge of Culture, Ferdinand Leopold Oyono of blessed memory.
TB

: Any exhibitions in Europe yet?
NJ
: I have had 14 outings here in Belgium.
TB: What is the feedback from the people around you as concerns your work?
NJ:
They love my works and say, it's special. This kind of encourages me quite much. But I do not lie on my laurels. I try to work harder and achieve better results.
TB: What difficulties do you encounter?
NJ:
None! It's the easiest thing I do, so I do with an inexplicable passion. Painting comes from my mind.
TB: Do you have any projects at hand?
NJ:
I look forward to teaching fine arts. I'm also working towards creating a platform, call it forum that will bring together Cameroonian painters to express themselves via their skills.
TB: Apart from Painting what else do you do?
NJ:
I'm a professional dancer, but not a good singer. I'm currently working on my music album. I'm also involved in movie making.
TB: Are you married?
NJ:
Happily married.
TB: What are your hobbies?
NJ:
I dance when I'm not holding my brush.
TB: How do you manage work and the art you do?
NJ:
It's a difficult situation. However, I work during the week and paint at weekends.
TB: Is painting a part time job
?
NJ:
Not really. I do it because I have a passion for it, so, it's not a job.
TB: When you get hungry after a difficult painting day…
NJ:
I settle on a hot plate of ice and fried chicken.
TB: Thanks for talking to Tiptopstars
NJ: It was my pleasure.