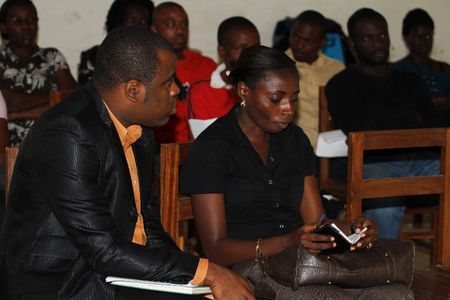 Nexus, the much awaited 52 episode Cameroonian Serial was on the evening of 30 September 2010 previewed and reviewed by a selected audience in Yaounde, in what was described as constructive scrutiny. Its producer and director, Bamenda-based filmmaker Musing Derick mounted the rostrum, after the preview of some selected episodes, to highlight his project. Musing, crew and cast were facing lay as well as semi-professional film critics.
In the session that lasted over three hours, the critics angled the director from the use of sound, lighting, shots, make-up, costuming, and artists' performance. They pointed out some short comings in the production to which Musing provided justifications to certain supposed lapses, but readily acknowledged others, promising to effect corrections. Star actress, Solange Yijika recounted her experience in Nexus which was not quite different from the others. ''This is because acting is something I've been doing for quite some time now with enormous experience,'' she told the critics. ''It was however a wonderful projection and I enjoyed working in it,'' she added.
The preview of Nexus coincided with the commencement of the CRITICAL EYE FORUM (CEF), an initiative by culture journalist and film criticism trainee, Ernest Kanjo aimed at promoting the movie industry in Cameroon by way of checking the quality of productions. CEF brings together journalists, semi-professional film critics and film viewers to Review and provide a cinematographic appreciation of motion video productions. In the maiden edition, Elvis Tanwie and crew reacted to comments from the CEF team on Canal Trap, an up-coming Cameroonian movie shot in Yaounde and featuring Chiatoh Collins, Ebot Vera, Mabel Nchini and Marc Vaow.
Nexus shot on locations in Bamenda and Yaounde, is directed by Musing Derick, featuring Claude Ndengue, Libota McDonald, Yimbu Emmanuel, Solange Yijika, Muma Pascal (Bob), Quinta Eyong, Nsuh George, Nkuh Vanessa and Akuro Raphael.