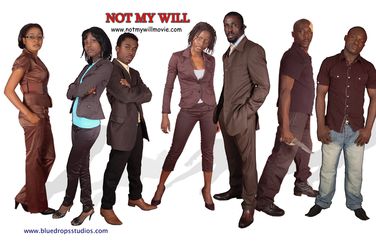 It is much easier to talk about the university when Buea is mentioned. Fewer Cameroonians are yet to be aware that the South West regional headquaters is fast growing in filmmaking. Yet, that is the truth. That Buea can be cited today when it comes to film production is something to write home about. Let us look at some of the pallatable stories that have happened here within the last five years, if we must establish a reason for Buea's coming into the limelight.
In late 2004, one of Buea's most prominent film producers, Agbor Gilbert shipped in Nollywood's Zack Orji, Olu Jacobs and Dakore Egbuson into Buea to shoot a movie. Together with Cameroon's Ivan Namme (doing the lead role), the movie stars attracted public attention and that was the beginning of a newfound interest in what was happening in the industry. Before the Sunrise, the end product later became a much-talked about movie and till date, one of the most successful Cameroon-Nigeria co-productions ever. The movie was shot on locations in Buea and Limbe and premiered in Yaounde in 2005.
Inspired, many more young film producers, directors, actors and production outfits have emerged from Buea. Producer Itambi Delphine is one of the daring young girls Buea is today proud of. Her maiden production, A Woman's World has not left anyone indifferent. "When I look at Itambi, I see a visionary young female Cameroonian whose dreams and efforts will caterpult this industry to greater heights,'' said a journalist recently about the producer of A Woman's World, who is also a very talented actress. Recently, at a workshop in Buea, Itambi held journalists spellbound when she presented the film landscape in Cameroon, expressing disappointment in the lacklustre attitude of the media. The young Buea-based film producer is currently mapping out her next movie project.
Working closely with Itambi is Anthony Kamwa, one of Buea's most prominent film directors. Having masterminded several film projects, Kamwa's ingenuity keeps filmmaking in Buea alive. His works have caught the attention of the German cultural centre, Goethe-Institut Kamerun who have feature the Buea film director in some of their programmes including the monthly "Film Klub" in Yaounde and a workshop in Bamenda bringing together filmmakers from English and French-speaking Cameroon and Nigeria.
As Buea grows, film production studios also make their way in. One of them is the now famous Blue Drops Studio, situated at the student stronghold, Molyko. Run by Wegmuller Ikome, Blue Drops has stood out as the pivot in video production in the town of Buea. One would vividly recall Not My Will, a lates movie (to be premiered in June) that has been the talk of the country in recent weeks. The Wegmuller film features stars such as Afro jazz singer Achalle, Belleh Asong, Eka Christa, Constantine Mbom of STV, Ayukachem Stephen (Maru Gatscaya), Sley, Bright Phase and BAAM. Not My Will is edited by Njukeng George, also reputed as one of Buea's leading film editors and D.O.Ps.
Meanwhile, Buea undoutedly leads as far as film equipment is concerned. Ntoko Media is a household name. Established over a year and the half ago, the film equipment outfit run by Ntoah Epitime is an assurance that movies produced in Buea and why not Cameroon will henceforth meet international standards, technically. The young filmmaker, also a producer (watch Total Stranger shot in London) is on the road to organising the first ever film carnival in Cameroon. The event will be coming up soon.
Perhaps, one of the best stories about films in Buea is the town's distribution outfit. Today Magic Touch is meeting point of Cameroonian movies and their makers. With the absence of a visible publicity medium for Cmaeroonian movies, Magic Touch has been playing that role for quite some time now. Its proprietor, Nche Francis will always be remembered for his unquantifiable contribution to the development of the industry. Nche also runs a branch of Magic Touch in Yaounde.
Buea's exciting growth in film production is what would have attracted organisers of the annual Fako Film Festival, today rated among the prestigious film events in the country. It takes place every April at the Franco Alliance Camerounaise in Buea and brings together movies and filmmakers in Fako Division. Two of Cameroon's luminary film critics, Jean-Marie Mollo and Telesphore Mba Bizo sit on the jury of the festival.
Such enviable achievements are what Mungwa Eric, newly elected Cameroon Film Industry (CFI) Buea zone president is challenged to consolidate. Speaking in Buea last week, Mungwa promised Buea is going to stand strong and dish out good quality films that will quench the thirst of Cameroonian movie lovers. "This requires good organisation and a censors board is not out of question,'' he told reporters as he took office.