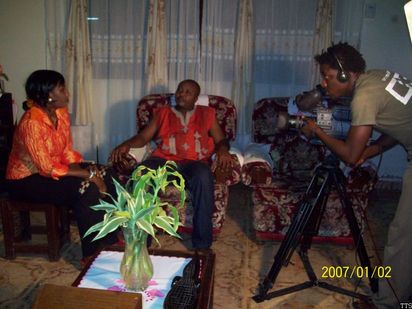 Who says the film industry in Cameroon is not heading for glorious moments! There is definitely light at the end of the tunnel for young filmmakers, many of whom are making great strides day in day out. For the first time, an entirely Cameroonian movie is penetrating Africa with so much ease. Reports say Agbor Steve's Clash of Inheritance is selling like hot cake in Nigeria, Ghana, Sierra-Leone, Zimbabwe and South Africa. "We've been getting feedback from these countries about the brilliant performance of the movie," Neba Lawrence, its director told us recently. Clash of Inheritance has been bought over by a Nigerian marketer who three months ago confirmed he had sold more than 20,000 copies at that time. Three months on, one can conjecture what would have taken place in the market.
On the line from Cape Town, South Africa, a Cameroonian businessman told me he was moved when he watched the movie. "I became very interested and itchy and know more about the movie because of the name of the director which sounded Cameroonian," he said. And went on, "Else, I was going to believe it was done in Nigeria." "I was really impressed and that has inspired me so much. I will do my own movies," he laughed.
Launched over nine months ago, Clash of Inheritance cum Royal Clash is shot in Mamfe, featuring Muma Pascal, Eyong Quinta, Solange Ojong, Eyo Eyo Michael, Aaron Nkongho, Tanyisong Candylaurice, etc. Its producer Agbor Steve, now reading Advertising at the Yaounde Advanced School of Mass Communication, ASMAC will be back on set in the coming days for yet another epic movie.