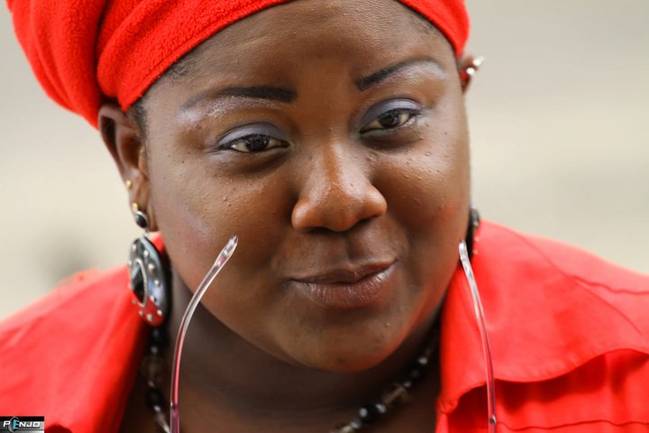 TIPTOPSTARS' discovery of Ngassa Nina, a potentially leading Cameroonian female film producer coincided with the rounding off of the post-production of her maiden movie, Vanity Fair. Buea-based Nina who sounded very determined to launch the movie less than one month into the project was overseeing editing when we met her in the company of director Neba Lawrence, camera operator Ndofor Godlove, editor Rich Manga and actor Moma Pascal (Bob). ''I want this movie premiered inn Buea by Wednesday,'' she told us, referring to 18 May 2011. TIPTOPSTARS was however more interested in knowing more about the newcomer in the Cameroonian film landscape who from initial impression, appeared to be a symbol of seriousness and great ambition.
''I'm naturally endowed with creative art skills which I've never hesitated to explore to the fullest,'' she recounted. ''As a High School literature student, I wrote extensively,'' she went on. And further, ''Coming from a talkative background, I've always performed oral arts either as MC at events or stand-up comedy to entertain huge audiences.''
The 1.67m-tall film producer from Bangou in the West region used these anecdotes to explain her passion and current marriage to the seventh art. To her, film production is one of those things that would clearly represent her love for entertainment and wide imaginative spirit and turn her dreams into reality. Nina's three stories, being screen played will all be shot and released before the end of 2011, the young producer is certain. ''God willing, I may do four movies this years,'' she hoped.
Nina who did much drama in her childhood is inspired to ride on by a rather smooth debut she has experience in her maiden production. ''We spent seven sweet days on location in Limbe, working with very nice people including Neba Lawrence who was more than just a director, Moma Pascal aka Bob, Goddy the D.O.P and the others,'' she revealed. She added: ''That has encouraged me quite much and I think my future in the industry is a bright one.'' That bright future continues in July with Nina's second production, yet another glamour movie she hopes will attract the same attention as Irresistible Offer.
An up-and-coming business woman, Nina is holder of an LLB from the University of Buea who admires Nollywood's Ini Edo for her stoic nature in the art she knows best. While she watches a Cameroonian movie at home, serve her with a hot bowl of koki and plantain, you would have made her day. ''On such a day, I would also love to be with friends, why not my former schoolmate of Our Lady of Lourdes College Mankon,' said the 21-year-old producer who is also a fine actress.