January 2010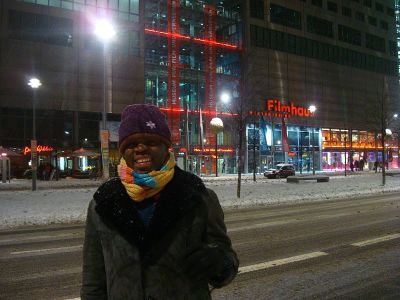 I boarded a Brussel Airways airbus shortly after 11pm on 01 January 2010, destined for the Belgian capital from where I was going to transit to Berlin, Germany. My mission was to continue a German language course kicked off at the German Cultural Centre (Goethe-Institute) in Yaounde a couple of months earlier. Little did I know I was journeying to an art and culture Eldorado – Berlin. I still couldn't imagine what awaited me when the continental Brussel flight emptied its human content on a terribly cold winter afternoon (1:00 O clock or so) at the Tegel Airport. Even as I drove along to my Oranienburger Str.39, nothing revealed to me Berlin was a cultural haven, probably because the snow that fell on the city that 02 January 2010 was exceptionally stubborn, shielding every sign I wanted to notice.
The following days unveiled the package. Berlin had fine arts displayed on all its street walls. Wallpapers announcing culture events flooded the whole city. Everyone went to the cinemas and watched films religiously. I took interest and notes on the organization of the film industry there. Those notes served me as we would see later.
February 2010
Back in Yaounde, I felt the need to tell the Berlin film story. It was built on a power point which I presented on 12 February at the Goethe-Institute, amidst great admiration from film stakeholders who thought the Berlin film experience, rich as it is, was a good lesson for the embryonic local industry in my country. My presentation was heavily publicized on well designed posters, spread around.
March 2010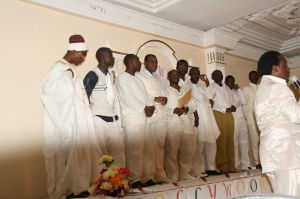 I had just been resting and taking stock of events of the two previous months when film actor and producer Chiatoh Collins informed me of a celebrity night he was planning to organize, to pay tribute to some film industry workaholics. "I intend to make it exceptional, in fact something that has never happened in the industry – full of surprises," I remember Chiatoh saying something like this. Behold, Collywood Nite, as the event was later baptized was indeed a come-and-see show. Perhaps, the surprise came when the MC, lavishing rosy words, strolled towards my direction. He was in the process of introducing the laureate of the honorary award of the day. At the end of his lengthy monologue, he pronounced my name. I was surprised but had to move up to the podium and receive my prize. Before I did so, Waa Musi, National Coordinator of the Cameroon Film Industry CFI summarized my contribution to the development of the film industry in country. I humbly and gladly accepted the recognition but did not fail to say the said contribution was only modest and that I wished, God being my helper, to do more.
April 2010
Dust was yet to settle on my March recognition when I was introduced to a project to create the first ever Pan African arts journalist network, initiated by South Africa-based cultural organization, Arterial Network. This had to happen as a side event to the Harare International Festival of Arts (HIFA). In late April, I and CRTV's Telesphore Mba Bizo made the trip and joined colleagues from other countries on the continent to pioneer Africa's only existing continental arts journalists outfit – African Arts Journalists Network (AAJN).
May 2010
Before travelling to Harare for HIFA and AAJN, the Goethe-Institute in Yaounde has tasked me to prepare a presentation on the film landscape in Cameroon, accompanied by a handbook with a database of producers and directors. These inputs were going to serve at an international workshop on film criticism for journalists hosted by Buea. The Buea workshop later turned out to be another exciting experience, especially when for the first time, I met Nigeria's most celebrated arts journalists and film critics, Steve Ayorinde. As I saw Ayorinde off at the Douala International Airport, he offered me an autographed copy of his book, Masterpieces: A critic's timeless report, which I can always be caught reading with an uneding appetite, thanks to its beautiful writings.
June 2010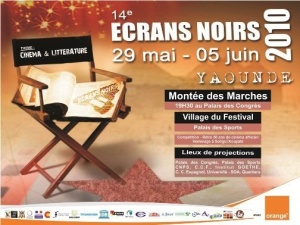 A day after the opener of the African Film Festivals dubbed Ecrans Noirs in Yaounde, I was charged with moderating a press conference to discuss the possibility of Cameroon hosting the next edition of the Africa All Music Awards, KORA. Victoria Ndong, KORA's line producer was the main guest, having been invited to the country by the Bright Phase music group that had just represented Central Africa at the 2008 edition that rounded off in 2009. Arts journalists learnt at the press conference that talks were underway with the government of Cameroon to that effect. The KORA official had even visited the potential site where the event would take place and was satisfied with what she saw. I later took part in some Ecrans Noirs conferences and visited stands including the one run by Cameroon Film Industry (CFI).
August 2010
I had always prayed Cameroonian actors come together to discuss the way forward as far as their situation is concerned. They never hesitated to explain how unfairly they were being treated. When it was announced they were meeting in Muyuka, a small town near Buea, headquarters of the Fako Division in the South West region of Cameroon, I was anxious. On 28 August, I took my seat in the hall, waiting to hear actors talk and deliver a paper I had crafted, paying tribute to them. "The paper, titled The Power of Star System: A Look at Cameroonian Movie Stars and How their Faces can Sell the Local Industry – Strengths, Weaknesses and Way Forward" was later presented amidst thunderous applause. I talked with and created contacts with actors I was meeting for the first time including USA-based Akim. The actors left scheduling another meeting for November in Buea.
September 2010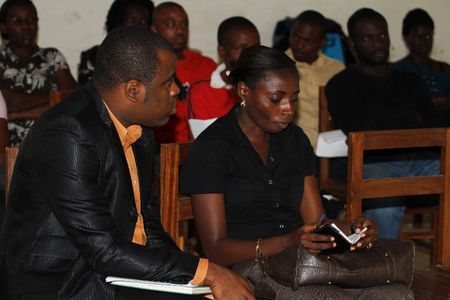 By now, there was hope in the horizon for actors in my country. One of the ways to recognize their performance was presenting them to the public after projecting their works on the big screen. I did this in the first edition of the CRITICAL EYE FILM FORUM (CEFF) which I initiated with the collaboration of filmmakers Elvis Tanwie and Tanko Frank. The forum brings together film critics who provide a cinematographic appraisal of movies after project in a bid to ensure quality control and encourage watchable productions. In September, we projected Musing Derick's Nexus, in the presence of the Bamenda-based director and two of his actors, Yimbu Emmanuel and Solange Yijika.
October 2010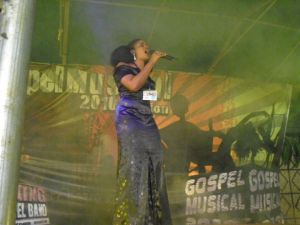 News broke of the eventual creation of a contemporary styled gospel band in Cameroon. I was contacted by Sylva Bright, one of the engineers of the project, to organize a press conference to inform Cameroonians. A few days later, at the Solomon Tandeng Muna Foundation auditorium, I, moderated the press conference, graced by soul-searching voices of some 20 pre-selected singers. Later in the month, a TV contest carved out eight (now seven following the withdrawal of one of them for travelling imperative), winners who formed the gospel band, dubbed Gospel Musical 2010.
December 2010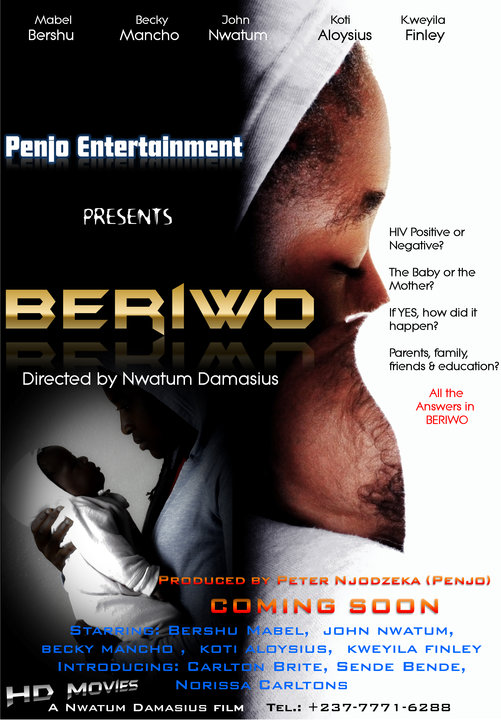 It was time to round off 2010 in grand style and the best way to do it was organizing two film critique sessions. The projections took place at the Foyer Social Catholic hall in Yaounde with film lovers and critics gathering to appreciate Nwatum Damasus' Beriwo, produced by Peter Njodzeka and Tanwie Elvis' Ride My Wrongs. These two last editions of the Critical Eye Film Forum in 2010 were special in that profiles and reports on both projects were also produced and projected. I was yet to get over with the remnants of CEFF when weeding bells came ringing. The venue was the Yaounde United Crusade Team for Jesus (UNITEJ) edifice situated at Bisuiterie Biyem-Assi, the bride Lisslot Ndanga Bada, the groom Sylvanus Awah Muma aka Sylva Bright. Sylva Bright of the Bright Phase group had earlier performed a black wedding in Bachua village in Manyu Division of the South West region of Cameroon. I was immaculately dressed and joined other stars in wishing Sylva a happy matrimony. What a wonderful way of ending 2010!