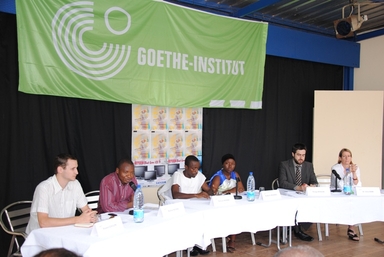 Though considered as embryonic, Cameroon's film industry is four decades old. Within this period, there has been a remarkable involvement of women. There is hardly any artistic or technical crew that sets out for a movie project without women on board. Their presence at locations is always significant.
Usually, they would prepare the beautiful costumes and make sure the actors are properly clad in them. They would display their make-up prowess on actors' faces, giving out just what the director desires. Perhaps, their most significant role is "welfare". Since actors and directors are red carpet personalities, the women make sure they are well fed, taking into consideration quantity and quality.
Unfortunately, the role of women, for over 40 years has not gone beyond these. They have hardly stood behind the cameras to call the shots. Ask why it is an issue. It is established that directing is the most prestigious aspect of filmmaking. So, does it mean when it is juicy, women should be left out, whereas, directing is something they too can do?
This is a reflection that has inspired GIC VIDEO STAR, a film common initiative group, mostly made up students of the Performing Arts and Cinematography Department of the University of Yaounde I. To get women on board and encourage them to direct films, the CIG is organizing a festival to their honour. Dubbed Mis Me Binga, the festival will take place in Yaounde from 4 to 8 March 2010, with three major aspects: a round-table conference to discuss strides women have made and how far they could go, film projects and film contest.
Dozens of films (including some from English-speaking Cameroon), directed and produced by women have been lined up for projection at the Goethe-Institut, the French Cultural Centre and the Nkomkana Youth Centre in Yaounde. Also on the programme will be films from other countries including Namibia, Germany, Israel, Finland, Spain, Canada and Japan. Sixteen of the films lined up for projection will contest in three chosen categories: best fiction, best documentary and best actress.
At a press conference last week in Yaounde, organizers of Mis Me Binga hoped the initiative would change the current phase of film making, not only in Cameroon, but in the Central African sub region and the rest of Africa. "We think women have potentials that must be exploited. So why shouldn't they get behind the cameras and direct the films?" GIC Video Star's Martial Nguea questioned rhetorically. To him, Mis Me Binga which has come to stay should face the challenge and get female filmmakers out of the doldrums of unpopularity as far as directing is concerned. Otherwise, Nguea didn't why in 40, the country would only boast of about 15 female filmmakers, producing not more than two films per decade. "We think the time has come to redress the situation," the young film maker said.
The first edition of Mis Me Binga is now a reality, thanks to partners including the Ministry of Culture, Ministry of Women's Affair and the Family, the Embassy of the Federal Republic of Germany, the Goethe-Institut Kamerun and French Cultural Centre. Media partners such as Vox Africa, Vision 4 and Radio Campus have also been prominent.
Some films on the Mis Me Binga schedule:
· Sister in Law (Cameroon) by Kim Longintho & Florence Ayissi
· Bongfen (Cameroon) by Sunjo Petra
· The Last Bus (Germany) by Maria Hensse
· Nairobi Love Story (Gernmany) by Maria Weber
· Lily Festival (Japan) by Sachi Hamanu
· Rape (Cameroon) by Naah Joyce
· Cries at Night (Namibia) by Oshesheni Hiveluah KAM by Astrid Atodji
· La Divorce (Gabon) by Manouchka Labouba
· Dans l'Ombre d'une autre (Cameroon) by Francine Kemegni