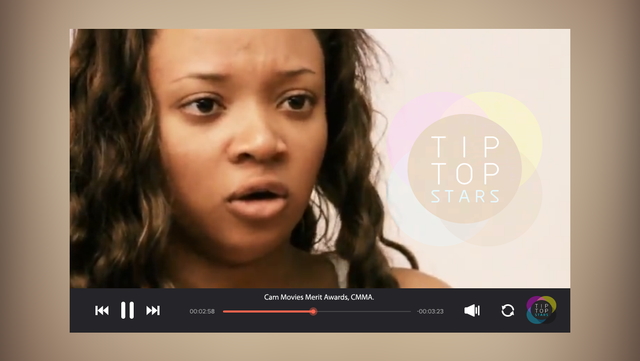 To go by the words of the organizers, the décor is already almost completely planted for the 2013 edition of the Cam Movies Merit Awards, CMMA. "We are currently observing the last phase of preparations, but if you ask me, I'd say CMMA 2013 is a certainty," Frederick Keyanti, CEO/founder of Cam Movies told this writer recently on Afrikka Radio's African Cocktail show. "We plan things and do them, so Cameroon can be rest assured the second edition of the awards is on the way," Keyanti insisted.
Perhaps, the publication, a couple of days ago, of the list of nominations has put the now much-awaited annual event on a fast lane towards its happening this year. The said list has been topical on social media. TIPTOPSTARS has been reading through the 24-category CMMA nomination list and we observed some highlights.
U-Turn negotiates decisive turn
Now in circulation both in Cameroon and in the United States of America, U-Turn, produced by Ashu Egbe and directed Anthony Kamwa has entered the annals as the movie with the greatest numbers of nominations for CMMA II. The movie, shot in Douala (Cameroon's economic capital) and premiered recently secured 10 CMMA II nominations in very competitive categories – best film, best actor, best up-coming actress, best actress in supporting role, best child actor, best director, best editor, most educative film, best sound and best story/screenplay. The cinematographically appealing nature of U-Turn is perhaps what inspired its produces to embark on a spectacular promotion for the movie as has never been noticed in Cameroon. "We are convinced U-Turn will take us to places," Egbe Ashu, its producer had
told this writer on radio earlier this year during a visit to the USA.

Jungle of Heirs gets fair share

Unless otherwise, CMMA II is the first major breakthrough for Neba Lawrence Jungle of Heirs, at least as far as nomination for an awards is concerned. With 10 nominations, the Chrono Entertainment production heightens chances of grabbing trophies and why not in some of the most contested categories. This, certainly, has been the utmost dream of producer Agbor Steve Ebai whose knack for his works has been indicative of the rewards he now gets. Perhaps, the best film with cultural heritage category in which Jungle of Heirs is drawn is what defines the producer more – lover of his culture! Other categories in which the movie will be contesting are best film, best actor, best actor in supporting role, best veteran actor, best director, best editor and best sound.

Anew: Child actors get their place

One of the unfortunate vacuums within the film sector in Cameroon is the promotion of child actors. If within the last couple of years, a few Cameroonian adult actors (now overtly celebrated) have risen to international recognition, this has not been the case with kiddies performing artists. These younger counterparts have knashed their teeth in the cold, yet, they feature in movies and their performance is most often applauded. Fewer of them have been recognized and awarded. To defy the odds, CMMA II has highlighted the child actor category with five competitive contestants – Scheneider Adams (Vice and Virtue), Baby Nicole (Politique), Dominique Ntoudi (Politique), Egbe Junior (U-Turn) and Rolland Boudih Tamfu (Ninah's Dowry). That red carpets will be rolled for these kids come CMMA II is an additional impetus not only to the event, but to the country's movie landscape and the Cameroonian youth movement in general which seeks to drill the younger generation into becoming self productive.

Alenne distinguishes self, picks same nomination category again

Just a couple of days before the publication of the CMMA II nomination list, actor Alenne Menget had secured one at the Cameroon Academy Awards, SONNAH, in the same category – best actor in supporting role. This time, it was the CMMA jury who could not resist the seduction of Alenne's performance in Neba Lawrence's Jungle of Heirs. And for those who have watched what some observers have described as the Douala-based actor's (doubles as CEO of ATS audio-visual production outfit) masterpiece output in the movie, they would undoubtedly agree with this latest nomination. "Alenne's supporting roles are what make Far and Jungle of Heirs great pieces of art," a critic mentioned to this writer as we got set to do this report. Recall that Alenne's prior nomination came from Ikechukwu Onyeka's yet-to-be-released Far, co-produced by Cradle Rocks Productions Int'l and AGE. Note that he also has a CMMA II best multi-task actor nomination.

Statusquo maintained

Just like any other Cameroonian awards, at least within the past couple of years, some names have featured regularly in respective categories, not due to any bias (permit that observation), but for obvious reasons – the artists/technicians have been remarkably good in their works which have spoken for themselves. It is therefore not strange that Solange Yijika and Epule Jeffery would secure CMMA II nominations in the best actress in lead role and best actor in lead role respectively. Names such as Nchifor Valery and Nkwah Kingsly have dominated the best actor in supporting role in several awards. The former is laureate, in the same category, of an international awards (Zulu African Films Academy Awards, ZAFAA) he won in London in 2010. On their part, filmmakers, Neba Lawrence, Musing Derick, Akim Macauley, Enah Johnscott and Anthony Kamwa have paraded the best director category at several instances and so the CMMA II case is not a novelty. The same scenario obtains on the best D.O.P line-up with regulars such as Stanley Micky, Peter Njodzeka aka Penjo, Takong Delvis, affectionately called Del Mezzo and Yibain Emile-Aime Chah alias Ancestor.

Meanwhile, CMMA II has been slated for Buea's Hotel Residence Carlos situated in Muea on Sunday December 15, 2013. The Cam Movies Merit Awards is an initiative that seeks to identify talented Cameroonian filmmakers and performing artists, recognize, reward and promote them. According to Fred Keyanti, the event is purposefully staged in English-speaking Cameroon as a means of projecting and promoting the film culture and talents in this part of the country that has not really enjoyed adequate exposure in the entertainment domain.