Monday, 14 May 2012 06:22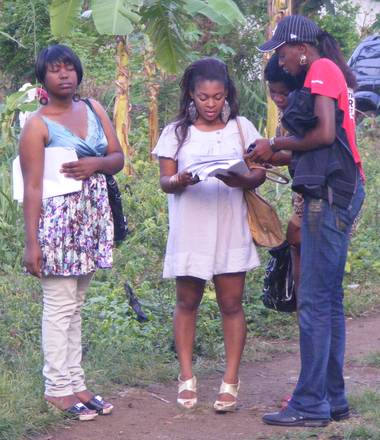 When film producer/director Agbor Jenet set out to contribute her own quota in the endless fight against HIV/AIDS in 2005, the then South West correspondent for the popular Among Youths magazine (for which this writer was Editor-in-Chief) held that she could only drop her armour if the pandemic was totally eradicated. Today a full-time filmmaker, Agbor uses motion pictures to whip through the message she had for her three years with the youth magazine on sex education vehicled across to thousands of young people in Cameroon and the rest of Africa – abstinence from pre-marital sex and knowing one's HIV status.
Perhaps, that 4,900 people die from HIV/AIDS every day and another 7,300 are infected with the AIDS virus (ref. www.one.org) is surely what has inspired Dilemma, a 26-minutes long film Agbor has been working on since she arrived in Cameroon from Sweden a couple of weeks ago.

"Knowledge is life, and so knowing one's HIV status guarantees life," the young female film producer told TIPTOPSTARS as she justified the story in Dilemma. Agbor went on: "Most people, especially youths prefer to be ignorant of their HIV status while some refuse to go for their results after taking the test. We think it we must continue sensitizing the world so long as this continues to happen, reason why Mix Film Production engaged this project."

According to the story in Dilemma, Dan and Liz refuse taking their HIV test and Liz wonders why James who is a virgin could go in for the test. Claudia who took the HIV test 10 years ago, abandoned her results at the hospital. Meanwhile James, Dan's friend who had been diagnosed HIV positive some years behind has been living with the virus happily. Claudia later becomes sick and diagnosed of having AIDS. Her experience and that of James make Dan and Liz to go in for their own HIV tests. The rest of the story is told in the much-awaited film shot on locations in Buea in April 2012.

Directed by Agbor Jenet herself, Dilemma enjoys the strength of a mature film crew and cast. There is no doubt the indefatigable Anurin NWUNEMBOM (camera operator) picked up the best of images as he (also one of the location managers) is known to always do. With his rich editing knowledge and background, Diba Otang aka Dj Blerk has sure out those dexterous fingers to task to give viewers what they deserved from a film that handles such a salient issue as HIV/AIDS. Meantime, be sure to savour the dialogues which have been packaged in what we would conveniently describe as captivating English grammar, thanks to Mungwa Eric (script editor), known for his admirable mastery of the Queen's language. Mungwa (also production/one of the location managers with Eposi Dessey) was accompanied on the script editing task by Tanui Paul. While Pamela Ndukong got sets and props in place, Tasha Lengouh took notes as shooting progressed. Lengouh was the continuity artist. Mungwa Eric was assisted on location by Akwanga David-Porter (production manager).

On the other hand, award-winning Nchifor Valery (playing James) led the brilliant cast that will be telling a serious story in the most exciting manner. The Zulu African Film Academy Awards, ZAFAA 2011 best up-coming male will be interacting on set with Bareh Midred (Liz), Samson Tarh (Dan) Minash Mum (Claudia) Pamela Ndukong (Jane). They shall be introducing Lita Roger as Doctor.

These actors were made more beautiful and handsome by Mokom Wilston who also handled the boom swinger. Then each time Nchifor and co. took a break off set, Susan Epede saw into their need to be revitalized. She was the welfare girl in the production.

According to the producer, Dilemma will see the light of day later this month. Soon after its release, the film will be beamed across the world. "It's meant to sensitize the world, so we will ensure that the film is circulated worldwide," Agbor told us.

Before leaving Cameroon for further studies in Sweden some five years ago, Agbor Jenet had made initial attempts at filmmaking via script writing, production management and production. As an actress, she featured in Hidden reality, Wrong Move, Know Your HIV Status, Island of Temptation. She also featured in Illegal Immigrants, an up-coming Cameroonian movie shot in Europe.


Last Updated on Friday, 10 August 2012 07:06