Friday, 11 May 2012 22:07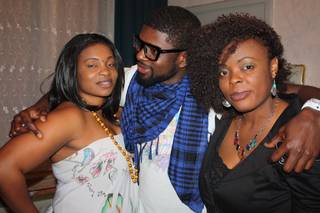 Actress tells TIPTOPSTARS - ďIt was my place to set confusion.ĒI
t wasnít for fancy when we described Mairo Sanda as an inter-continental actress who was creating a record. She is indeed one. And since TIPTOPSTARS said that of this most-sought after movie heroine, she has not had a sound sleep. Mairo has been on the move. The Atlanta-based star who arrived in Belgium a couple of days ago has been a point of attraction for the Cameroonian movie family there and fans of the actress who dash out to watch her perform live on set. On their part, newsmen have been quick to notice Mairoís presence in Belgium and would throng the Confused Bachelor set to pick up feeds for their stories. One of them was our man in Antwerpen Titus Banyoh who in the process also put us in line with the imported actress. In the following triangular chat, Mairo explained her maiden shooting experience in Belgium and a next project sheís just been signed up for. Here are excerpts of the interview with Titus Banyoh and Ernest Kanjo (on the line)!
Titus Banyoh (TB): Mairo, you are welcome to Belgium. Itís such a big honour for us that you are here. How was the trip?
Mairo Sanda (MS):
It was a smooth flight. Thanks for the warm reception. Iím glad to be here.
Ernest Kanjo (EK): You seem to have sneaked out of the US without anyone noticing. Your fans only heard you were out of the country days after youíd leftÖ
MS:
HahahahahaÖ stop pulling my legs Ernest! Yeah, I really didnít have much time to waste since I had to catch up with my assignment on set in Belgium. It was already getting late and my producers were anxiously waiting for me.
TB: So, how has your stay here been? Do you like Belgium?
MS
: Definitely, I do. Itís just been wonderful here and I must say Belgium is a lovely country. I wonít mind coming back.
EK: Your prime mission to Belgium is to shoot for Confused Bachelor, produced and direct by Simon Timah and co-directed by Kang Quintus. How has shooting of your scenes been so far?
MS:
Itís been going on smoothly and I think I have enjoyed the exercise very much. Iíd confidently say I have dished out an admirable performance and I can bet that my directors are satisfied. From every indication, my role in Confused Bachelor is going to be one of the best things I ever did in acting career.
TB: Tell us more about that roleÖ
MS:
Iím playing the antagonist, Amanda who is manipulating four different characters in a bid to achieve my selfish ambitions. I set confusion between them, get what I want but at a price that is too costly for anyone to imagine. The characters are Chiko who in this case is Kang Quintus, Eunice played by Adel Ngonde, Rita Batuo who is Stella in the story and Richard played by Prosper Mafuou.
EK: Is it a role you like?
MS:
Actors donít choose rolesÖhahahaha! But I think it is a challenging role in the story and I love challenges. So, giving me that role was not a mistake the producer made. They knew Mairo could handle it to their taste.
TB: How would you assess your interlocutors on set so far?
MS:
They guys are just so good. Adel, Kang, Rita and Prosper are great actors, I must confess. They have inspired me quite much. It flows when one is on set with them and I canít wait to view my performance with these actors when the movie is released.
EK: What have your directors been telling you?
MS:
They have been very appreciative and say they are satisfied by my show. That too has kind of encouraged me to give out my best. I must also appreciate their directing which I think has been very professional.
TB:
You have so far worked on two occasions in Europe, what difference can you establish between here and the other place?
MS
: Iíve worked in the UK. Well, itís really been fun shooting in Europe, but I must say I have developed a special love for Belgium. I think Confused Bachelor is one of the best productions I have had so far and that it is happening here in Belgium is something to write home about. Thumps up to the guys here!
EK:
Did you expect to have such a great experience on a Belgian set?
MS:
I put my fingers crossed until I got here. Now, what has been revealed is something Iím not going to forget so soon. The guys here are serious and I can conjecture Belgium becoming a leading place as far as Cameroonian movie production is concerned in the diaspora.
TB: How much longer will Mairo still be around?
MS
: I will be catching a flight back to the US on May 25.
EK: I understand youíll soon round off with shooting of Confused Bachelor, what will you be up to during this time before you return to the US?
MS
: Iíve been signed up for yet another production here. Iíll have to grab this opportunity to do my scenes before leaving since I have a whole lot of other acting assignments to handle back in the States.
TS: Which is this next production?
MS:
Ultimate Encounter to be produced by Akaya George and directed by Kang Quintus. Itís going to be a Casa International Film Academy, CIFA production.
EK: Would you mind us getting back to you for updates on your role in the said movie?
MS
: Iíll always be there for TIPTOPSTARS. You guys deserve to have our attention.
TB: We are thankful for your time.
MS
: I appreciate your concern.
EK: Do have a great time on set there Mairo and have a safe trip back to the US.
MS:
Thanks a millie Ernest, God bless you guys!
Last Updated on Friday, 11 May 2012 22:22