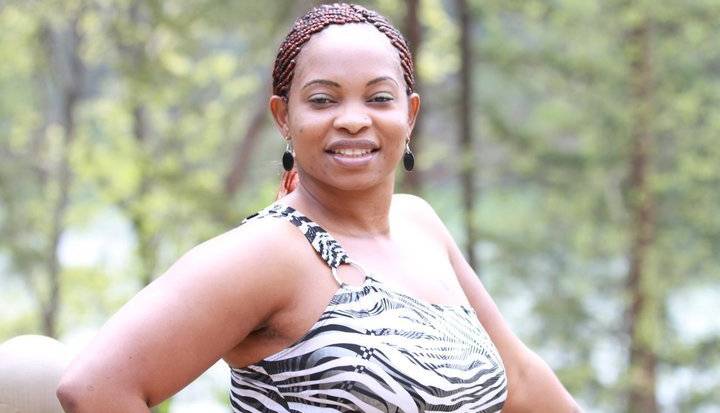 Sure, Mairo Sanda is not a new name anymore! She's gone household! This online magazine has reported on her previously, but it becomes difficult to stop trailing an actress whose performance increasingly attracts irresistible admiration. "She's one of the best actresses I've ever come across," Fomunung Terence, producer of the famous Berlin Icon had told this reporter in 2011.
Renowned film director Neba Lawrence and actor Chiatoh Collins did not hesitate to make positive remarks about the up-and-coming Cameroonian actress. "She's incredibly good and I love working with her," Chiatoh told TIPTOPSTARS soon after Mairo and him finished shooting Trouble Kingdom in Yaounde a couple of week ago.
These remarks have come on the heels of the actress' latest bid – crisscrossing the world for shooting jobs, to Europe where she shot The Brothers on UK locations and Cameroon where she did Vanity Chase, Troubled Kingdom and On The Brim on Yaounde and Bamenda locations respectively. She has also done Nollywood and Ghollywood movies.
After these jobs, it's certain Mairo has hit the high-rated movie performers lane and is sought after by producers who are bent on doing sellout productions. Example – hardly had the talented female actor completed Troubled Kingdom in which she is co-producer than she was whisked off for Bamenda to shoot Wa'a Musi's yet-to-be released On The Brim. "It was a wonderful production and I enjoyed working with Musi," she reported. "However, I think Troubled Kingdom has been my most challenging job," she went on. Said Mairo again: "It wasn't chocolate, working as a producer and actor at the same time. But I faced the challenge and at the end of the day, we gave the piece the shape it deserved. I thank God for that."
Mairo who has lived in the USA for 15 years sees her brilliant career far beyond where it is now. "I'm seriously eyeing the position of Africa's finest actress and most productive producer," she said with lots of ambition. If we rely on what her directors/producers make of her, we would not fear to mention that OSCARS is the young actress' not-too-distant destination. "My directors have always admired my hard working and respectable nature," she told us.
Perhaps, it's more of the non-negotiable passion for the art she knows best that provides the not-too-common flare that enriches Mairo's highly appraised acting prowess. "This passion which I believe comes from God got hold of me in my childhood days when I would watch movies non-stop," she told us. And added: "My clued attention to American, African, and Indian movies was another source of inspiration and when I discovered I had the talent to act, I told myself nothing was going to hold me back." In fact nothing held the movie queen back, until she hit the road professionally a couple of years ago.
Mairo who did a couple of home videos had her first commercial movie experience in the UK where she worked with Terence Fomunung in The Brothers. "It was quite challenging, but I was bold enough to overcome my fears and now it's very normal and great to be on set," said the 1.53-tall actress who also loves sports. She has since then been regular on set and also featured in Coming from Africa, American Wahala, Nancy and Nina The General's Son (Cameroonian movies), Stolen, American Boi Boi (Nollywood movies), Mama's Boy, Mother's Prayer Atl (Ghanaian movies).
The actress cum producer who would not want to let the cat out of the bag vis-ŕ-vis her next project is a charitable Cameroonian. She yearns for the time her hand would be stretched enough to start providing comfort to needy or disadvantaged children. "At the moment, I'm trying to set up a humanitarian organization to that effect. I can't wait to get started," she announced.
Mairo hardly stays without smiling at each thought of Maya Angelou, renowned Black American poet, memoirist, novelist, educator, dramatist, producer, actress, historian, filmmaker and civil rights activist. "She's my role model," said the actress who loves to read and do light physical exercise at her leisure. "I also love to cook achu which is my favourite Cameroonian delicacy."