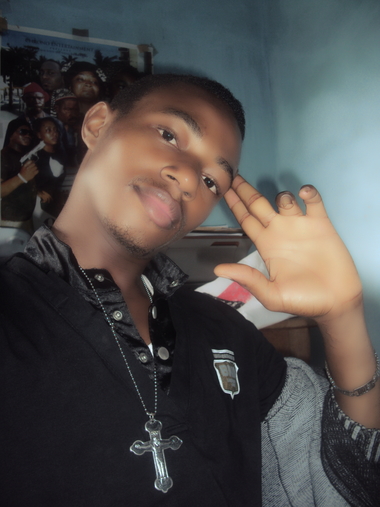 At least, for now, scores of aspiring young musicians, based in Kumba-Cameroon would tell you their hopes are immeasurably high, thanks to the coming of Yo'on Records. Yo'on Records, a young music label which has been in town since March 2001 has been turning the dreams of hope-rising artists into reality. Beyond producing music albums, Yo'on Records has been discovering talents embedded in Kumba singers and bringing them to the limelight. Its CEO and founder, Eyong David, a professional sound engineer thinks running Yo'on Records in Kumba is not only a blessing to the people of K-Town, but is a sweet way of giving back to the community that made him who he is. Recently, TIPTOPSTARS' Anang Christy Ijang visited the outfit. After being shown around, our reporter settled on a conversation with the young music manager. Here are excerpts of the chat!
Anang Christy Ijang (ACI): Hello Eyong David, you're welcome to TIPTOPSTARS.
Eyong David (ED): Thanks Christy, I'm very excited to be here.

ACI: Who is Eyong David?

ED: I'm Eyong David from Manyu Division, South West Region of Cameroon. People prefer to call me Bayangi boy. Music has always been are my passion. I also love electronic gadgets and sports.

ACI: Where and what did you study?

ED: My father was actually a business man and wanted me to follow in his footsteps, but his kind of business was not what I wanted for myself. So at one point we found ourselves in Nigeria doing his business and that a good opportunity for me to start pursuing my own passion. I enrolled into the Onitsha Plaza Music Studio where I studied music for a couple of years. When I finally came back to Cameroon, I did some on-the-job training with Kumba's Lake Site Radio and West Tox Records.

ACI: Why a music production studio in Kumba?

ED: They say you shouldn't bite the hand that feeds you. K-town fed me before I travelled to Nigeria. When I came back Kumba gave me my first working opportunities. I saw Kumba as a fresh and a good starting grown. When I came in contact with Kumba-based West Don, he encouraged a great deal. So, investing in Kumba was just the right choice.

ACI: Which genres of music do you produced?

ED: Gospel, Afro Hip-Hop and Reggae.

ACI: Do the tastes of music consumers directly affect the kind of artists you work with? If yes, in what ways?

ED: Yes of course! We make this preference especially with the artists we manage. For other artists and other genres, if the talent is there and they can meet up with financial obligation, we go ahead and work with them.

ACI: What are some of the difficulties you face while working with artists?

ED: While some artists find it difficult to heed to advise, others who do and are talented may not readily have the financial means. The constant power failure in the city is not also helping matters out.


ACI: Do you turn down artists?

ED: Yes, several times! Every producer loves to find something unique in an artist. If it is absent, it becomes difficult to accept to work with them. For some, we postponed the work, time for the artist to polish up before we get into the studio. Other artists need to be financially ready for us to work with them. So we give them time to figure that out.

ACI: What happens next after an artist meets your expectation?

ED: The process is very chronological in nature. First, the artist sings the different cords with the piano. The beats are then programmed with the instruments. They go ahead to rehearse their lyrics on the beats several times. When that is correctly done, they go into the vocal box where they are then directed by the voice or sound engineer. Backup singers are now brought in if need be, together with other instrumentalists like the guitarist and pianist. When all this is done, the sound engineer proceeds to mix all the sounds to produce the master. The records are finally produced from this.

ACI: What do you look for in an artist?

ED: Talent, creativity, uniqueness and humility. When all these qualities are present, we are sure to have a cordial working relationship which is vital in every business.

ACI: Which are some of the artists you have worked with?

ED: YO'ON Records has been running for a couple of years now, so have definitely worked with a good number of brilliant artists. But some of them who have been consistent include Big G, DJ Toxic and La Parole, for Afro Hip-Hop, Frank Bebe for Makossa, Sister Emelda and Brother Daniel for Gospel.

ACI: What advice would you give to young artists who want to attract producers?

ED: Being original is vital. They should endeavor to come up with creative stuff, identify themselves in their lyrics and refrain from copying from others. Nothing good comes easy. Rome was not built in a day. They should work hard and exercise patience. Most important, they should uphold humility.

ACI: Being a young music producer, how difficult it is working with older artists?

ED: I will be telling a big lie, if I say I have always had a cordial relationship with all artists I worked with. However I must first of all state that I get a lot of encouragement from some who find it so exciting to see a young person doing what I do. Others occasionally make thing hard for us, but we only disagree to agree at the end.

ACI: Apart from music production what other services does YO'ON RECORDS render?

ED: It's a whole media set-up. We are gradually drifting away from YO'ON Records to YO'ON Media. Some of our activities include video editing, music video production, music clip production, video coverage, artist management, poster designing and grooming of young sound engineers who show interest in music.

ACI: What ambitions do you have for YO'ON Records or YO'ON Media?

ED: Hahaha! It's very obvious, every serious business man wants progress, growth and expansion. That's just what I want - absolute expansion all over Cameroon, Africa and why not the world. We have to dream big.

ACI: Eyong David, it was wonderful talking with you.

AY: The pleasure is mine Christy and thanks for having me.