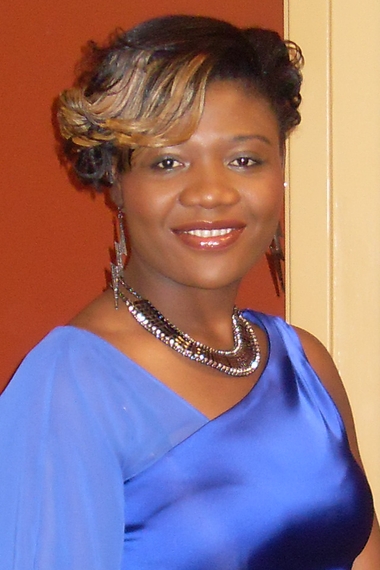 If you are the type who has no aorta of doubt in every pursuit, then Lum Irine Asanji is your friend. LIA (Lord Is Able), as the University of Buea trained journalist and communicator is now simply called says her things and does them. Some time ago via this medium, LIA, who lives in Canada, told us she had a TV show project in the pipeline. This show was going to fall in line with specialized activities selected to animate TALKTOLIA, an outreach programme that seeks to provide humanitarian as well as social support to needy people through the word of God. A few weeks ago, that ambition turned into a spectacular reality. The TALKTOLIA Show did not just see the light of day, but LIA served her audience with an extra-ordinary production, herself emerging as a TV host par excellence. After watching the first three editions, observers hold LIA is so content-full. We then followed up to know exactly how this visionary idea came to fruition. In the exhaustive chat, the all-round artist (LIA composes songs, sings, writes and is on her way to the movie set) described the TALKTOLIA Show in all its facets as well as disclose future plans. On the line to her Toronto abort, she spoke with Editor Ernest Kanjo. Excerpts!

Ernest Kanjo (EK): When was the first edition of the TALKTOLIA Show shot?

Lum Irine Asanji (LIA): October 6, 2012 and aired two days later, that is on October 8, my birthday and the Canadian Thanksgiving Day.

EK: On which locations are the shows shot?
LIA: The first one was shot in Brampton Ontario, the second, at Yonge Street, Down Town, and the third at a Fitness Centre in Brampton, Ontario
EK: Tell us how the first edition was prepared and produced
LIA: I had just made the decision it was time for me to kick-off this long time dream, so I invested in a video camera. I later presented the idea to a God-given brother, Matthew Ogbulafor who has been very supportive to Talktolia. He agreed to assist with the filming of the shows. When we were done filming in his living room, we did the editing together on his computer which has professional editing software. During the shooting, we had one person on location - Matthewís wife Pearl Ogbulafor a wonderful sister the Lord had brought my way back in 2012 as an employee with Hewlett Packard Canada. It is her voice you get at the end of the video cheering for LIA. It took me one week to make the decision and pick a topic of discussion. It was Canadian Thanksgiving season and this coincided with my birthday. I felt it was relevant to thank God for my life which has been characterized by endless challenges for some time now. There was no better way of doing this than using my life in making the world a better place. I wanted to change the line of thinking that birthdays were for people to expect and receive gifts. It was rather time for people to start showing appreciation to God for their lives. I also felt it was a great opportunity for me to thank the ingenious Marc Zuckerberg, Founder and CEO of Facebook and Google CEO Larry Page for providing free networking opportunities for people to build social media relationships and even businesses. For me this was invaluable and thanksgiving was a great opportunity to do so as I unveiled my talk show to the world.
EK: How would you assess the first three editions of the show?
LIA: I consider the first three shows as baby steps in every aspect. Our biggest challenge now is the limited resources such as equipment, additional man power and air-time. As a new video channel on YouTube, Iím allotted ten minutes to load videos until the bandwidth becomes extended with frequent uploads. I usually have too many things to say and want to say them at a shorter time. I need to work on concision and other aspects that would make the messages come across more successfully. The first show I can say was more of an introduction of the Talktolia Marriage and Family Enrichment Services as a whole, as well as the Talktolia Show. It was a way of breaking the ice and Iím aware lots of people still did not get what it was all about especially those unfamiliar with Talktolia ventures. The second edition was a kind of chain continuation from the first which fell on the American Thanksgiving day and being inspired by the cries of hungry, abandoned children around the world I focused on sharing with the poor especially children who are the most vulnerable human beings in all parts of the world. I dropped out one of my songs Woni Beh? Meaning where are the kids, as another artistic message to convey the strong emotions I have towards suffering children especially as a mother myself. This is just one of 12 tracks I have also been working on and hope to develop into an actual gospel album in the nearest future God-willing. The third edition, Workout to Knockout is all about weight loss. I take a more aggressive approach against weight loss because thereís growing concern around the world on weight-related health problems. As a proponent for healthy living, I decided to teach by example in collaboration with a fitness centre. It will be my pleasure to see healthier people in the year 2013 as compared to previous years. Generally, from the feedback Iím receiving from viewers and followers around the world it is obvious Talktolia has a lifetime audience.
EK: What do you think is the strength of the TALKTOLIA Show?
LIA: The Talktolia Show is not just another media noise to occupy space and pollute the socio-economic and spiritual landscape. This is a show that falls in line with a vision that the Lord revealed to me in very many supernatural ways. Among the many things I have been spiritually inspired to do since I became born again, my talents have found a boost more than ever before. This show is therefore an opportunity to reach out to people who are thirsty and hungry for inspiration especially something that adds value to their spiritual lives and leaves them questioning what more they could do to add value to their lives and the lives of those around them. Donít get me wrong, lots of inspirational writers, speakers and shows are flooding the media already. Talktolia is positive about established competition. Talktolia is just another authentic, original and creative brand name that comes with a unique approach to add to the other media voices in the world. You could say the Talktolia Show is just another style, another vibe that is taking up its own ordained space on the stage of life. This was signed, sealed and delivered to the world by God Almighty and so I cannot hesitate making Godís dream come true through me. The Bible says in the gospel of Matthew 9:37 that the harvest is rich but the labourers are few. We have to make ourselves available to be used by God for service to mankind whichever way He chooses to. I feel so blessed to be able to serve God, serve the world and do my favourite things at the same time. A million new talk shows, especially for a good cause will still be successful because people are dying without any opportunity to know Christ or turn their lives around. Without an opportunity to hear or see something that could just be the magic to their breakthrough. Talktolia has potential to bring that magic touch to many. My strength therefore lies in the fact that inspiration will never have an expiry date and since my show is founded on the Love of God for humanity, I can never fail because the foundation of this show is built on Christ the Solid Rock that never fails. I can assure you that there is not a subject I cannot talk about be it engineering, healthcare, politics, theatre, geography, economics. I do this in a way that you will see Biblical truth in every approach I take. And on top of this, I know how to entertain people in a way that they wonít lose their souls in the process. This means Iím a celebrity for Jesus. Thatís my greatest strength.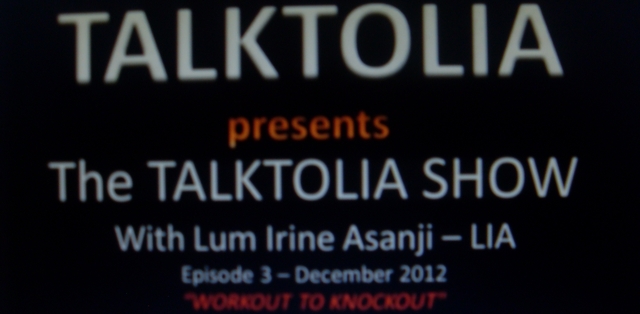 EK: What did it take to produce the shows - financially, materially, human resource wise?
LIA: To be very honest with you, these shows are more of a miracle to me. These are possible because of the sacrificial nature of my Nigerian brother Matthew Ogbulafor who believes so much in me and has single-handedly offered his time to assist me in the shooting and editing. I cannot even say I pay him because I cannot afford it at this time. Together we are simply believing God for a breakthrough from which we shall all benefit. I canít give you specific figures. Itís all sacrifice ranging from shooting time, late nights of editing, uploading on YouTube and marketing the videos for viewers to watch from time to time. I am always on the net at the least opportunity. Either on Facebook, Google plus, twitter or via email groups, I do not relent sharing the updates and forwarding notifications to get people aware. I also talk to people I meet at the grocery shops, at church meetings, at my workplace during my breaks, in restaurants, on the train or on the plane. Wherever I go, I tell at least two people about Talktolia. Iím the founder/CEO, producer, PRO etc. thatís what it takes until we grow bigger someday. This is sowing time and I believe God for harvest time whenever the time will be.
EK: From whom are you getting support so far?
LIA: This might not be the kind of logistics you are expecting to hear but I will start by saying God takes the most credit for providing me with strength and determination to produce something out of nothing virtually. He has also provided me with a wonderful brother, Matthew Ogbulafor who supports me morally and materially. I also get spiritual support from my church, the Brampton Christian Family Church, my brothers and sisters of the Shepherdís Bag Christian email forum who are always on the alert to see what next Iím up to and praying for me. My family is morally super supportive. Dunia Magazine Publisher Lema Abeng Nsah has been another great sister who has been promoting everything I do.
EK: What is the composition of the show?
LIA: Let me keep it simple: If you liked the Oprah Show, you will always like the Talktolia Show. I talk about everything and anything. The only difference is my style and purpose is entwined around getting people connected to the source of their creation-God. I can never sacrifice that aspect for mere entertainment. Both Christians and non-Christians can still relate to the topics I treat and if they realize that my God could be such fun to relate to, it would be a plus. With God by me, no viewer will go home empty-handed.

EK: What goal does it seek to achieve?
LIA: As I said above, I make it my business to make the world a better place in every possible way. What better way than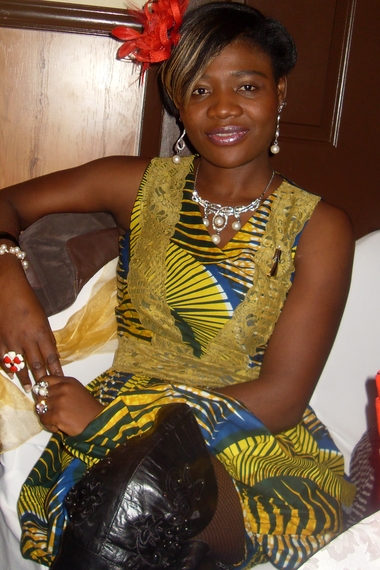 using the inspiration from the Bible which is the best manual that mankind could ever use to navigate through this sinful world?

EK: Do you plan to shoot some of the editions in Cameroon?
LIA: Iím a child of the world. I dream of shooting in many parts of the world at any given opportunity. I dream of shooting in Hawaii my dream location, I dream of co-producing with Oprah Winfrey in Canada or the USA. Cameroon is my homeland and it would equally be great shooting a show on the farm with my mother and I working and tilling the soil to feed her grandchildren.

EK: Any arrangement for broadcast through a broader medium?
LIA: I am still dreaming of that breakthrough. Penetrating the elite media has been a nightmare since I came to Canada and North America as a whole. However, I do not regret having the variety of career experiences Iíve had although I still felt a void inside me missing my media passion. Getting the shows on CRTV, STV, Canal 2 and other African networks will therefore be a great way to go, God being my helper

EK: How different is your show from the numerous ones we watch on TV across the world?
LIA: I love your rhetoric question. Canít you tell? Isnít it obvious? Hahaha! Talktolia is nothing like anything already existing except that we are all informing, educating and entertaining the world in line with mass media objectives. But in addition to that LIA is unique and the Talktolia Show is a show with no duplicate. LIA means Lord Is Able and also happens to be the initials of my name-a name that was renamed by my Saviour the same who promised to call Israel by a new name. That is my hidden driving force and I have faith that such an original and spiritually sustained show already makes a difference.

EK: Should people be surprised to find you in movies some day? As versatile and artistic as you are, donít you think you have what it takes to accomplish that as well?
LIA: You might not be far from the truth. I have been an actress in secondary and high school art clubs, wrote and staged plays and fashion shows now and again but in an unprofessional manner. I grew up with all those talents but had to eventually carve a niche towards Journalism as I emerged University. I will not be surprised to find myself in movies in future but that would depend on what movies Iíd accept a role in - maybe my own stories...hahaha!

EK: Last year you released a book called Phonecall In the Rain. You have been actively writing for online magazines and posting on social media networks. What is going on with your book projects?
LIA: You are right. I had to place Phonecall In the Rain on hold to make some significant modifications so as the bring the book back to the readers in better shape than the original version. This review is for the best interest of my readers and of course to give God the glory in an even stronger manner. I will be announcing a release in January 2013 to be followed by book launches and other events that would be of interest to the general public. I also have two other books in the pipeline now. Thanks for asking and stay tuned for updates as well.

EK: Any more information?
LIA: I wish to encourage everyone to stand up and challenge themselves in everything they dream of doing. Thereís no harm in trying even when we find ourselves in the diapora with many limitations. We should never accept defeat or allow detractors talk us out of our vision, that is if we have received Godís voice about who we are and what we are called to do. Like Joseph in the book of Genesis, many people would try to kill your dreams but only you and God can let that dream die. If at the end all I did was dream, at least, I would have started a dream through Talktolia for someone to continue to the finish line.

EK: Thanks LIA, weíll be back with you for more in subsequent updates.
LIA: Thanks Ernest, do have a great time and keep the flame burning!