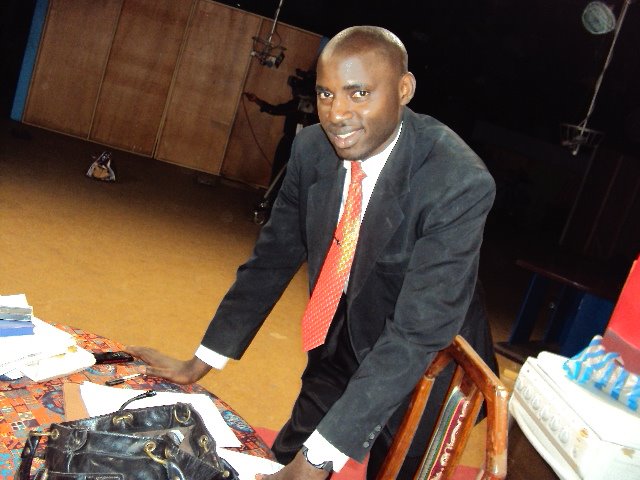 Breaking down newspaper content for a better decoding of television audience is not often chocolate. This is the challenge Fonkenmun Baldwin Sama has faced for the past three years on Hello, one of CRTV's most cherished daybreak shows. The young broadcaster has had to peruse newspaper columns every Tuesday and Thursday and inform or explain the content to viewers who would generally not be patient enough to read or can't procure copies on a regularly basis. He has lived up to the task and done that in an excitingly spectacular manner.
Perhaps what makes his story palatable and pulls attention is the fact that Sama has created a record which is yet to be beaten. He is the longest serving Hello team member on this slot. His dig-deep into content approach and conversational style on set have also been an added impetus to Sama's performance on the Press Review. Feedback – blue progress report card!
It is undoubtedly this stainless record that has backed CRTV management in its decision to lift the 1.91m-tall broadcaster two steps up the ladder - assistant presenter of Brain Box, a brain thrust show that is increasingly winning more audience on the national television and to TV sports reporter. "Before I was co-opted as assistant presenter of Brain Box, I was the part of the jury on the show. Management, the producer of Brain box and viewers immediately fell in love with my performance the day I sat in for the main presenter Buma Bennen who was unavoidably absent. That's how I was approved to be a co," Sama told TIPTOPSTARS.
How he got to the prestigious TV Sports Service, the broadcaster explained that his God-given drive drove him to meet service head and renowned TV sports caster Fon Echekiye and declare his wish to work there. "Fortunately, Fon had been keen on my performance in the other slots and so let me on board," he said. "I know it's going to be a hectic one, but I'll do my best in the sports desk," he went on.
General classified in the new generation of Cameroonian TV broadcasters who would make proper use of devices of the electronic age to consolidate their audience, Sama shuttles his brilliant skills from one show to the other. He has fast become a likeable broadcaster. This can be proven by a Hello fans club where he and his generation mates including Gwendoline Fonguh and Amos Enohnyaket Agbor are regularly hailed. But how did the young Sama come along with this achievement?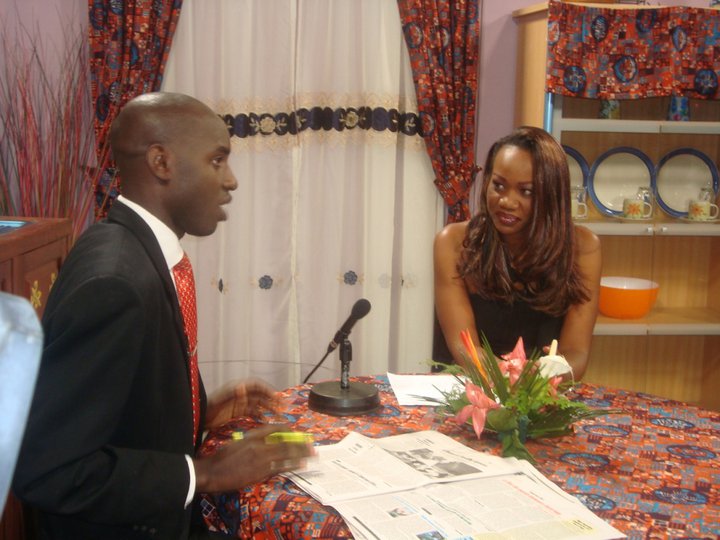 "I've always been driven by my childhood passion for broadcasting, inspired at the time by TV news anchors including Philip Bawe," the popular TV press reviewer who is also a Political Science and Public Administration graduate from the University of Buea told us. "I dreamt to be one someday. Upon graduation from UB, I and some colleagues were offered internship positions at CRTV by Robert Ekukole, then Director of Productions."
The said internship later metamorphosized into full-time employment, thanks to Sama's convincing performance. Upon coming on board, Sama chose the press review slot based on the oral communicator's knack for reading, learning and informing audiences. "It warms my heart when I know viewers, including the top brass in the country rise as early as 6am to watch me as their first source of information for the day," said the talented holder of a diploma in journalism.
Sama who also does the legal slot and special reports on Hello, spreads his skills on other CRTV programmes including the long-time community-driven Monday Show. He thrives on the professional support of two of the most successful TV show hosts – Jimla Nene Shadzeka and Albert Njie Mbonde. "They are more than colleagues to me, they are big bro and sis respectively. I appreciate all what these two have done to me," Sama confessed. The ever gentle and soft-spoken lad who enjoyed his childhood in timber-rich Bertoua in the East region of Cameroon also has George Ewane, senior reporter and Cameroon's State House correspondent as role model. "I learn quite much from him," said the up-and-coming broadcaster, a twin and bachelor who hails from Bali Nyongha in the North West region of Cameroon.
Related Stories