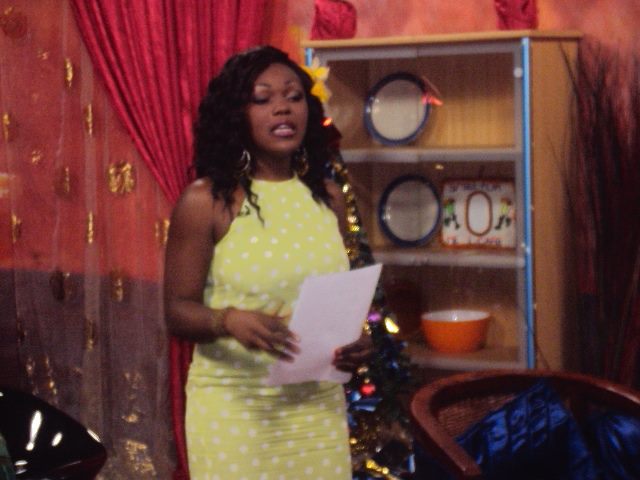 When the signature tune of Tam-Tam Weekend wraps up on Sunday April 1, 2012, expect to see a new face. This is certainly going to be a day fans of Cameroon's State-run television, CRTV will never afford to forget. Just like the stage curtains that open to introduce a popular actor or MC or a royal cart that ushers in a majestic queen, the show will open up with the introduction of the girl called Gwendoline Fongo, the newest hostess of age-old commercially-driven talkshow.
Gwen, as she is simply known by her fans has sure been the hottest face on TV of late, shuttling from show to show, but Tam-Tam Weekend is undoubtedly going to be her biggest challenge. "Sure it's going to be a hot seat and I cannot say Ernest that I'm not aware of that," she told TIPTOPSTARS Editor early Monday. "But since my nature is that which faces challenges just as they come, I'm ready with God's guidance," Gwen went on.
Management had contacted the young broadcaster who also runs radio shows (Weekend Express and some up-coming slots) for ideas on how TTW could be improved upon. "I shared my opinion, making a good number of suggestions but not knowing I was later going to be the one to implement them," Gwen explained. "Now that the ball is thrown in my court, I have no choice but to play it," "But I can't do that alone. I'll need contributions from viewers of CRTV and particularly fans of Tam-Tam Weekend, reason why I'll be open to any comments, suggestions and what have you," the new TTW hostess said.
Gwen, who occasionally hosts the popular daybreak show Hello, will be paired with Ghislain Ebang, yet another big name in the house. Ebang, a former Station Manager of CRTV's FM 105 Swelaba in Douala has hosted the regular Friday programme Vendredi Show for quite some time. He is generally remembered to have been the pioneer host of Bonjour, the breakfast show which is the French equivalent of Hello. "Ghislain Ebang is a big brother I've always admired and would be privileged to work with on Tam-Tam Weekend," said Gwen when we contacted her to react on her new assignment.
Meantime, Gwen has joined Ivo Partem on C La Fete, a live audience show which regurgitates memories of the famous Tele Podium. She has also created The Drill, an educational TV reality show that hits the airwaves eventually. "I also have Gospel Beatz in gestation. It's a programme that will pay tribute to gospel music artistes," the talented radio/TV broadcaster told us. The multi-talented Gwen is also a singer and actress. Watch out for an exclusive interview with her coming up only on www.tiptostars.com