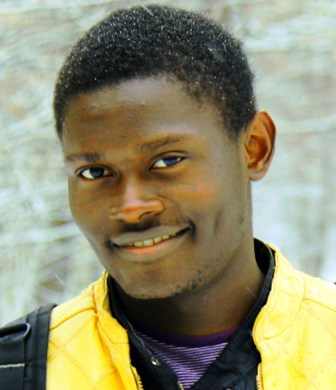 Everything post-production is his thing. This is a fact virtually everyone so attached to the film industry in Cameroon can attest. His name has now grown so big that at the mention of it, the first thing that comes to mind is standard quality editing, reflected in some of the nicest productions being done of late. Yet, the 1.80m-tall Achille Brice from Santchou in the West region of Cameroon would humbly keep this to himself until you drag him into an interview. Achille is a boy of few words. "His fingers on the keyboard speak louder than the individual," a film director had told me some time ago. "Anything audio-visual Achille touches is different. He gives it an Achille touch," another collaborator of the dexterous film editor told TIPTOPSTARS. The said Achille touch is undoubtedly what fetched his country three nominations and a prize at the 2011 edition of the Zulu African Film Academy Awards (ZAFAA). Since then, Obsession, the movie through which Cameroon had the best up-coming male award has been a piece movie fans would hardly stop mentioning. And as we write, it is still receiving nominations around the world, the most recent being the Cameroon Entertainment Awards, CEA billed for July 28 in the United States of America. TIPTOPSTARS got in touch with Achille Brice to get the story of his success from the horse's own mouth. In the chat with us, Achille talked about his specialty, his film training background and of course Obsession, now his greatest identity. Here are excerpts of the interview with Ernest Kanjo
Ernest Kanjo (EK): Hello Achille, how are you today?
Achille Brice: I'm doing good and you?
EK: I'm ok. What area of filmmaking are you specialized in?
(AB): I feel more comfortable with everything that is post -production. I did some gigs as an assistant director and director, but I should say post- production is my thing. The areas in post production I am specialized in are editing, color grading, VFX, Matte Painting, Rot scoping and I'm fast becoming confident in sound mixing and editing.
EK: How long have you been a film editor?
AB: I have been a film editor since 2003. I began as a lover of picture manipulations, which is editing still pictures. I launched my editing career via Luxury, a feature length film by Kamwa Anthony. I must say the period between 2003 and 2006 was that of self discovery in my career. Since 2008, I have experienced a bug mutation in editing.
EK: How many films have you edited so far, if you can recall?
AB: To the best of my knowledge, I have a filmography of over nine feature films and eight short films edited. These exclude commercials, TV spots and music videos on which I have worked. I have worked on projects in Cameroon, South Africa, Nigeria and Germany.
EK: Have you had formal training in editing?
AB: I started the whole process by downloading and reading tutorials on film editing online. I also read many eBooks. In short, I opted to do research because we do not have film schools in Buea where I live, neither do we have film workshops. Thanks to online search, I came across the Berlinale Talent Campus in Berlin and the Durban Talent campus in South Africa. After Applying to participate at these 2 great film master classes, I was selected and at that moment, my life changed from being an aspiring amateur to a professional. We were taught by film industry experts and professionals from around the world. We also had face- to-face meetings with these professionals and in the course of this, we enriched ourselves. Thus, I had my training in editing and the whole filmmaking process in Berlin, Germany and Durban in South Africa. I equally had an in-depth into directing videos/films and new media during my stay in Stuttgart, Germany following an artist residency grant I benefitted from the Akademie Schloss Solitude in the city of Stuttgart. My journey has been from self-learning to first-hand lessons from industry professionals.
EK: What makes Achille a good film editor?
AB: Hard work, determination and motivation! My greatest strength however has been the fact that I understood the first principle of being a good editor which is patience and the willingness to experiment new ideas. I dedicate much time and effort on my work as an editor and then filmmaker than I do in other things in life. I am motivated by the zeal to have whatever thing I do in the best way.
EK: Which has been your most challenging editing job?
(AB): Every editing job comes with its own challenges. However, I must admit working on Obsession was quite a great challenge on the creative and innovative side of my editing and directing career. We shot about 60 percent of Obsession on green screen for Computer Generated Imagery and matting. This was simply because we wanted to have complete control of our background and foreground plains on an X, Y, Z perspective. Also we wanted in some way to introduce CGI elements in filmmaking in Cameroon. It was quite challenging from pre to production, given that actors had to play with invisible objects and interact with virtual environments. Thus post-production was bound to be very difficult in terms of editing and introducing virtual sets and making use of virtual effects. I had to work pretty hard with a dedicated crew and cast. Obsession was a test project for the team to see how far we could aim, given that Cameroon has not yet started using CGI as part of the filmmaking process itself. Shooting the movie on green screens rather than real locations was a choice made by the CoreUnit Group and I. We were just trying to step up and hopefully we did in our own way. Post-production for Obsession took me three intensive months before I could say yes, I think the movie is ready.
EK: Which are the films you've edited that have either been nominated or have won awards?
AB: Retribution in 2006 by Etta Rene was best short film at the Fako Film Festival and at the Verdant Hills Minifilm Festival. Woman's Scar in 2006 by Kamwa Anthony was second best short at the Verdant Hills Minifilm Festival and had best female actress at the Fako Film festival. Brand-new in 2008 by B.T Thomas, Nigeria was nominated in festivals in Nigeria for best up-coming female, best pictures, best editing, best first time director. Obsession in 2011 by Achille Brice was nominated at the Ecrans Noirs Film Festival for the Ecrans d'Afrique Centrale and Ecrans d'Or. It was also nominated at the Zulu African Film Academy Awards, ZAFAA in London in three categories, best up-coming male, best up-coming female and best sound editing. It has again been nominated at the up-coming Cameroon Entertainment Awards in the USA in the best film category. It received an award at the ZAFAA awards in London for best up-coming male, critically acclaimed by the Akademie Schloss Solitude.
EK: Obsession seems to be one of your most popular films, tell us how you came about this project.
AB: It all started at the home of Nchifor Valery. We were having a discussion about psychos in the
Hollywood and Bollywood movies we'd watched. I was inspired by the fact that there were people ready to do anything possible to get what they desired even though their various means at doing that differed. Also most parents want to see themselves in their children. These summed up to develop the story. Part of it came up from a true life experience but not as intense as the film portrays. I started contacting with other filmmakers to talk about the subject and worked on the story. I did the first two drafts of the script about two years before production began. I sent the script to other filmmakers whom I trusted and respected. They worked on the script and came up with other suggestions and versions of the film but the good thing was the fact that the story line wasn't affected in anyway. While in Stuttgart, Germany more adjustments were made on the script. What we ended shooting was the 15th draft of the script. It took that long because I wanted a perfect story and at the same time looking for funders for the project. I talked to the director of the Akademie Schloss and to my greatest delight, a project funding came my way. That's when I knew I was ready to shot the film. I travelled back to Cameroon and started working with my lead cast and the CoreUnit Group, a group made up of five production companies based in Buea, Cameroon which I'm a member. The lead cast had the first two drafts of the scripts about a year before production and all the updated scripts were sent to them each time one came up. They had an acting coach at their disposal in the person of Anurin Nwunembom. I was blessed to work with people that had the same vision and passion as I did. We had a wonderful collaborated and the baby Obsession was born. Obsession is more of a psychological drama, a mind control movie than all the action and violence we see in it. It's quite a long story but this is the best brief story of how it came to happen. The movie's website is: www.binamstudios.com/obsession
EK: How did you feel when it got three nominations and a prize at the ZAFAA?
AB: I was too excited, not for the fact that we had those nominations but for the fact that the hard work and dedication of the cast and crew finally paid off. The feeling was greater when Nchifor Valery, our lead actor grabbed the best up-coming male award. We were on the spot light in London and that made us proud. It was not a victory for whose film is the best but a victory for the Cameroon film industry and it motivated us quite much. Cameroon too had written its name in the filmmaking books.
EK: On which project are you working on now?
AB: As of now, I'm more interested in seeing Obsession go through the film festival circuits worldwide, at the same time trying to promote the film. Nevertheless, I'm working on a short film which is going to be fully CGI made this time entitled Hell Pass. Also behind the scenes, I'm trying to complete my script on the next feature film Area V. The two
projects will be carried out by BinAm Studios and the CoreUnit Group. I'm still pitching the idea of Hell Pass to the CoreUnit Group team to get their funds and other support. More about these projects will be available online at BinAm Studios' website: www.binamstudios.com
EK: What are your hobbies?
AB: Video games, basketball, swimming and working on the computer.
EK: What is your best Cameroonian traditional dish?
AB: Serve me koki beans and ripe plantains or water fufu an eru, the you're my friend.
EK: It was nice talking with Achille,
AB: Thanks a million Ernest! I appreciate.