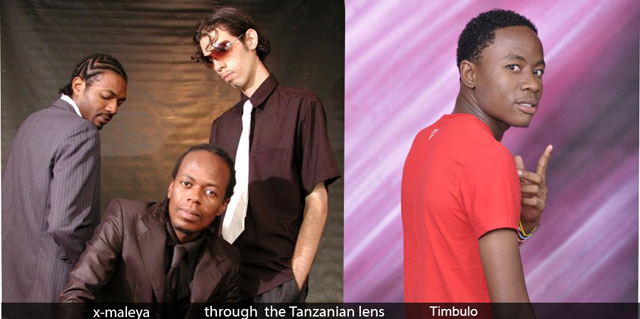 Tanzania is not sufficiently known to have cultural, let alone music traits that resemble Cameroon. Until now, this writer doesn't seem to recall any artiste from that East African giant who has made great in-roads into Cameroon. That Cameroonian singers have often found a huge audience in Tanzania has not been a common happening in the history of music on the African continent.
True that musicians such as Ndedi Eyango and Sam Fan Thomas attracted enormous attention in East Africa in the 80s. But that is when makossa/makassi traversed borders and hit international recognition. Gone were those days.
However, the goodies of the days of old seem to staging a handsome come-back. Tanzania now seems to decode the Cameroonian musical notes and fall for it. The remake has definitely begun and it's through X-Maleya that the new story is being told. That country's up-and-coming artiste, Timbulo has overtly been overwhelmed by be three-man band and the succinctly catchy melodious songs they serve. Not reacting would surely have been a lifetime professional sin for the young East African singer. Of course he did react by replaying two of X-Maleya's most popular songs, Yelele which he titled Domo Langu and Tchokolo (Waleo Wa Kasho by Timbulo).
This reporter is yet to determine if Timbulo contacted the Cameroonian group for copyright exigencies. Some critics may also hold the young artist from Tanzania is creativity deficient. In a reaction to the Tanzanian version of Yelele and Tchokolo, one commentator crudely held that X-Malea's songs were stolen.
Whatever the case, Timbulo's action is a true demonstration of admiration for music coming from Cameroon. Other foreign singers have displayed similar love and this has rather lifted the country and the creators of those songs to greater fame. Just over a year and the half ago, RnB super star Shakira regurgitated Zangalewa when she presented her own version of the group's most popular track as the World Cup theme song. In 2000, the Ivorian Espoir 2000 did a well appreciated remix of Prince Nico Mbarga's Simplicity. A couple of years back RnB queen Rihanna picked popular coloration from a Manu Dibango track which pop star Michael Jackson had used long ago. Examples abound. The message is clear!