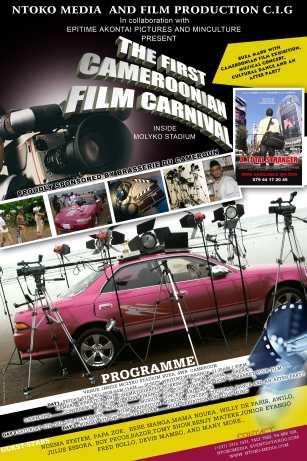 Cameroonian filmmakers an home ad in the diaspora will be coming together this December in what has been code-Named "Cameroon Film Carnival". Amongst other actiities will include Cameroon Made film Film exhibition , Musical Concerts and Film Soirees. The Oragnisers are currently Registering films of all genres from every cameroonian filmamker.Activities at the Carnival include:
DAY 1, FRIDAY 4th DEC 2009: WORKSHOP ON FILM PRODUCTION AND CONFERENCE ON HOW TO RAISE MONEY TO PRODUCE OR MARKET UR FILM
DAY 2 & 3, SAT 5th and SUN 6th DEC 2009: CARNIVAL, FILM EXHIBITION, MUSICAL CONCERT, CULTURAL DANCE AND CAMEROONIAN FILM EVENING.
GATE FEE: FREE
VENUE: MOLYKO STADIUM BUEA, S.W.R-CAMEROON.
REGISTRATION FOR FILM EXHIBITION: FREE
Guest Artist
MAMA NGUEA, PAPA ZOE, NDEMA SYSTEM, ISSAC DECA, BATE NICO, TATA KINGE, TSIMI TORO, AWILO, WILLY DE PARIS, BENJI MATEKE, MOTAGUYA
Organisers:NTOKO MEDIA AND FILM PRODUCTION UK/CAM