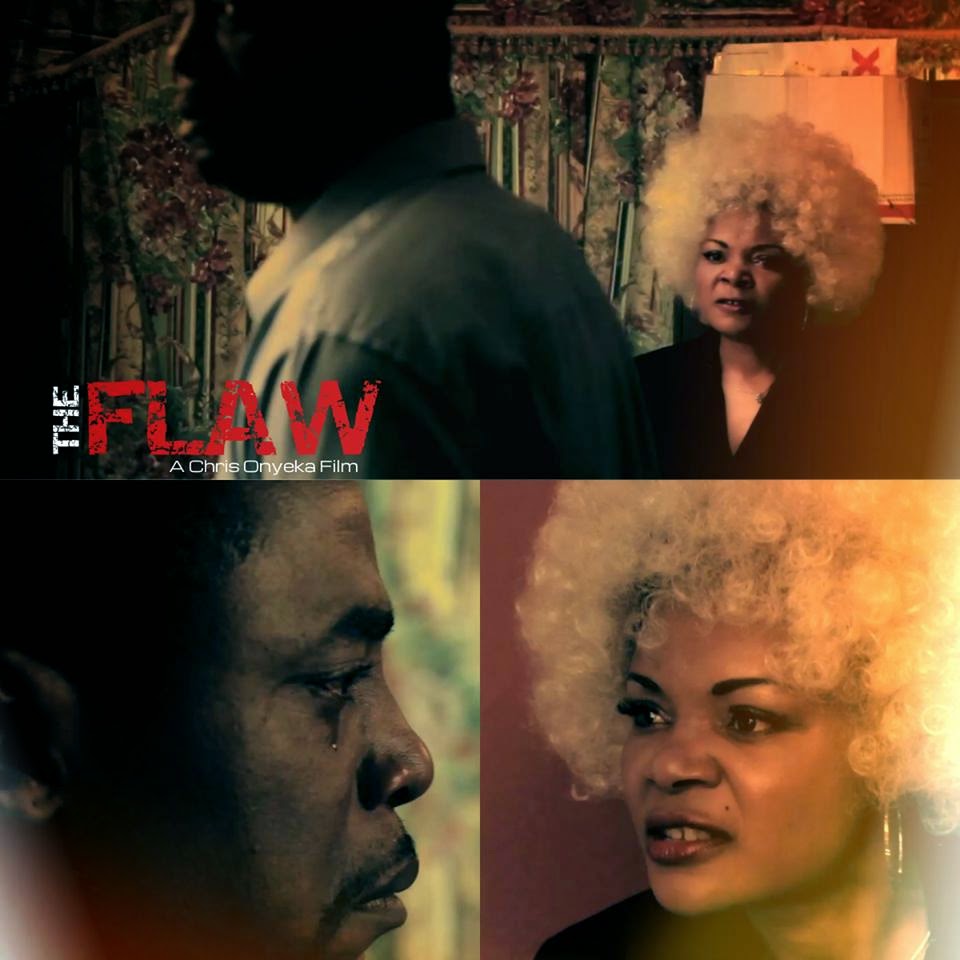 While The Flaw was being awaited, anxious potential viewers TIPTOPSTARS spoke with explained that Chris Onyeka was such a fine and refined filmmaker to the extent that his works are always exemplary. "He knows his craft, reason why his end results are masterpieces," a popular TV host cum actress who preferred to simply go by Cybote, said this of the Nigerian movie guru. She had had some working experiences with Onyeka in Boston, Massachusetts, prior to the filmmaker's relocation to Texas.

Other featuring actors in the movie told us they were still excited and anxiously looking forward to savouring the movie, whereas, they lived the great moments of its production. "I feel like an ordinary viewer who is waiting for the next movie of their model director – I just can't wait," one of them told us.

Behold, such positive positions have not changed, since The Flaw hit public space, officially on March 22, 2015. Its viewers so far, have given The Flaw a pass mark. "And this is thanks to the entire cast and crew, but I must still laud the ingenuity of the movie's writer and director, Chris Onyeka. He made it happen," Edith Pikwa, one of The Flaw's lead characters told this writer. According to the Dallas-based actress, The Flaw is one of the most exciting stories she has done in her performing arts career this far. "And I must confess that it has influenced my career, I learned quite much from this production and very proud to have been part of it," she told us.

On her part, Yvonne Jolie who plays "Instinct" explained that the role is quite challenging, but that to the actress, means a lot to her experience in the art. "I enjoyed doing my advisory role and it made me feel like it was a real situation," she said. The actress cum fashion specialist endorsed the storyline and recommended The Flaw for whoever is yet to watch the 109-minutes long movie, now discussed with much interest within African film circles in the United States.

Shot on locations in Dallas, Texas, The Flaw address the salient issue of irresponsible relationships with clear lessons to learn at the end. It is crafted with the artistry of a cream of fine USA-based African actors including Edith Pikwa, Mohammed Bah, Carl Payne, Yvonne Jolie, Bless Brown, Beatrice Nwana, Clarry Otieno and Kiss Uloma. The Flaw (English) is produced under the banner of Ocene Movies and directed by Chris Onyeka with Mike Westt as Director of Photography (D.O.P). Producers say the movie could be watch online at http://theflaw.vhx.tv/ for a very minimal cost.