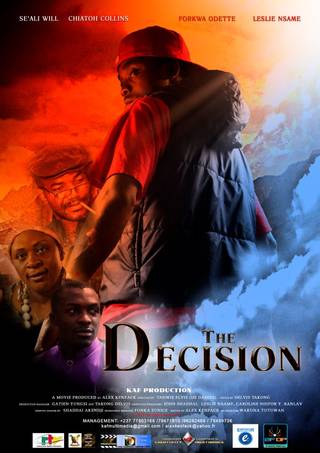 Friday 11 May 2012 will go down into history as the day Cameroon welcomed one of its most carefully packaged movies. The Decision, completed just a couple of days ago is ready for the market. The entirely Cameroonian cast movie will be premièred at the Yaounde Hilton Hotel amidst great anxiety from film lovers and fans of the people manning the project.

According to Chiatoh Collins, actor and a fore person in the movie's production team, The Decision's première will be a VIP event that will leave an indelible mark in the industry. "Everything is in place to give the event the colour it deserves," he told TIPTOPSTARS Editor when we reached him to comment on the première.

Perhaps, having popular CRTV Bonjour and C'est La Fete presenter, Ivo Partem as one of the MCs for the film première will be an added impetus to the event. Ivo, a talented event communicator will be accompanied by Blandine Mbawei, one of the most solicited MCs in Cameroon as we write. Top ranking Yaounde personalities are expected at The Decision's première come tomorrow.

Shot in Yaounde a couple of weeks ago, The Dec
ision is directed by Elvis Tanwie aka De Daddies. Featuring in the 120 minutes long film, edited by Takong Delvis (producer of Supplication) are Sea'Ali Will, Chiatoh Collins, Rev Nsame Lesley, Fonkwa Odette and others. Be there!