Tuesday, 08 May 2012 16:48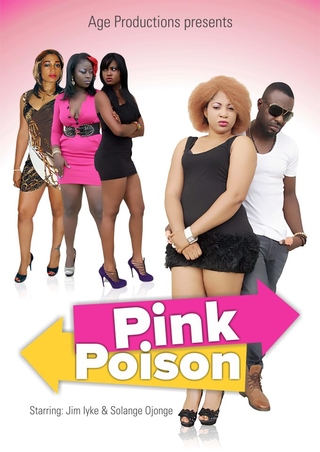 The mention of the name Agbor Gilbert means there is something in the air. From every indication, we are nearing the release and subsequent premiere of his latest movie. Did we say another Agbor Gilbert production? Certainly! It is a Neba Lawrence film, shot amidst a huge mobilization and great expectation from fans, onlookers and the entire country.

For yet another time, an Agbor Gilbert production attracted an inexplicably huge attention from Cameroon. This was not only because of the coming to town of the Nollywood star Jim Iyke, but more this time for the presence of some of the up-and-coming faces that are fast propelling the Cameroonian film industry to great heights. Fesse Elyn Basil is one of such actresses in question who will make Pink Poison a must-watch movie.

Anxiously awaited, Pink Poison, produced under the banner of Age Production has been the talk of Cameroon for the past couple of months. Apart from the huge mobilization of crew and cast, the theme of the story is catchy enough to make movie fans, especially Cameroonian university students, wait impatiently to savour it. Briefly, Pink Poison portrays the materialistic and extravagant lifestyle now known to be characteristic of university women, even when some of them are unable to generate the means. In the process, many have had to fall off the rails of success and regret later. The producers of the movie tell us that Pink Poison is full of suspense – watch it!

Starring Jim Iyke and Solange Ojong, the appetizing Pink Poison is that production which grabbed all of producer Agbor Gilbert and director Neba Lawrence. For once, both filmmakers were missing from public view for some weeks, held up on movie locations around Limbe and Buea. "It was a hectic production we had this time Ernest," Neba Lawrence told TIPTOPSTARS Editor soon after they rounded off shooting.

Also featuring in the movie filmed by Ngozi Nkebakuo aka MG 1 (D.O.P) and Ernest Bah as sound technician are Quinta Eyong Ashu, Lynno Lovert and Epule Jeffery.

Now, almost ready, Pink Poison is programmed to be premiere at the Yaounde Hilton Hotel on a date to be made public soon. It comes after three other movies produced by Agbor Gilbert – Before the Sunrise (starring Zack Orji, Olu Jacobs, Dakore Egbuson and Ivan Namme), The Blues Kingdom (starring Clarion Chukwurah, Zack Orji and Ivan Namme) and Land of Shadows (starring Jim Iyke, Solange Yijika, Quinta Eyong and Lynno Lovert).



Last Updated on Tuesday, 08 May 2012 16:57