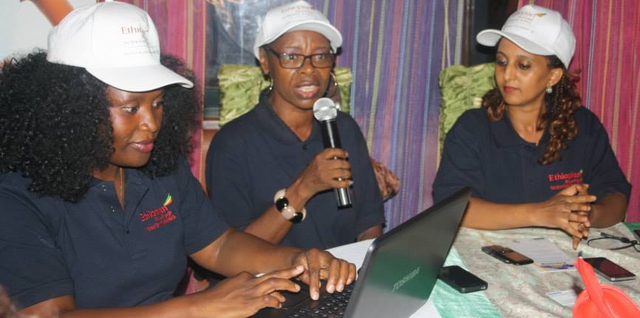 Good results are far-fetched if practitioners of an activity as salient (especially in this electronic age) as online reporting hesitate to halt at one point to evaluate. Organizers of the recent forum to that effect dubbed Cameroonian bloggers hangout quickly understood this and decided not to take things lying down. Behold, the initiative has turned out to be a landmark happening in the life of Cameroonian blogging with participants finding much pleasure in recalling it. The story could not have been sweeter to anyone than the person who has been going to bed and waking up with the idea to bring bloggers together until it finally happened. Adeline Sede Kamga, founder and publisher of FabAfrique Magazine responded with an immeasurable degree of satisfaction when TIPTOPSTARS contacted her for a post-event assessment of the June 14 bloggers hangout that took place in Cameroon's economic capital Douala. She spoke with Editor Ernest Kanjo. Excerpts!
Ernest Kanjo (EK): Welcome to TIPTOPSTARS Adel!
Adeline Sede (AS): Thanks for having me Ernest!
EK: How did the Douala Cameroonian bloggers hang-out go?
AS: It was very successful, I must admit. We had a very resourceful evening. We did not only deal with issues that needed to be addressed but got to discover the faces behind our most beloved blogs. It was great fun!
EK: Were you satisfied with the attendance?
AS: Yes we were! We only sent out a few invitations since as our sponsors, Ethiopian Airlines confirmed quite late. However, we had more than thirty bloggers showing up plus other participant who were looking forward to creating their own blogs. It was quite satisfactory.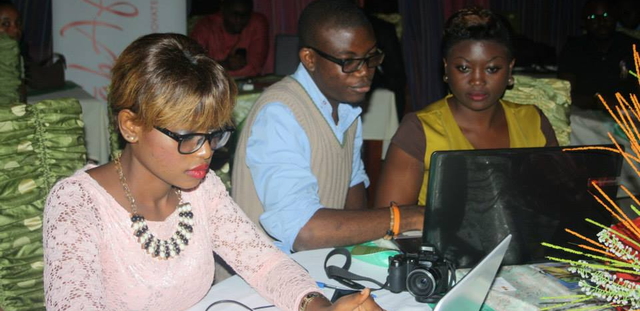 EK: What did you deliberate on and what were the resolutions you arrived at?
AS: Our discussions revolved around the different types of blogging, content sharing and the possibility of using blogging as an advertising platform. We also deliberated on the kind of support bloggers need to be able to stay online and inspire others.
EK: How soon do you intend to implement these resolutions and do interested parties have the necessary resources to do this?
AS: We are already working on it. The first action will be validated by June the 29th .with a FAN trip to Singapore, sponsored by Ethiopian Airlines. We will also be evaluating active blogs and looking at how we can help them cover some basic costs through placing advertising features and content.

EK: Is there something you would say marked you at the forum?
AS: The level of engagement from the participants in the hall and those who were online. Usually, when an event like this is organized for the first time, everyone is looking up to organizers. This was different- everyone went straight to the point, took out their laptops, got connected to the Internet, followed our sponsors, Ethiopian Airlines, followed other participants and just got on with blogging as we rolled on!.
We also had support from other partners like TIPTOPSTARS, Bakwa Magazine and friends on social media. Some Cameroonian bloggers in the diaspora took time to re-share our tweets and wished us luck making the session even more interactive. It seemed as if the whole world was there with us-Live feeds, RT, RS, etc- It was pure and fast!
EK: Any word to the sponsors?
AS: Ethiopian Airlines has set the pace. They are not only flying one lucky blogger to Singapore for the FAM trip, but have promised to support bloggers and partner with them to promote their services in Cameroon and Africa.
EK: Generally, how would assess the Cameroonian online reporting landscape and where do you see it in the next couple of years?
AS: I think a lot of people are getting their voices heard online these days. Although there are a few stronger voices out there, some amazing ones have disappeared into thin air. Slow Internet connectivity, is undoubtedly the number one killer of online reporting in Cameroon. We have heard through some unconfirmed source that there would be an introduction of cheaper and faster internet connection in 2015. We hope this project materializes sooner than later. Many companies are looking at shifting or splitting advertising budget to incorporate online platforms as well. That is good news for us. But until this happens, the companies cannot get effective value for money. Also, those in the entertainment world are craving for a better platform to promote themselves. Online reporters are ready to support them but again, Internet connection is the issue. If this is fixed, we can do quite much in promoting not only our country, but the people taking Cameroon to the world stage.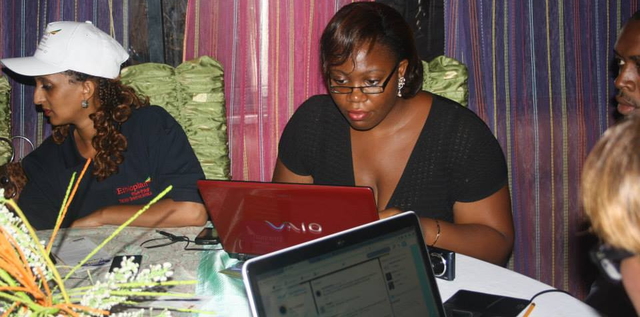 EK: Any plans for another come-together? If so, how soon?
AS: Oh yes! An initiative like this should always look at ways of bringing innovations. We do not need to stop! We can never stop! We are planning the next event in August. This would be bigger and better. However, we discussed the need for bloggers at home and bloggers in the diaspora to come together at least every two months. We'd be hosting a tweet chat in July with Cameroonian bloggers at home and in the diaspora. The link is already there, now let's get the ball rolling.
EK: One last word Adel…
AS: I wish to extend our profound gratitude to Ethiopian Airlines, TIPTOPSTARS, Bakwa Magazine, FebMart, Achuoka, Camtel, White House Restaurant, Wasamundi, Tropicalis Air, Team FabAfriq and all the bloggers who made this a success. Looking forward to the next one!
EK: thanks for talking to us Adel!
AS: A great pleasure Ernest!
PHOTO CREDITS : FebMart