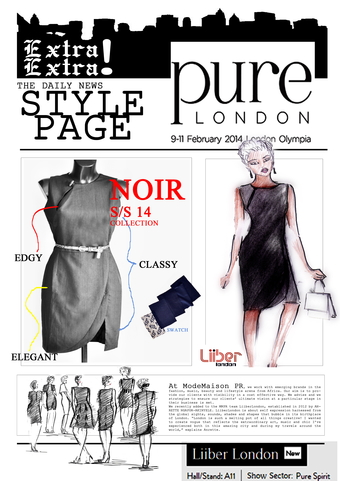 Pure London has become the UK's leading fashion buying event attracting over 12,000 buyers from independent, department stores, multiples and e-tailers who attend each season not only to source brands, but also to place orders.

As brands within the African circle seek to broaden their market place and their horizon, many are looking for reputable and international platforms to make this happen and one such brand is Liiber London a women's wear brand founded by Cameroonian fashionista Anrette Ngafor Akinyele.

Harnessed in its birthplace of London, fashion brand Liiber London with a tagline of "Be Liiber, Be Free" combines the sights, sounds and shapes of Cosmo London to concoct unique limited pieces for the vibrant freedom loving fashionista.

The brand unveils "NOIR" its new SS14 collection at London's biggest premiere fashion platform Pure London from February 9th to 11th at Stand A11.

Using this unique opportunity, the "NOIR" collection inspired by the famous quote by car designer Henry Ford which states "You can have any colour you want as long as it is black", Liiber London will present to its public and buyers a collection which will be a mélange of elegant, stylish and edgy items all in black with a surprise pop of colour on certain items.

Liiber London invites you to a fashionable 3 day experience where you can shop while champagne sipping and cupcake munching…what else can a fashion lover desire?! The "NOIR" experience right?!

For more information: www.purelondon.com

Contact Liiber London:

Email: This e-mail address is being protected from spambots. You need JavaScript enabled to view it "> This e-mail address is being protected from spambots. You need JavaScript enabled to view it

Twitter: @Liiberlondon

Facebook: www.facebook.com/Liiber-London