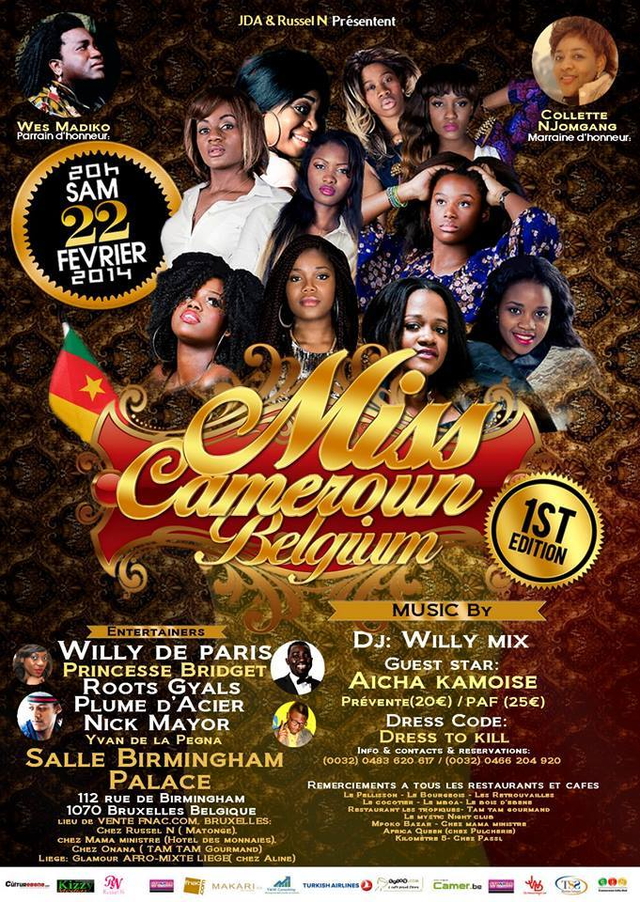 Amongst record-creating African entertainment events, lined up for 2014 in Belgium, one of them stands out – the Miss Cameroon beauty pageant. It is still in the pipeline, yet the grandeur of the event has already introduced an amazing wave of anxiety amongst Africans in the diaspora as a whole and Cameroonians in Belgium particularly. It rocks in their minds!

To Russel N, a pivotal entertainment promoter, this new-fashioned Miss Cameroon Belgium is an event to watch out for. "It's going to benefit from my enormous experience amassed along the years with such events," the main organizer told TIPTOPSTARS as he explained what stuff the February 22 beauty contest would be made of. "It shall be a display of fashion, cat walking, eloquence in speech by the contestants, ingenuity as regards general knowledge and most important the ability to convince the jury with a sound mission statement," Russel announced further.

According to the organizers, lots of entertainment items will feature on the event's agenda including music performance from artists who have the propensity to move crowds. Such captivating performers include singer cum comedian Willy de Paris, Princess Bridget, and some Belgium-based Cameroonian artists. Then, the musical interludes will get more exciting when renowned world music singer, Cameroonian-born Wes Madico gets to the podium.

However, the highlight of the February 22 spectacle will be solemn crowning of the night's heroine – the most beautiful lady! "That beauty queen will smile home with a Belgium-Cameroon-Belgium trip, ticket-in-hand," Russel who doubles as director of Jeunesse Dynamique Africaine (a diaspora-run civil organization aimed at fostering development on the African continent) revealed. According to him, several other prizes will be bagged by the winner and her runners-up.

Prior to the grand final, a pre-selection of contestants has been done in some Belgian cities. The final 10, each representing a region will present themselves for scrutiny by a jury Russel (a designer – will be designing the evening's outfit) insists is ripe for the herculean task. The event will be held at Rue de Birmingham, Brussels.

Meanwhile, the initiator of the new-fashioned Miss Cameroon Belgium has worked on similar fronts including the Miss Belgium and Miss Rwanda beauty contests. TIPTOPSTARS comes back to this story as time goes on.