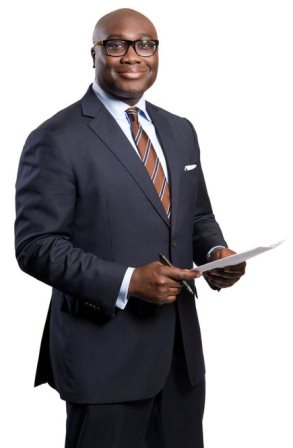 It was difficult to find a single fervent African listener of the BBC who could resist the charm of Komla Dumor. So too was it to zap when the charismatic broadcaster was on the air. It is even more difficult now to come to terms with the fact that the sassy voice of the young, yet iconic Ghanaian-born journalist will be heard no more on what has been considered as the best thing that ever happened in radio broadcasting – the BBC. Komla Dumor passed away. Unbelievable! But, yes! Shocking is quantifiably inferior to describe what Dumor's fans, this writer inclusive feel. Justifiably, that is what it is – shocking!
Minutes after news of the brilliant journalist's demise stormed in, emotions went viral just as the information did. The name is too big, big enough to easily provoke mass concern the way it has done. "A big loss for African journalism" - "the fall of a baobab" - "the demise of a journalism hero." The reactions have been endless and justifiably so because refined journalists broadcasters like Dumor are not easy to come by.
Ghana, Dumor's birth country may really be in deep grieve, but the entire continent is suffering this huge loss and one can easily understand why. The British Broadcasting Corporation, BBC for which the 41-year-old international journalist worked staunchly believes in and strictly goes for quality, call it the best. Formal training aside, an interested reporter must be adequately apt with news gathering skills, must be out-going, must possess a sound understanding of his coverage environment and must have a convincing ability to package broadcast material and most important an appealing delivery. Then, to get to Bush House (the corporation's headquarters in London), one must have accrued the BBC style – the model of Anglo-Saxon broadcasting. Dumor went through that school with flying colours.
At least between 2006 and 2009 when he presented the age-old daybreak news magazine, Network Africa, Dumor could be counted as one of the ingenious newsroom boys who gave the BBC Africa Service the flare it deserved. No listener ever recovered from the fit Dumor's voice, introducing the news show each morning threw them into. Even this writer! The uniqueness of his voice plus Dumor's captivating intros made his presentations palatable radio pieces. In short, Dumor rocked on Network Africa.
If the talented Ghanaian-born newscaster easily rose to BBC World Service (a not-so-common happening especially with Africans), it was not by mistake. Dumor had displayed a mastery of the art he knew best. He would not only present world news, but Dumor would give it another coloration. He was just the same Dumor – the brilliant newscaster on The World Today and the African Business Report.
Dumor's kind of job requires more than qualification – it also has to do with confidence from your employer. The BBC believed in this broadcasting guru whom they have without any pretence described as a "leading light in African journalism – committed in telling the African story as it really is." They gave him the herculean task of sitting on the World News desk and he reached at it brilliantly. For sure, if African journalism misses him, the BBC does even more for being deprived of one of the most spectacular young broadcasters it has prided itself of for at least close to a decade now.
Perhaps, what stings bitterly in this tragedy is that a boisterous 41-year-old should succumb so easily. Life begins at 40, so they say. Dumor had barely begun. But for one thing, the one-time BBC Network Africa host, at that tender biological age, had matured and can conveniently be said to have been an accomplished journalist. He pulled mountains for the short time he practiced his God-given profession. It's true he left the stage at the height of his performance, but Dumor did as a hero. Dumor the hero was an artist par excellence. Artists never die. Dumor didn't die. He lives on. Long live the hero!