Monday, 14 May 2012 09:08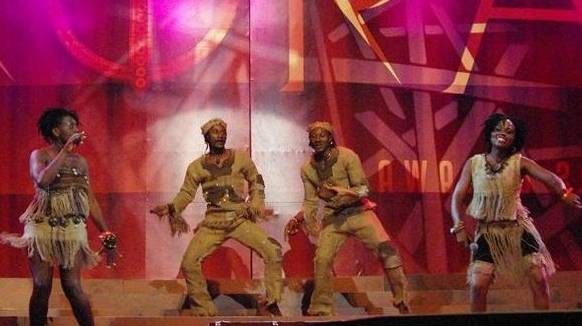 It is difficult to ignore what is good. My Ndolo is one beautiful piece that would get you off your sit to the dancing floor once it is played. It is a track in the latest album of the popular Bright Phase band. The said album, Celebration, was released a couple of weeks back, but the production of a video for My Ndolo seems to have given this new story a sweeter taste.

My Ndolo (until they deny it) seems to tell the love story of two of Bright Phase's members Pally and Beryl, who recently tied the nuptial knot. In the story, Pally confesses that after searching all along, he has finally found Beryl, the love of his life. The latest husband vows to stay with his beautiful queen for the rest of his life. Pally's "wiffy" makes brings sunshine to his life, reason why he adores her.

On her part, bride Beryl holds strong that she has never experience such love as the one her hero (Pally) provides her with.

To band mate Sylva, what God has put together, no one should dare put asunder. So, Pally and Beryl are meant to live as man and wife forever.

Featuring in the video are actor Alenne Menget, playing the officiating minister at the wedding of both singers, Sama Ndango, now known as Mr Fix It and Christy Eka, renowned actress.

It should be recalled that Patlaw and Beryl got married in December 2011 after working as band mates for quite some time. They have been part of a successful story for the group that took them across the continent, picking up great achievements in the process. One of such achievements was the 2008 KORA nomination and subsequent performances staged in Nigeria, Benin and Burkina Faso.

Meanwhile Sylva is happily married to Lyslot, a face model who worked with the popular youth magazine Among Youths and the Entre Nous Jeunes programme.

The My Ndolo story was first captured by our friends of NEXDIM EMPIRE (www.nexdimempire.com) whom we salute for the scoops.



Last Updated on Monday, 14 May 2012 22:49