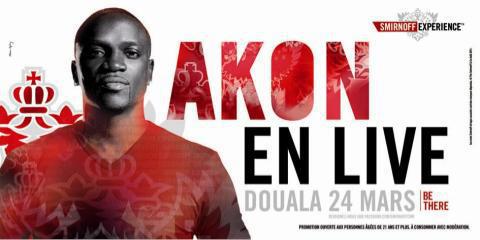 An inexplicable anxiety has swept Cameroon as the day for the Akon concert approaches. The country is now set to receive the Senegalese-born American Hip-Hop hero. Akon is due to perform in Douala in less than 100 hours. "I can't wait to see him for the first time, he is my idol," Carine, a University of Douala student told us this morning. "I'd waited anxiously for this opportunity, Akon in Cameroon is the best thing happening to me," another Douala resident told TIPTOPSTARS.
The music icon is coming to Cameroon thanks to Fotemah Mbah, a young Cameroonian and Senior Vice President of Konvict Music, the house that produces Akon. On March 26 in Douala, Fotemah will grant a press conference to perhaps explain how this project came to fruition and what he has in store for Cameroon.
Akon's visit comes a couple of years after that of Diam's, another mega star specialized in rap. The star from Cyprus attracted thousands of fans who unfortunately did not have her to the end following a premature end of the concert.
Earlier, Cameroon had played host to a mega concert by Paul Sean, sponsored by one of the leading mobile telephone outfits in the country.
Akon is generally admired for his soul-searching voice and is highly sought-after to feature in big-selling tracks. He identifies with Africa with no hesitation.
The Douala concert will be emceed by Yves Tchouta and Sophy Aiida, the same two who are expected to keep the Howard University Cramtom Auditorium lively on July 28 during the Cameroon Entertainment Awards, CEA.