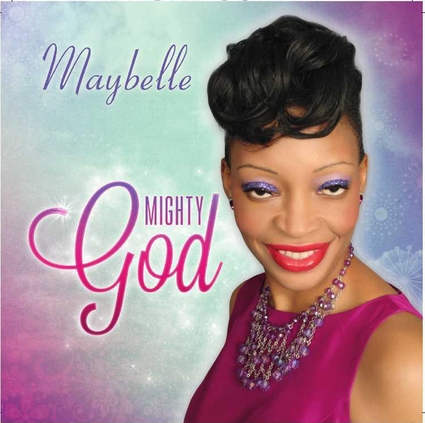 Before engaging any project, Cameroon Entertainment Awards, CEA Executive Producer Maybelle Boma draws inspiration from God. And for all successes recorded, the New York-based Cameroon does not fail to give praise to the Almighty. That need to shoe gratitude perhaps explains the reason why Maybelle sings. Thank You Lord is a track that best describes this relationship with God. Formerly a single featuring actress Inorie Fotso, Thank You Lord is co-opted in the latest album by Maybelle Bome released in the USA a couple of days ago.
The new LB, Mighty God is now making inroads in the USA and the rest of the world. It is a 9-track album recorded in the famous Studio Bamenda, USA and packaged as a D.M.S production.
Maybelle's album opener Mighty God strikes with an irresistibly melodious praise and captivating choreography. In Satan Get Behind Me, the gospel singer gets hold of RnB fans as she uses their genre in filing across her message. The Fondation Eto'o, Maybelle sets in to pay tribute to one of the world's leading footballers, Cameroonian-born Samuel Eto'o for his humanitarian gestures. Such gestures the artist sings can only be rewarded by God, creator of mankind.
Perhaps the strength of this latest work is the love and unity which the author and Inorie Fotso relentlessly promote in Cameroon Unite, a track that enjoins their fellow country men and women to put considered themselves as 'one people'. Wearing Cameroonian official colours and flying their country's flags, the singers peel off any barrier that may be existing between French-speaking Cameroonians (Francophones) and their English-speaking counterparts (Anglophones). To please God, not man, they would rather seal an everlasting bond and stay as one.
Other tracks in the album include, Covered By The Blood, Jesus is My Life, Hosanna and God is Good.
Described as spiritual: traditional gospel, Mighty God is an album you won't afford to miss. It is Maybelle's second album that comes to enrich a gospel music career that seems to be making great strides already. Procure your copy now by clicking www.cdbaby.com or call 917-371-3559.
Maybelle Boma it should be recalled is the initiator of the first ever Cameroon Entertainment Awards, CEA, coming up on July 28 2012 in Washington DC.