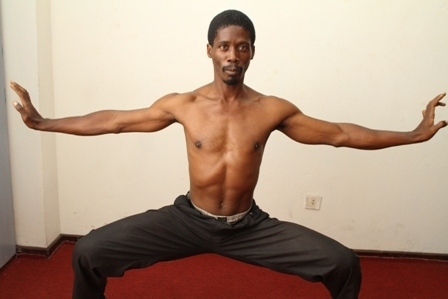 Obama Henry Aurelien boils with immeasurable ambition and determination. The young Cameroonian goes to bed each blessed day with a master plan which with an unending conviction, he hopes to execute some day. He is an actor, but an actor with a difference. Obama is one of the few African film actors born from a rare background – martial arts display, hence performer in action movies.
Since 2000, Obama has nursed a dream to introduce and valorize action films in Africa. It is an ambitious wish, but the martial artist who lives in Soa, a small university settlement near Cameroon's capital Yaounde has never thought he can drop it, even in a difficult film environment. "This dream is so dear to me and I can't let it go, Africa must produce its own action film stars,'' he told TIPTOPSTARS editor in a recent chat in Yaounde.
To Obama who is author of two short films, Africa has its own heroes, so there is no reason why Africans should for eternity envy the Schwarzeneggers, Van Dammes, Seagals, etc. Also, African action film could be a great avenue to sell the continent rich cultural heritage. ''The use of traditional fighting weapons and traditional fighting itself readily comes to mind,'' he explained.
Obama who has studied and masters martial arts has developed Pan Africanist motion picture concepts which he shares with the world via a website he runs. This has quickly fetched him numerous admirers, especially Europeans and Americans who have not hesitated to hug him for being exceptionally creative. Said he: ''Gradually, I'm creating a potential market for our action movies and in the coming years the story will be different.''
His exploits have already paved the way for the active actor. Obama has been signed up for an action film job in Mali billed for September 2011. ''I'll be working in the production for two months as an actor, …….
The 1.80m-tall artist is all round. He is also a writer, poet and producer. He has a wide travelling experience. With his diplomat father, He lived in Canada, USA, Romania and Congo. He studied in Nigeria.