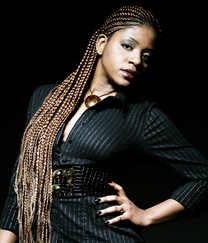 Menoosha - Her versatile voice feels smooth , unique and breathtaking the moves you right in.
Tip Top Stars
opens its curtains to discover Menoosha - a leading soul diva in the ?erman Music Scene. Besides being active with studio work, she has been one of the lead vocalists in Funk/Soul bands, US2U and LABANA in South Germany.
Menoosha was born and bred in a family of Cameroonian descent in Abidjan (Ivory Coast), and was introduced very early to music by her afro-pop singer-aunt Bebe Manga. As a member of a children's choir "Les Oiseaux du Monde" (Birds of the world), she opens for Kool & the Gang and Stevie Wonder in 1988 at a benefit called N'Daya International (organised by the then First Lady). They toured in the Ivory Coast and as well as in other African countries. Today she can boast about having been one of the kids who were allowed to stay up late... just to sing on stage.
In her teenage days, Menoosha and her younger sisters formed with a couple of other friends an a-capella female quartett. They regularly performed in school talent shows, church pageants and benefits. In these formative years, they both learned a lot about songwriting, arranging & choir directing. At 18, she packs her luggage, says goodbye to her family and travels to Germany to study Graphic design, where she later graduates and freelances till 2008. This is where she later on opened for Afro pop icon Myriam Makeba (2004) and Lou Bega (2007). She lists Joyce Kennedy, Chaka Khan, Tina Turner, Angelique Kidjo, Fela Kuti, Myriam Makeba and Lenny Kravitz among her heaviest influences. Being inspired by such diverse artists, Menoosha has succeeded in building up a truly crossover style, that she imposes well in her powerful live performances.
After releasing Three Piece Suite in 2010, Menoosha and her producer and friend, Dario Allegra strike back with a new album Satellite Brown Chick, blending strong guitar riffs and solos with Soul, Hip Hop, Afrofunk, Electro and R&B, with an 80s flavour. Definitely something almost genreless.
The album carries the spirit and expression of what Menoosha feels as she sings on the Rock'n'Roll flavoured track Satellite Brown Chick. Like the moon evolving like a natural satellite around the earth and other planets, sharing its energy, I interact in the same way with people I meet. I love sharing my energy with others, and feeling a positive feedback. So I literally have a problem with anybody who tries to mould me to do something else. And why Brown Chick? Politically I am a BLACK woman, but looking at myself in the mirror with the eyes of a free-minded child, brown is the colour I attribute to my skin.
Satellite Brown Chick was recorded and mixed at POWW Studios and mastered at True Track Recording. Participating musicians include multi-instrumentalist Dario Allegra, guitar players Johannes Solf and Marcus Vollmer and bass player Benno Richter. The album is currently available on Itunes, Amazon, Emusic and Amie Street
Menoosha is most remembered for the release of three songs:

- Givin it up which appeared on the successful sampler Mercedes Benz Mixed
Tapes and was chosen as the best song in 2007.
- African Boy, a reprise of Estelle and Kanye West's American boy, featuring
Ghanaian Emcee M.anifest.
- Movin as one as Skoda's promotional song for their new car creation in 2008.
Menoosha is presently in studio preparing the release of her new album- TTS would giving you more scoops