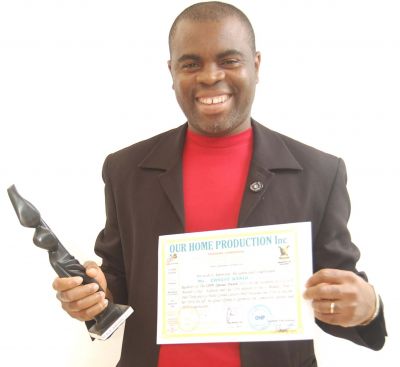 Once again,
TIPTOPSTARS
editor Ernest Kanjo has been recognized and rewarded. Kanjo got the
Our Home Production OHP Special
Award
during the second edition of the OHP Awards and 12
th
edition of Models' Nite held in Yaounde recently.
According to the organizers, the arts journalist was being recognized for his efforts in promoting Cameroon's rich culture and Our Home Production particularly. Receiving the prize and speaking on behalf of Kanjo, film actress Yengo Yvonne aka Von Yen Bi (she too a laureate of the day – best actress in 2010) said the culture promoter was sincerely appreciative and had promised not to lie on his laurels, but rather step up efforts in ensuring that the good work of OHP is known by the world.
The attestation accompanying the beautiful crafted trophy is duly signed by the cultural adviser at the Cameroonian Ministry of Culture Joseph F. Eloundou Atangana.
According to the award-winning journalist, it is not by his power and wisdom, but God's mighty hand that he is able to do all he has done. "It comes from God," he says. "I keep praying that he should continue to give manifest his strength through me so that I can be able to serve and serve even more," he adds.
The recent recognition of Kanjo comes after four others, one of which was came still from Our Home Production Inc. in July 2009, thanking the then editor of among youths magazine for his "excellent promotion of the Cameroonian culture in all its domains", to go by what was inscribed on the glass attestation.
Still in July 2009, Kanjo won the best film reporting journalist award via the ACE Awards and the Ministry of Culture.
In 2008, Kanjo was recognized with an honorary award by the general assembly of the Cameroon Film Industry (CFI), meeting in Kumba.
In March 2010, Kanjo had the Collywood Class Award for his contribution to the promotion of the Cameroonian culture.
It should be noted that the laureate of these awards has been reporting the arts in the media for some time now. As editor of the famous youth magazine Among Youths for over four years, he gave the film industry in Cameroon an exceptionally wide exposure. He has reported broadly and written or analyzed several aspects of arts on www.tiptopstars.com and other publications including The Standard Tribune, The Guardian Post and The Herald. Kanjo is a founding member of the African Arts Journalists Network (AAJN), created in 2010 in Harare, Zimbabwe.