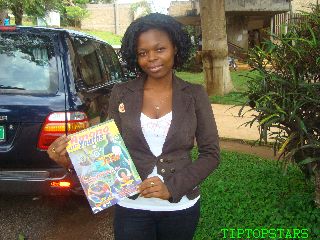 "My greatest moment was at the launching of Clash of Inheritance, a new Cameroonian movie. I had the privilege to emcee with CRTV's Jimla Nene Shadzeka whom I've always admired," says NGONG MIRABEL (Mcbailys), a final year Performing Arts student in the University of Yaounde I.
The young and talented presenter from Kom in the North West Region, whose dream is to become an international presenter, discovered her talent way back in secondary school in GBHS Bamenda. She vividly recalls a brilliant show she put up at a social evening. "I received a thumb-ups feedback from my social prefect who'd encouraged me to that effect," says the talented MC who is also an actor.
In High School, Mcbailys, a member of the Journalism club presented many shows and soon won the hearts of many. Her palatable English articulation, rich vocabulary, bilingualism and soul-searching voice have played the trick. Even Hello's Jimla Nene, her role model has joined the Mcbaily fans' band.
The 1.61m-tall impresario has emceed several weddings and film launches. She has also participated in debates on Bamenda-based CNTV and done theatre pieces for CRTV. Her enviable career has not been hitch-free. "I hate to remember the day my co-Mc arrived late for the event," she told us. "As if that were not enough, he poured wine on my dress," Mcbailys went further. The slight hitch was however taken care of and the self-confident speaker, as usual, impressed her audience at the end of the day. She loves dancing, singing and would always find time to compose folkloric songs. If you needed an MC, why not find an MC - Mcbailys, she is an MC!