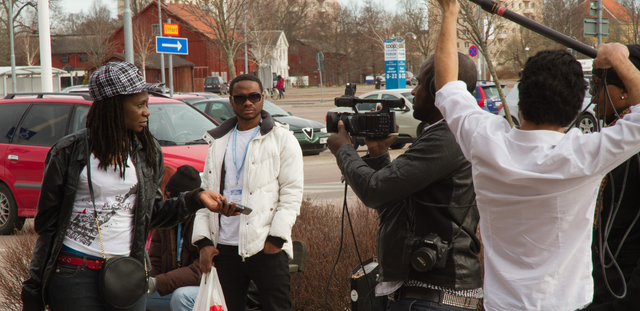 As scores of young Africans stream into Europe each year for further studies, so too do many of them graduate from universities there and enter the job market. After their studies, those who benefitted from a student's visa are expected by their host countries to return home. This hardly happens. With employment uncertainty back home, many African graduants prefer to stay in Europe and struggle to make a living. Their stay automatically becomes illegal, yet, they prefer the option.

According to some of these African certificate holders, life in this status is not the best experience. It is in short, horrible!

On their part, filmmakers have been very observant and have told the story in several ways. One of them is Cameroonian-born Agbor Jenet, herself a graduate from a Swedish university. In a 98-minute-long feature film, the young African filmmaker has not only painted the gloomy picture of the horrendous life of illegal immirants in Europe, but has purposefully described the ordeal of one of them, in a bid to pass on a salient message.

Illegal Immigrants, the said movie directed by Agbor Jenet who doubles as screenplay writer, tells the story of a young Cameroonian female graduate who decides to stay in Sweden upon graduation, hoping to find a befiting job and live a good life. Her wish never becomes a horse and so there is no safari ride. She has to face the hard reality the hard way. The rest of the story is embedded in the beautifully packaged heart-broken Mix Film Productions movie filmed byDan Jåma, Lotta Skoglund, Anurin Nwunembom and Penjo Baba as Director of Photography and Camera Operator respectively and co-produced by Film I Västerbotten.

Co- directed by Tanui Paul and edited by Evans Ifeanyi with Mungwa Eric as location scout, Illegal Immigrants is said to be a must watch featuring Agbor Jenet, MPiece, KAlevi, Addy Timany, Nchifor Valery, Prince Ogugua Igwe, Amr Medhat Ibrahim, Mikael Eriksson, Christian Zea, Hans Högfeldt, Lita Roger, Susan Epede, Enow Ethel, Bareh Midred, Mbulav Sornila, Ghogomu Adela, Cham Daniel and Ayuk Sussan.

"The movie will be premiered in Cameroon and in Sweden this year on a date we are still to make public," Agbor, based in Sweden told TIPTOPSTARS.

Some months ago, the same producer completed Dilemma, a movie that focuses on the ravaging nature of HIV/AIDS and how it can be prevented.