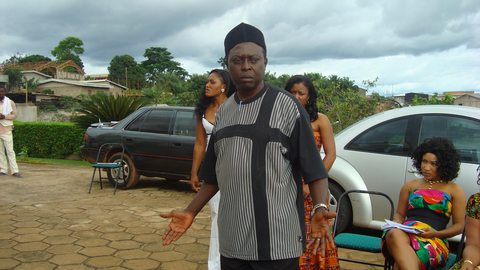 With a heavy heart, the film industry in Cameroon now talks about two of its iconic members in the past tense. Having passed on a couple of weeks ago, Bebe Manga, heroine and Janvier Ngonga Ngassa aka Pa Oyono have been laid to rest in her native Tinto (Manyu Division in the South West region) and Bamena (West region) respectively.
The death of the two artists attracted huge sympathy from millions of fans spread all over the globe. Their works have been savoured and are still being consumed by an undetermined audience all over the world.
One of the rare elderly men who dared into and succeeded in the art of acting in a country where filmmaking is not sufficiently encouraged, Ngonga made great strides in a rich career posterity would recount. He triggered to the limelight in 2005 when he performed in the selling Before the Sunrise produced by Agbor Gilbert Ebot, starring Nollywood's Zack Orji, Olu Jacobs and Dakore Egbuson.
Ngonga who passed on on 07 July 2011, hit the success road again when he played on set with Nigeria's Clarion Chukwurah in a fine cinematographic piece that described the practice of Female Genital Mutilation (FGM), The Blues Kingdom, yet another movie produced by Agbor Gilbert Ebot. His movie exploits did not end there. In a block buster that hit headlines in Cameroon, the talented elderly actor put up a great performance in Neba Lawrence's Royal Destiny, produced by Ayi Chatou Inoua. The movie, shot in Yaounde in 2009 had Nollywood's Emeka Ike and Tonto Dike starring. Cameroon's Moma Pascal, Solange Yijika and Quinta Eyong also played major roles in the movie. He had earlier done Land of Shadows co-directed by Zack Orji and Neba Lawrence and produced by Agbor Gilbert. The soft-spoken Ngonga has featured in several other films including Land of Shadows, Royal Destination, A Great Pain, Great obligation, Besides 3 Worlds.
Meantime, Elizabeth Bessem aka Bebe Manga will be remembered for her magnificient performance in Rich Mange's (brother of the fallen heroine) Pheonix Scar produced by Agbor Steve and Chrono Entertainment in 2008.
You can watch him in the trailer of Clash of Inheritance, one of the best selling entirely Cameroonian movies in which Ngonga played a major