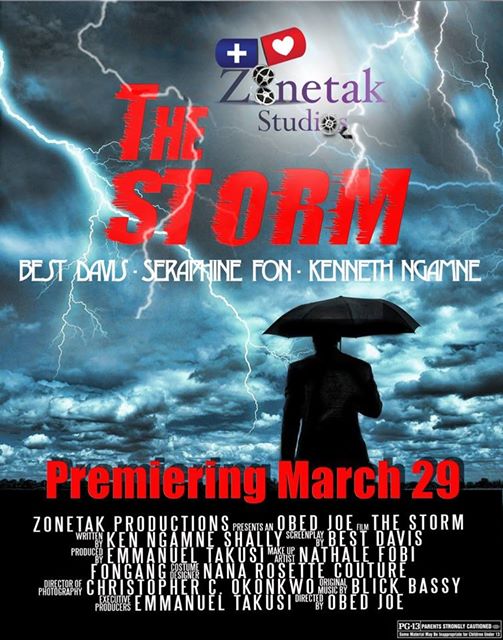 The release and recent premiere of The Storm, a Cameroonian movie written by Kenneth Ngamne, produced by Emmanuel Takusi and directed by Obed Joe seems to have brought forth more good tidings. Hardly had dust settled on the much publicized March 29, 2014 event than two other to-be events came showering the movie with what friends of the production have proudly described as immeasurable seasonal blessings – eight (8) nominations from the World Wide Independent Film Festival (WWIFF) and Nollywood and African Film Critics' Awards (NAFCA).

"It's incredible that a young production which has not even been properly digested should pick up these number of nominations," the movie's writer told TIPTOPSTARS. Talking from his Minnesota base, Kenneth Ngamne went further: "It's such a blessing that my maiden production should achieve this much. It's the work of God. He is good!"

Amongst the eight (8) nominations, seven (7) went to the World Wide Independent Film Festival (WWIFF) which will culminated into a grand event billed for Maryland in August this year. While Best Davis will be doing his best to emerge best in the Best Supporting Actor category that also has Obi Bright as contestant, Mairo Sanda and Arnelle Wilson will be vying for the Best Supporting Actress ticket. In the Best Actress in Lead Role category, Seraphine Fon will be eyeing the prestigious Best Actress in Lead Role price while Ken Shally Monette Ngamne will be bent on bagging home the Best Actor in Lead Role statuette. The Storm director is a confident hopeful of the WWIFF Best Director prize.

"I'm really proud of the nominees and the entire The Storm team, it was a great job they did," Ngamne had told Afrikka Radio's African Cocktail earlier. Caught in an inexplicable emotional web, the story's author told the radio show that news of The Storm's nomination replaced his usual daily break time meal. "In fact, my stomach is already even when I have not eaten. I'm so happy," he said.

On the other hand, The Storm via its lead actor Ken Shally Monette Ngamne will be vying for the top place in a NAFCA 2014 Best Promising Actor category which seems to be making more news than any other category in the competition, at least as far as this edition is concerned.

It should be recalled The Storm was previewed at last year's Golden Icons Academy Movie Awards (GIAMA) that had a huge presence of Cameroonian actors and filmmakers.


Shot and produced in the USA, The Storm, a Zonetak Studios production also features very talented Cameroonian actors including Mat Atugon and Nathalie Bih. Its premiere in Maryland was a memorable crowd-pulling event. Prior to the event, The Storm producer Emmanuel Takusi who doubles as President of the Cameroon Film Industry, CFI-USA was guest on Afrikka Radio's African Cocktail with Ernest Kanjo.