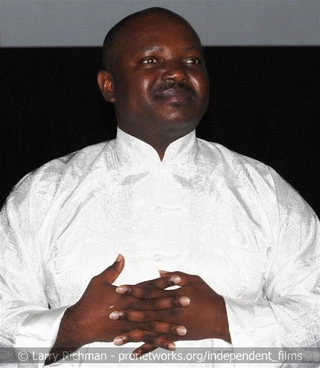 Much ink has flown since Victor Viyuoh's Ninah's Dowry saw the light of day. In an almost rare case, a Cameroonian movie has had an extraordinarily impressive journey, leaving no one indifferent. That Ninah's Dowry is nominated for this or that awards or that the entirely Cameroonian movie has won this or that prize is no longer a strange phenomenon. Rather, it has now become a common happening and at any time, expect more of such glorious moments. However, the fact that the movie is not only nominated but has secured seven nominations at a festival run from a country that owns one of the world's biggest film industries, Nigeria, makes the story even more palatable. In the next couple of hours, members of the Ninah's Dowry team will converge on Yenagoa, capital of the oil-rich Bayelsa State in Nigeria to live their African Movie Academy Awards dreams. There is growing anxiety in Cameroon as film lovers await more good results as has been the case with the award-winning movie for the past festivals. Yet, the producer/director keeps a cool head. To Victor Viyuoh, seven nominations at AMAA is unimaginably so big a thing to happen and any outcome would be honourable. The Los Angeles-based Cameroonian film maker humbly believes Cameroon can do better and benefit from more of such glories. But, the government needs to recognize and support initiatives that turn out to be the country's flag bearers. Viyouh spoke to TIPTOPSTARS' Editor two days to the AMAA night. Excerpts of the interview with Ernest Kanjo!
Ernest Kanjo (EK): Welcome to TTS Victor. Tell us the latest about Ninah's Dowry.
Victor Viyuoh (VV): Since its international premiere at the International Film Festival, Rotterdam, Ninah's Dowry has played in FESPACO, Big Muddy and Phoenix. It won the Audience Awards at the Big Muddy Film Festival in Carbondale and the World Cinema Award at the Phoenix Film Festival less than two weeks ago. It plays next at the Festival International de Film Panafricain in Cannes on Thursday, at the Pearl International Film Festival in Uganda in May, I believe and the Berkshire International Film Festival in Great Barrington, MA. And maybe the biggest news of all is that it was nominated for seven Africa Movie Academy Awards.
EK: This is awesome…
VV: Sure, we thank God for everything.
EK: Could you remind our readers of the categories in which Ninah's Dowry was nominated for the 2013 AMAA whose reward ceremony come up in less than seventy two hours?
VV: We had best achievement in make-up – Willston Muluh, best screenplay – Victor Viyuoh, best child actor – Bodi Rolland Tamfu, best supporting actress – Christa Eka, best actress – Mbufung Seikeh, best actor – Anurin Nwunembom and best film.
EK: Are you hopeful you'll pull some of the trophies?
VV: One is always hopeful but the nominations are quite humbling. I couldn't be prouder of the whole cast and crew. Winning would be nice, but we truly appreciate the nominations.
EK: Tell us how you have prepared for this event…
VV: Not very well, I'm afraid. I'm terrible at things like this. I have spent most of my time worrying about getting the cast and crew there. Almost every nominee is currently out of the country. The logistics is outright mind numbing. Three days from D-day, the transportation is still being figured out. I'll have to use my postcards as my business cards. I do not have an agbada or a tux to wear. This is when those Cameroonian designers should have come in and offered pieces for us to wear and promote their brands or labels! No one has called. A missed opportunity I should say.
EK: What was your initial reaction when Ninah's Dowry got seven nominations?
VV: Ecstasy! For all intents and purposes, this is a small movie. One wonders how it managed to find categories in which it got nominated. If you notice we don't have any of the technical nominations that come with big budgets. We just sneaked in with storytelling and performance. I hope that aspiring filmmakers are paying attention. You can mix it with the big boys and girls if you work on your storytelling and your performances.
EK: Did you expect that?
VV: No, I didn't expect seven nominations. I'm always positive. And I had great confidence in the film we had. But you can't expect nominations let alone seven. It can be very subjective. At FESPACO, no one saw the movie. The jury didn't recognize the film. It was essentially a disaster. But a different jury, and I might add, a more astute jury thought the movie worthy of seven nominations. I believe this jury because their judgment is more in line with the responses I have getting at festivals!
EK: Back to other great moments – for the past couple of months, Ninah's Dowry has been Cameroon's flagbearer and so much has happened around this movie – could you tell us how that makes you feel?
VV: I'm both honoured and sad. I'm honoured because one is able play the role of a positive ambassador for the country. But it saddens me that we still haven't received any acknowledgment or support from the establishment in Cameroon. However, I heard through the grapevines that the new director of cinematography is quite impressed and interested in our progress. We will see how that unfolds in the next few months. I'm also sad because I have no idea how every Cameroonians can get to see the movie. Yet, I'm optimistic all shall be well.
EK: Before initiating this project, did you at any moment imagine Ninah's Dowry was going to produce such excellent results?
VV: No! When you start, you are filled with doubts and worries. And for us it was a journey littered with impossible obstacles. So, for most of the journey we were just hoping to complete the movie and avoid the shame that comes with failure or quitting. I knew that we had a compelling story but external factors played the role of great impedance. I do remember the editor calling once we had a second cut and saying he thought we have a little gem in our hands. That was one of the best calls I got all through the process.
EK: Tell us how you went about getting the people you worked with in this project and why you selected them…
VV: Necessity, they say, is the mother of invention. People say they don't know me, but I had been trying to make a movie in Cameroon since I was in secondary school in CPC Bali. That was years before anyone thought Africans will get into filmmaking. While in the US, I took some courses and then in 1996, I inquired where one would go if one wanted to film. I was led to the wrong Ministry. Those questions continued even after I returned to the USA. That is how I was led to a theater group at the University of Buea in 2007. I was able to watch them perform live in January 2008. I was blown away. The talent was mouth-watering. I stayed in touch with Anurin, the director of the group and it was through him that we found most of our key cast. We then ran more auditions in Bamenda with the help of Vugar Samson aka Grand Pa and the acting community in Bamenda. Because of delays, we ended up losing actors. We were pushed into a situation where crew members took turn acting in front of the camera. Almost everyone behind the camera appears in front of it. Almost everyone!
EK: Would you say Ninah's Dowry is your biggest achievement so far as a film maker?
VV: It has to be. It is neither the most accomplished nor the most decorated but it has to be the greatest achievement given the obstacles we had to overcome. My short film, Mboutoukou, which almost no Cameroonian or African for that matter, has watched , is the most accomplished. It played at over 100 film festivals and won over 20 awards. Even though requests were still streaming in, I stopped shipping it to festivals because it was swallowing too much of time and focus.
EK: Could you remind our readers of some of the awards Ninah's Dowry has won so far?
VV: It has won: best film – Fort Lauderdale International Film Festival, best actress in a foreign film – Fort Lauderdale International Film Festival, audience choice – Big Muddy Film Festival, world cinema audience award – Phoenix Film Festival.
EK: What is your next project and what are you doing to ensure that it turns out to be another Ninah's Dowry in terms of popularity and achievement?
VV: I'm hoping that the next projects turn out to be much better than Ninah's Dowry because I'm doing everything to avoid those endless obstacles that tried to keep us down. I'm working on my award-winning script, Fifty-Fifty, which tells the story of a US educated woman who returns to her African village to find that when her dad died, her mom's house was taken away simply because tradition demands that women don't inherit property. In a bid to recover the house, she organizes a women's rebellion against the Chief and the men of the village. I have a couple of documentaries in the works. One of them explores the lives of a bunch of Muslim women who more than thirty years ago posed, for their very first B and W photo as young girls during the festival of Eid in Sabga, Cameroon. None of these women married in Sabga, and many of them have not seen each other since that period. I asked them to reconvene during the 2014 Eid in Sabga and pose again for a picture in the same positions, with spaces left for the faithful departed. Some of these pictures feature their families. Their journey back will tell us a lot about going home again and give us a glimpse of the landscapes of our beautiful diverse country.
EK: That sounds really creative and interesting, thanks Victor for talking to us ahead of the AMAA night. We'll surely be back with you after Saturday's event. We wish you, Ninah's Dowry and the rest of the team success.
VV: Thanks Ernest and kudos for the good works you guys have been doing.