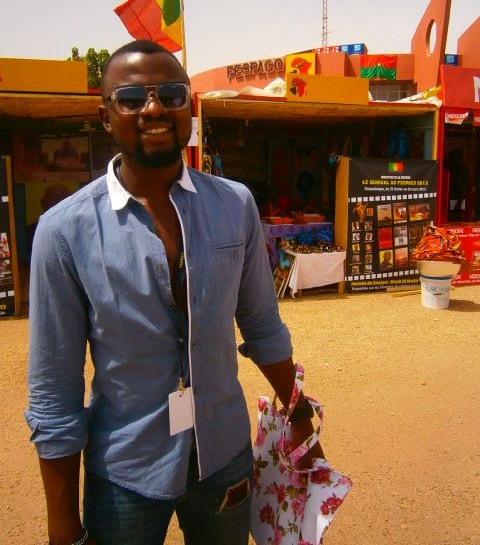 Nchifor Valery is a household name, Cameroon cinema speaking. He is an actor many movie lovers have been finding much pleasure in admiring. Even juries of several recognition boards have not had other options than to prize him with awards, given that his set performance speaks volumes. The winner of the best actor in supporting role award (Cameroon Movie Merit Awards, CMMA, 2012) has since 2011 joined the band of movie stars who sojourn the world to celebrate their works. After London where Nchifor was invited to carry home his award as best up-coming male actor, the Buea-based made another stop-over, recently, in the Burkina Faso to be part of the 23rd edition of the African Film and Television Festival dubbed FESPACO. Just like other actors in the continent, the Cameroonian, known for his brilliant performance in all movies he has done was given a warm reception by both organizers and counterparts from other countries. Before travelling back to Cameroon, we got in touch with Nchifor. From the festival village in Ouagadougou, he spoke briefly with Editor Ernest Kanjo. Excerpts!

Ernest Kanjo (EK): Nchifor you're welcome to TIPTOPSTARS, it's been long since we had here….

Nchifor Valery (NV): That's correct Ernest.

EK: So, what's up?

NV: Nothing much!

EK: Perhaps, except that you're one of those privileged members of the African cinema family who is part of this year's edition of FESPACO….

NV: Oh yeah!

EK: Now tell me, how was your trip to Ouagadougou?

NV: A very smooth and exciting one, thank God!

EK: Was it the first visit you were making to the festival?

NV: Yes!

EK: Were you nominated?

NV: No, I was just representing Obsession, a film in which I did the lead role. Obsession was selected for screening at FESPACO.

EK: So how was the FESPACO experience?

NV: Well, for a very first experience, I found FESPACO quite exciting. It is new to me, so I spend time here learning different film cultures in the continent, especially Francophone Africa.

EK: What has marked you most at FESPACO 2013?

NV: Well, I would say what has marked me most is how much film making means to people of this part of the world - the enthusiasm, the professionalism and most of all the passion they have for the seventh art is impressive.

EK: Which are some of the foreign colleagues you have?

NV: I have met a few actors mostly from French-speaking Africa. I have met Emma Lahouse who is one of leading Ivorian actresses. I have also met Pierre Loku from Senegal and host of others. We have talked and might be doing some work together in the nearest future.

EK: How was the Cameroonian film industry appreciated?

NV: I must Victor Viyuoh's Ninah's Dowry made lifted Cameroon's head really high. Everyone appreciated it and I was proud.

EK: How would you assess the FESPACO film festival?

NV: It's a wonder rendezvous for film makers on the continent. You need o be there to be able to have the feeling. Unfortunately, Anglophone Africa is still underrepresented. Hope English-speaking countries will be associated more in subsequent editions.

EK: Nchifor we are grateful for the brief chat. Have a safe trip as you travel back to Cameroon.

NV: Many thanks Ernest and team. My regards to lovers of Cameroonian movies and my fans!