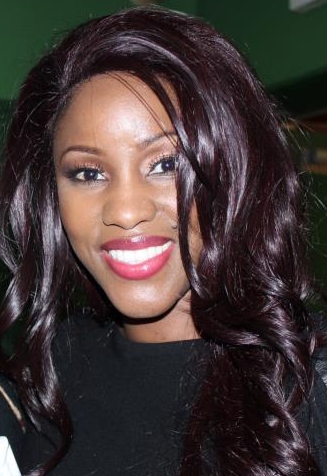 After co-starring with Clifton Powell in the much-awaited Nicki: A Hip-Hop Love Story (expected to be released this year) top Nollywood USA actress, Merlisa Determined is more determined to make greater in-roads into the seventh art. Most important, the Carribean-born actress of international repute has her dreams of exploring and sharing her talent with Africa intact. Her latest interest tilts towards Cameroon where the seventh art is making an amazing progress. The 5.7ft-tall star in As I Die Slowly whose performance has won an immeasurable admiration has thus made her entry into the Cameroonian film industry, coming through an AGE Production and Cradle Rock Productions movie. The making of the said movie, Pink Poison Reloaded, has gone underway. At the shooting of the US scenes in Maryland over the weekend, observers and the filming crew all agreed the award-winning actress (just featured in a 2013 movie, Gem of The Rain Forest), who doubles as a TV show host/ess was a perfect match to the Cameroonian counterparts signed up for the project. "She delivers and I just felt elevated working with her on set," a co-actress and Cameroonian actress told us on location. As the movie queen prepares to make her maiden trip to Cameroon where shooting of the home scenes are scheduled, there is a growing anxiety among movie lovers and fans of the indefatigable Agbor Gilbert (co-producer of the movie), generally known to be one of Cameroon's most renowned and daring producers. "I can't wait to make this trip and meet the great people I've always heard about, in fact, I'm anxious," Merlisa told TIPTOPSTARS' Editor. Soon after her cameras and lights switched off, Ernest Kanjo caught up with the up-and-coming movie icon who also has Page 36, False Engagements, The Land and African Connection in her filmography. In the chat that follows, the humble, soft-spoken but very determined Merlisa talked about her initial contact with the Cameroonian producer, her role in the movie, her co-actors amongst other things. Excerpts!
Ernest Kanjo (EK): Welcome to TIPTOPSTARS Merlisa! We're glad to have you with us today.

Merlisa Determined (MD): Thanks, the pleasure is mine as well.

EK: This first chat coincides with your taking part in the first phase of the production of an up-coing Cameroonian movie. You're one of the characters coming from a country other than that of the producers…

MD: That's correct.

EK: How does that make you feel?

MD: Quite honoured and even more determined to put up a great performance. I'm an international actress and would normally feel at home in every production. However, I'm particularly excited to work in a Cameroonian production. I'd always longed for this.I can't wait to go to Cameroon for the next shooting session.

EK: After shooting your first scenes, would you say you did not make a mistake by accepting the job?

MD: Take the clock back ten times, I'd make the same decision. It was a great experience working with everyone today. It was really unimaginable that the process would go on very hitch-free on a first day and with artists and technical crew members I was meeting or the first time. I feel proud about the experience.

EK: How would assess your performance in your first ever Cameroonian production?

MD: Incidentally, it was exceptionally good. I delivered, but making sure my director confirmed, reason why I sought his reaction each time a shot was frozen. His positive feedback boosted my morale and I sparked on. It was great!

EK: And that of your co-actors…
"I'm greatly honoured to be part of a Cameroonian production"
"I can't wait to go to Cameroon"
"I admire Cameroonian actors"
"I'd love to work with Cameroonians again and again"

MD: Fantastic, I must admit. It was a perfect match.

EK: Prior to this interview you told me it was a workable chemistry between you and your co-actors, how would you explain that hitch-free interaction on set?

MD: It's simple! For instance, as soon as I was introduced to Mercy Etta, my first interlocutor, I engaged her in an ordinary conversation. I let her tell me about herself and family and other things. I did same and before we knew it, that familiarity had been established. It is this rapport we later used on set to perform our job and believe me, it did the trick.

EK: Would you love to act with these artists again and again?

MD: You can't afford to miss such visionary actors like Mercy, Pridine and Esosa. I'll not hesitate to grab any opportunity to work with them.

EK: Just remind our readers of your role in the movie

MD: I'm the Buea Magistrate who would do everything in her power to defend her intergrity and that of her family.

EK: Are you comfortable doing that role?

MD: Actors don't choose roles. They prove their worth when they easily get into any role they are requested to do. In this case, I enjoyed mine and I think it relates to my personality.

EK: In one of the scenes, we spotted you gorgeously clad in kabba costume which is a Cameroonian traditional outfit, mostly promoted by the people of the coastal region. You later told me it was the first time you were wearing it…

MD: Hahahaha! I thought you'd forgotten about this Ernest…Look, it was such a fantastic costume and I must say that scene was my favourite. The picture of me beautifully clad in kabba can't leave my mind so soon. I just love the kabba!


EK: What should your potential Cameroonian audience expect from you in this production?

MD: Nothing but a spectacular performance! I'm ready to give my best to make sure the job is a masterpiece.

EK: Let me take you back to where this newfound Cameroon dream began, how did you contact Agbor Gilbert?

MD: He got to via telephone, introduced himself and the project and sought to know if I was interested in being part of it. Successive phone conversations put us on the same track and when he later posted my script, the deal was sealed. I immediately fell in love with the story and felt I could do it. I explained my thoughts and got his. For one thing, I was glad the producer gave me the latitude to be creative. We kept in touch until this time.

EK: How old is your relation with acting?

MD: Way back in high school where I studied performing arts. Then, I would do roles in school plays. However, I hit the road professionally close to three years ago and since then, it has been hectic. I'm a career actress.

EK: You've been harvesting awards along the line - Could you remind us of some?

MD: I got the USAfrica International Heritage Actress of the year award in 2012. That same year, I won the viewers' choice award as best actress in the diaspora at the Golden Academy Movie Awards. Still in 2012, I was nominated in the best actress of the year category at the Nations of Pan Africa Awards. I later became a 2011-2012 African Oscars Awards, NAFCA that is Nollywood African Film Critics' Awards nominee in the People's Choice award for best actress category. Still at NAFCA, I and my As I Die Slowly crew won the best docu-drama. As I die is a story on HIV/AIDS that has ferried me across. I also picked up a best lead actress nomination for the same film. God-willing, there is more on the way.

EK: Merlisa, it was nice talking with you. We hope to trail you in this production.

MD: You're most welcome Ernest! Thanks for the coverage and congrats on the great job you and your magazine are doing. Have a pleasant time!


"I'm greatly honoured to be part of a Cameroonian production"
"I can't wait to go to Cameroon"
"I admire Cameroonian actors"
"I'd love to work with Cameroonians again and again"