The AGE Production/Cradle Rock Productions Int'l movie, announced sometime ago on TIPTOPSTARS is now a reality. Shooting of the USA scenes of Pink Poison Reloaded has just taken place in Maryland with Top Nollywood USA actress, Merlisa Determined playing one of the major characters in the movie. "It has been a great moment, working with a team of professionals and most important shooting on a Cameroonian set," Nigerian actress, Esosa Edosomwan, told TIPTOPSTARS editor as she signed off from location, midday Saturday.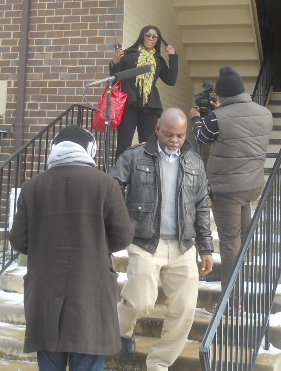 Shooting kicked off, under the supervision of co-producer Agbor Gilbert in the late hours of the morning amidst cold weather (born from the snowing condition the previous day). Before director, Ikechukwu Onyeka showed up on location, crew members, Nick Zemura (Zimbabwean) and Foday Conte (from Sierra–Leone) had already planted the décor. And as aspiring actress, Ohio-based Mercy Etta (doubling as co-producer) joined Merlisa Determined to familiarize with each other, it was clear the production of the much-awaited movie had begun.

It's exactly, 10.55 am – cast and crew are set. But first, prayers! In very appreciative words to the Almighty, director Onyeka exalts God to provide all what it takes for the production to be a resounding success. After committing everything in His control, actors, director and other crew members go into action.

Scenes after scenes revealed captivating performances which the director and the movie's producer could not help pointing out. Perhaps, the height of Saturday's shooting reached when popular Cameroonian actor Kang Quintus got on set through an exciting exterior scene which crew members agreed was going to play an active role in the aroma of the movie. Then enter Pridine! As the day grew older, more serious things happened. The coming of Pridine Bih Fru was one of such. The Maryland-based Cameroonian actress cum TV show host and news reporter later joined Merlisa and Mercy on set in one of the artistically brilliant and colourfully attractive scenes of the film. TIPTOPSTARS' Editor caught up men and women who comprised the cast and crew of Pink Poison Reloaded. Generally, there was satisfaction in their voices.
"Great experience featuring in a Cameroonian movie" - Esosa Edosomwan, actress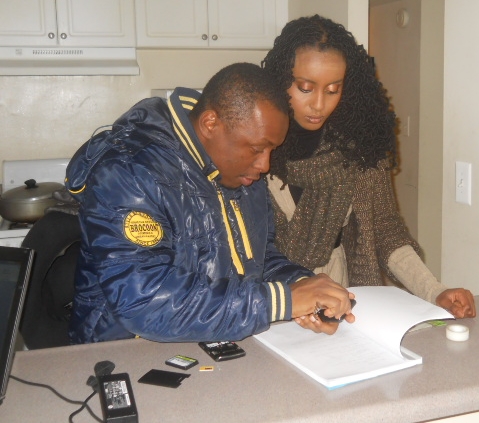 I'm really elated. It was a great experience featuring in a Cameroonian movie for the first time. I was even happier because I worked with people who were so professionally conscious. Plans are underway to have me shoot in Cameroon. I can't just wait for this to happen. I'm thankful to the producers of the movie for the confidence bestowed in me as an actress and I hope viewers will enjoy my performance.
"It kept flowing" - Nick Zemura, Director of Photography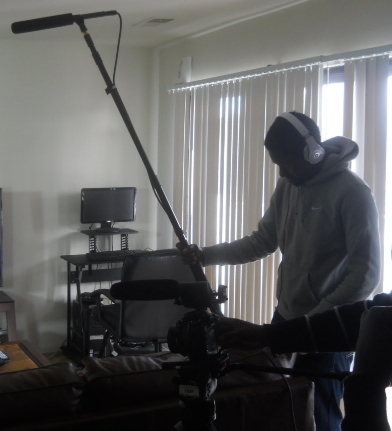 It's generally been a wonderful shooting experience with people I'm meeting for the first time. I particularly enjoyed the rapport between me and Ikechwuku Onyeka, the director. I think meeting him was an unforgettable experience. I equally admired the artists who despite meeting on set for the first time as I was made to understand, performed as though they'd been working together for a long time. It's true I had them for just a single day and my judgment may be exaggerated, but I still believe Merlisa, Mercy, Pridine and Esosa can comprise a wonderful cast. For Gilbert, I like working with him. It's the second project we are doing together and I won't hesitate to do more.
"Great honour working with Agbor Gilbert" – Pridine Bih Fru, actress
It was such a great honour to feature in an Agbor Gilbert production for the first time. I'd longed for this privilege and when it came, I grabbed it with much pride. My appearance in the movie might have been brief, but like they say, there is never a small role. I enjoyed my performance on set and can't wait for the release of the movie. I would also doff my hat to the people I worked with in this production especially my interlocutors on set. To have interacted on set with Merlisa Determined, whom many appreciate was like a plus on my career and I'm glad it happened. I would readily work with Agbor Gilbert any time he needs me again. To other producers, I would say, give me the script, I'll give you the character. I can't go without mentioning TIPTOPSTARS – you guys are making history – kudos!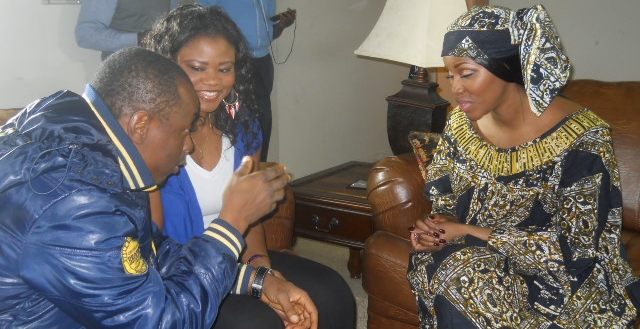 "I related to my role" – Merlisa Determined, award-winning Nollywood USA actress
It's so amazing that for the first time I featured in a Cameroonian movie, I found the experience quite exciting. I was particularly elated with my role which I literally enjoyed. I played the Buea Magistrate who would do everything to defend her integrity and that of her family and that's just what Merlisa would do in ordinary life. I was also fascinated by the fact that though a Cameroonian story, the crew and cast, at least for the USA scenes were made up of Africans from different countries. I would not be exaggerating if I say the director was a great inspiration to me. I enjoyed working with Ikechwuku Onyeka and you must have realized I kept going back to him to seek his reaction each time I performed. I'll be flying to Cameroon to shoot the rest of the scenes and I'm very anxious to make that trip, meet and shoot with those nice people I've always heard about. I can't just wait.

"I enjoyed the co-operation" Foday Conteh, Camera operator
This was one of the shooting experiences I'd always love to remember. It was incredibly fantastic meeting and working with new people. In the course of the exercise, I must confess, I learned new things, especially from the director, Ikechwuku Onyeka. I particularly admired the professionalism displayed by the various people involved, the artists and technicians. It was the second job with Agbor Gilbert and I hope more of such opportunities would come up.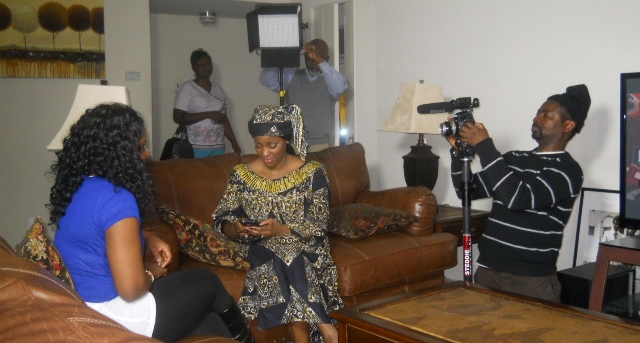 "I don't regret getting on set finally" – Mercy Etta, actress and co-producer
I had waited for this moment impatiently and when it came, it was like a dream. This was my first time getting on set with professional actors and most especially an up-and-coming Hollywood star. I must admit I was a little scared prior to the first take. However, as soon as it kicked off, I found myself in the mood. Let me also point out here that my performance which received a positive appraisal was thanks to the director and my interlocutors. Not only did the director prepare me psychologically, the other actors showed a lot of concern for whatever thing I was doing on set. Such chemistry spurred me quite much. To be honest, I have no regrets getting on board acting, it's a wonderful experience.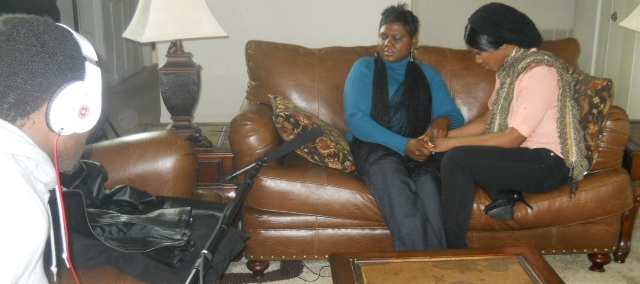 "Another great show"- Kang Quintus, award-winning actor
I have just had another great moment in my career. Each time I go on set, I feel satisfied and achieved. I particularly liked today's experience because I worked with two categories of actors – highly experienced and a debutant. In both cases, it was fantastic. With Merlisa I must say, it was great. The scene came out like a well baked cake. I also closely coached Mercy and behold, her performance was amazing good. Mercy you know was making her entry on set and she turned out to be that latest Cameroonian actress the audience would easily get to admire. The director and the rest of the crew members were just another group of professionals who knew exactly how to make the soup taste good. Generally, the Maryland shoot was an unforgettable experience.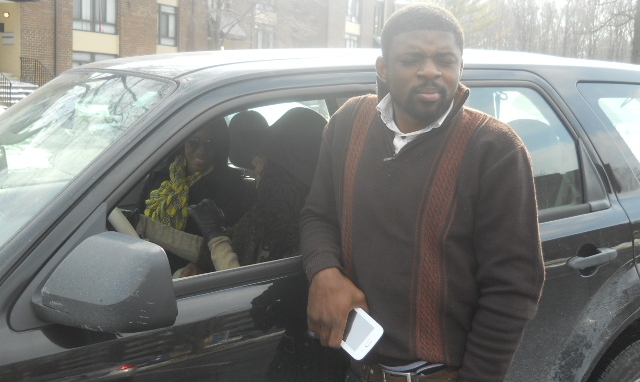 "It was worth the salt" – Ikechwuku Onyeka, director
This job is worth the money and time and I have no regrets accepting it. The USA scenes with which we have begun the project have placed us on the right tract, thanks to the admirable performances of the cast and crew. I was particularly glad with the responsiveness of the actors and the technicians who followed my directions to the letter. I was psychologically prepared for the job and loved it. I'm looking forward to putting in the same effort and skill in the Cameroonian scenes we are planning to shoot in the coming weeks. I shall have more to say when the job is completed, but for now, I think we began on a good note.