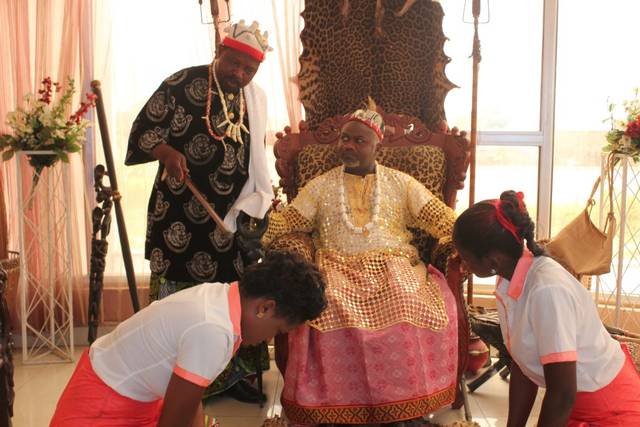 As the Cameroonian movie landscape grows in the quantity and quality of films, renowned producers and production houses are not relenting in their efforts to be part of the history-making phenomenon. One of the producers who have maintained the rhythm and would place his fingers on the table to ensure that the industry stands erect is Agbor Steve.

The young director who for just four years in the business has registered laudable successes, is back with a newborn. Agbor and his Chrono Entertainment are set to make public their latest production. Jungle Heirs will be officially released this November, if not earlier. Premieres for the two-hour movie are said to be on Chrono Entertainment's recent agenda.

On the line to Yaounde, Agbor explained that Jungle Heirs was that other production which will give viewers a run for their money. "We took time to carefully package it, so that the movie suits the taste of the audience," the film producer told TIPTOPSTARS' Editor. In the process of making Jungle Heirs a must-watch film, the producers hired some of the best actors and technicians.

Apart from Jim Iyke, Moma Pascal aka Bob, Solange Yijika, Quinta Eyong Ashu, Solange Ojong and Jeff Epule, Alenne Menget, Maru Gatscaya, Aaron Nkongho who are some of the finest actors the continent boasts of, Chrono Entertainment also carefully selected up-and-coming artists commonly admired of late. Such include Elynn Fesse, Agem Lizzy, etc. Perhaps, the presence of Tanyisong Candylaurice is one of the reasons why Jungle Heirs will be another explosion. The said actress is remembered to have put up recommendable performances in previous productions of Chrono Entertainment.

Meantime, the movie is definitely going to be another force to reckon with technically speaking. No doubt, the technical was manned by the prolific Neba Lawrence (as director) and Nollywood's Ngozi Nkebakuo aka NG1. The latter who is one of Nigeria's leading camera D.O.Ps has since been so involved in Cameroonian productions.

Written by Agbor Steve Ebai alias Big Steve, Jungle Heirs is shot on locations in Limbe and Buea. It tells the story of a false rumour which is so strong to cause the abdication of the Banyang King from his throne. Scandalized, the elders are taken aback, but determined to re-enthrone their leader. However, the abdicated King can only return at the helm if the source of the rumour is found and the initiator severely punished. The rest of this thought-provoking story can be savoured in this up-coming Neba Lawrence film, produced by Agbor Steve.

It should be recalled that Agbor Steve and Chrono Entertainment have produced other selling movies including Pheonix Scar, Clash of Inheritance, Great Obligation and Neglected Obligation.