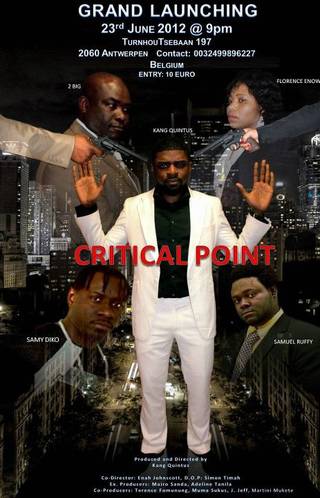 "I can't wait for June 23 to be part of the birth of this great child," a compatriot, living in Belgium told this reporter a couple of days ago. This movie fan and well-wisher of Cameroon's fast growing film industry was referring to the premiere of Critical Point, the much-talked about Kang Quintus production, shot in the first quarter of 2012.

The fellow Cameroonian is not the only one impatiently waiting for the official release of the 95-minutes long movie. There is growing anxiety from the entire Cameroonian community here and we hear it is the same scenario elsewhere.

According to Kang, the stage is gradually being set with interesting items earmarked on the day's agenda. "If everything goes as planned, the premičre will be graced by famous makossa artiste Samy Diko," the producer told TIPTOPSTARS. Samy Diko it should be noted is featuring in the movie, now known to be Summiths Productions' (its fathering company) 'enfant cherie'. Meantime, Belgium-based Cameroonian artistes such as Lil Squares, Jay Wisly and G-Praise will be on the music podium to thrill guests with those spectacular performances they have for quite some time now been known to be dishing out. Also watch out for Jonh Nanje who shall be the Michael Jackson of June 23.

Perhaps, what will give Critical Point's premičre a bright coloration will be the recognition phase, set aside for some promising actors and directors who have been making great strides in their work. "We want to reward those who have shown a non-reversible passion for the seventh art, reason why we initiated this item on the day's programme," Kang explained. He added: "We have contacted some sponsors to make this prize-giving possible."

Also present, hopefully, at the Turnhoustebaan 197 2060 Antwerpen-Belgium on that D-Saturday shall be actors featuring in Critical Point including Diana Tambe, Belagie Ayuk, Martina Malike Mukete, Valentine Maboh, Adeline Ngonde, Gipraise, Sone Eric, L2 Loko, Adeline Tanila, Emilia Abangenow and Princess Bridget.

Shot on locations in The Netherlands and Belgium, Critical Point is a don't-miss movie which tells the story of an intelligent young man who fails to have a job in his field of study, due to an impermeable system. What finally becomes of him is what is will be revealed when you watch the entirely Cameroonian movie.