Tuesday, 15 May 2012 16:38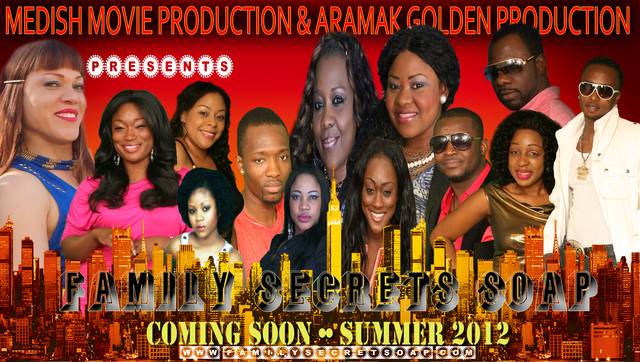 There is a rising anxiety as fans of telefilms await Family Secrets, currently being shot in New Jersey, USA. It is an international production comprising actors and crew members from five African countries and Jamaica including Cameroon. TIPTOPSTARS had in a previous report, looked at the role of Taka Tanni, the Cameroonian star in the production.

According to Mohammed Conteh, producer of Family Secrets and boss of Medish Production, the 12-episode (for the first season) series is a captivating production that is going to regurgitate good old memories of some of the best soap operas of all times, Generations and Dynasty which people of his generation grew up watching with uncontrollable excitement. That explains why Conteh, cast and crew have been dishing out their skills in various respects to make Family Secret one of the best stories in contemporary filmmaking.

For the past 18 weeks therefore, actors involved in the production have been streaming into New Jersey, once a month to honour shooting assignments. The artists include Taka Tanni, Busairi Savage, Anatu Bundu-Kamara, Alimatu Marg Bandura, Linda Osifo, Dianne Diaz, Bridget John, Best Davis, Papa Jalloh, Munett Oyarekua, Kassiah Williams, Summer Angel, Tejan Barrie, Sana Kanu, Bella Nicol, Eve Bank and Singer "Big Ray Abdul Aziz".

Written by

Dianne Diaz

, Family Secrets is built on the basic premise of "not judging a book by its cover". Hence, "all that glitters is not gold". The story presents the McCauleys as a wealthy and envied family living in North Brunswick, New Jersey. The patriarch is the Ambassador to Sierra-Leone, accredited to Freetown. From outside one would think this family has it all, but what goes on behind closed doors is a completely different story. Each member of this family shares some ugly secrets that would shock the members of their community. The author and producers tell us the series is marked by irresistible drama suspense, known to be the hallmark of excellent series.

Produced by Medish Production, Aramak Golden Production, Ikechukwu Onyeka and Ishmael, the shooting of Season 1 of Family Secrets will round off in July, regardless of the little financial challenges and difficulties in getting appropriate locations some of the times. "These are some of the challenges we've been facing, but we ride on" Conteh told TIPTOPSTARS Editor on the line to New Jersey.

Conteh told us that the series is destined for many TV channels worldwide in the nearest future. "For now, it's going to be a web series, so viewers can check out by logging into familysecretsoap.com," the USA-based filmmaker announced. The producer had this to anxiously waiting fans of the series: "Everyone would find themselves in Family Secret. There will be fun, tears, but the message will sail through. We appreciate your love and support so far and hope you'll have a great time with Medish Production and Aramak Golden Production." Watch out for Family Secrets!


Last Updated on Tuesday, 15 May 2012 19:15