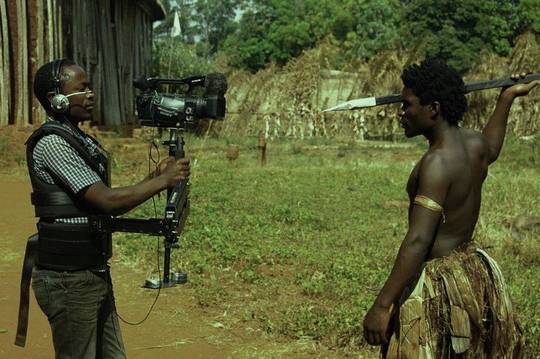 Cameroon History scholars and fans of telefilms would find the rest of 2012 on national television quite exciting. One of the most eventful episodes in the country's history, translated into film is ready for broadcast. Zintgraff and the Battle of Mankon hits the CRTV airwaves for the first time on Saturday March 24, 2012 at 7pm, Yaounde time and will probably be beamed into homes till same time next year. The serial is programmed to fit an arrangement reached in 2009 between CRTV and independent producers for the latter to feed the national television with local fictions that meet the taste of the audience. Its trailer will probably run again on CRTV for the whole week.
Written and produced by Godwin Nganah, Zintgraff and the Battle of Mankon was a big mobilzer production, bringing together scores of actors from several parts of the country. It was shot late last year on locations in and around Bamenda in the North West region of Cameroon. It tells the story of Eugen Zintgraff's explorations in Mankon in the 19th century, learnt in primary school history.
The Premier Films film is directed by Musing Derick T, starring Vugah Samson, Lynno Lovert, Epule Jeffery, Kome Epule, Yengo Yvonne, Neba Godlove and Tati Charles. This epic film comes after three other telefilms produced by Godwin Nganah's (CEO) Premier Films for CRTV. In 2006, the Yaounde-based production company did Trials of Passion II, screened on national television, followed by My Successor and Audacity of Love (in 2009 and 2010 respectively) directed by Asaba Ferdinand aka Penda.