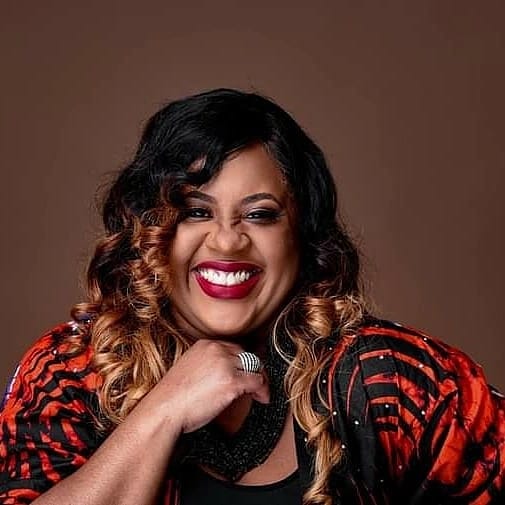 If the youths of today must lead and be better leaders tomorrow, they must be empowered. Youth empowerment specialists and promoters have sorted out education as one of the strongest and most value tools youths need to have, to be able to face tomorrow's potentially challenging world. Quan Angelic Abazie comes from this background, where preparing today's youth, is the surest route to a successful tomorrow. The multi-disciplinary youth empoweree, recently named as member of the International Board for Empowering Our Youth Foundation, is geared at outreaching to places around the world, including Ghana and Nigeria, to not only deposit resources to young people and youth organizations, but to impact the leaders of tomorrow through her mentorship. This Thursday, September 23, 2021 on Apex 1 Radio, Quan, who is a Master's degree holder in Education and author of an upcoming book YOU HAVE THE VICTORY, explains her interest in developing young people as well as her newest assignment with the Empower Our Youth Foundation. She will be protagonist on APEX SNAPSHOT, starting at 6pm EST.
Join us:
Web : www.apex1radio.com
Mail : This e-mail address is being protected from spambots. You need JavaScript enabled to view it
Fb: https://m.facebook.com/Apex-1-Radio-wwwapex1radiocom-1594720084183001/
Tunein App: http://tun.in/sfljl
Radio Garden: http://radio.garden/listen/apex-1-radio/ZPGiJ9KM
Last Updated on Wednesday, 22 September 2021 02:41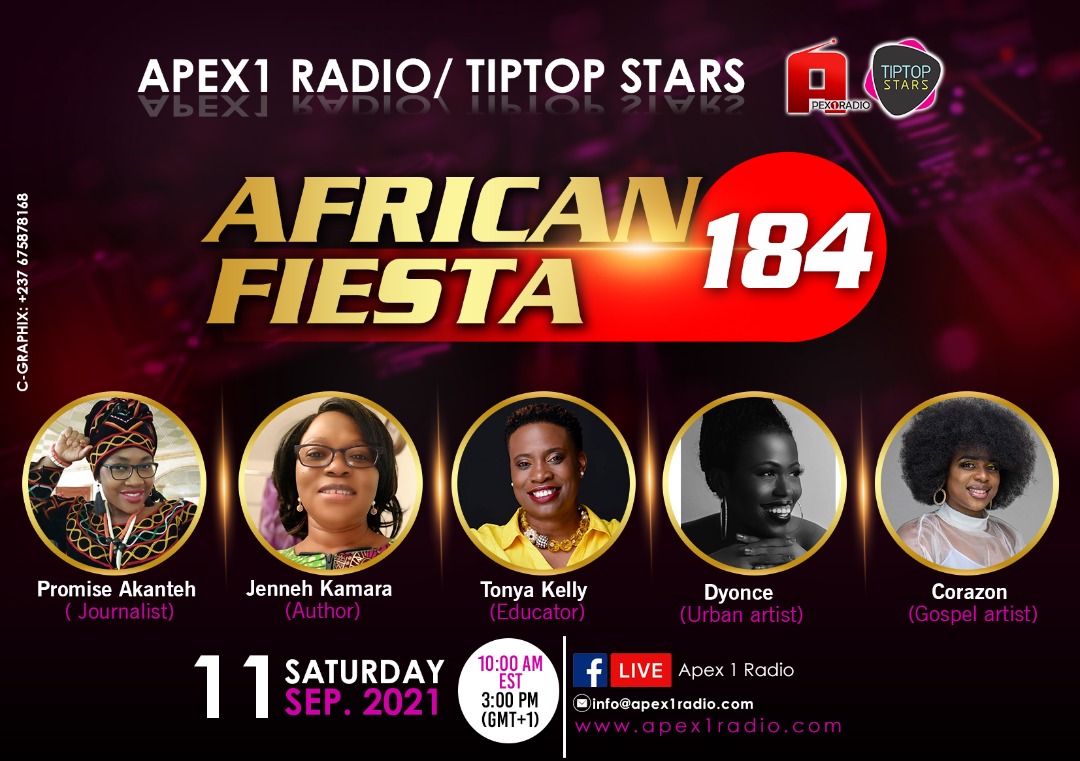 Africans in the diaspora are increasingly translating stories into books, many of which provide great life's lessons. In her transformational lifestyle book titled MY 29 MAY: WHAT IT TAKES TO TRANSFORM YOUR LIFE IN 24 HOURS, Jenneh Kamara motivates readers on the possibility of making good out of life. The Holy Spirit is also largely known for making this happen, a similar message gospel music artist, Corazon is sending across in her latest tract, LEAD ME HOLY SPIRIT, released on September 6, 2021. The release of Corazon's new track comes five days before Tonya Kelly takes to the rostrum to speak at the 2021 KIDZ IN BIZ EXPO. The Columbus, Ohio-based educator who doubles as a Journalist, will be discussing youth empowerment at the exhibition, an event that resembles the ones Promise Akanteh would normally cover and report on CULTURAL VIBES, one of the leading radio shows in Yaounde. The show covers all areas in art and culture, including music and musicians such as Dyonce, the young, yet so talented rapper. These women of valor, making great strides in their respective domains, will be joining us on radio this Saturday to tell their stories. They form the team of guests on the 184th edition of AFRICAN FIESTA. The show comes up this Saturday beginning at 10 am EST (3pm gmt+1).
Join us:
oin us:
Web : www.apex1radio.com
Mail : This e-mail address is being protected from spambots. You need JavaScript enabled to view it
Fb: https://m.facebook.com/Apex-1-Radio-wwwapex1radiocom-1594720084183001/
Tunein App: http://tun.in/sfljl
Radio Garden: http://radio.garden/listen/apex-1-radio/ZPGiJ9KM
Last Updated on Thursday, 09 September 2021 02:09
In 2018, multiple award-winning Ndamo Damarise acknowledged to this writer on radio that she was talented. "However, my stride in the movies is thanks to the power of God," she stated. "I depend on Him for every breakthrough." Three years later, her brightest sunshine in her movie exploits came showering - THE FISHERMAN'S DIARY. Hardly had dust settled on the Netflix sensation, than an international assignment in Nollywood came calling. After spending some weeks in Nigeria where the actress was filming STARNGERS, the said movie, she has returned to Cameroon where she has continued shooting. Damarise, a Zulu African Film Academy Awards, ZAFAA global awards winner, comes back on Apex 1 Radio to assess her progress this far. THE FISHERMAN'S DIARY, CAMIFF 2021, STRANGERS, etc, will constitute our conversation with the actress on radio this Thursday. She is our protagonist on APEX SNAPSHOT. The show starts at 9am EST (2pm in Buea).

Join us:
Web : www.apex1radio.com
Mail : This e-mail address is being protected from spambots. You need JavaScript enabled to view it
Fb: https://m.facebook.com/Apex-1-Radio-wwwapex1radiocom-1594720084183001/
Tunein App: http://tun.in/sfljl
Radio Garden: http://radio.garden/listen/apex-1-radio/ZPGiJ9KM
Last Updated on Thursday, 09 September 2021 03:10
After what lovers of his works have described as a disturbingly long silence, USA-based Cameroonian filmmaker, Agbor E. Stephen aka Big Steve is back on the film set. His latest movie, BACK TO KINSHIP is set to be released at a premiere billed for Douala's Canal Olympia on October 15, 2021. Shot some time ago in New Orleans, the movie is directed by Big Steve himself, starring Cameroonian international actress and Nollywood's Okawa Shaznay, frontline Cameroonian urban artist and rapper Stanley Enow and Joseph Benjamin.
With director Neba Lawrence and under the banner of Chrono Entertainment, Big Steve produced some of the most valued Cameroonian movies, before his relocation to the United States. Steve is known to have been the fisher of some talented actors who later occupied the front seat in the country's film industry bus, including Tanyisong Candylaurice. He released works back-to-back. From 2007 till he moved to the USA, the producer of the highly mediatized CLASH OF INHERITANCE (starring Solange Ojong, Quinta Eyong, Moma Pascal aka Bob) and directed by Neba Lawrence, released PHEONIX SCAR, NEGLATED TRADITION and GREAT OBLIGATION.
BACK TO KINSHIP, a New Genre Films is Steve's first movie, shot in the United States. It comes at time Cameroonian movies are displaying an amazing show of competitiveness and answering present at internationally acclaimed movie streaming headquarters – Netflix and Amazon Prime Video. Agbor Steve will be on Apex 1 Radio in the coming weeks to throw more light on BACK TO KINSHIP and his experience shooting in the USA.

Promise Akanteh is a refined Journalist who also takes interest in promoting arts and culture. On her radio show, CULTURAL VIBES, produced on Royal FM Yaounde, the host and her guests delve into the core of various cultural values in music, dance, craft, fashion, etc. Artists such as Leonette Ayeah who display an amazing mastery in handwork are the kind of guest Promise would have on CULTURAL VIBES. Leonette recycles tyres, transforming them into beautiful home furniture. Her furniture would look great on the screen, if used as a film set by filmmakers such as Ruth Nkweti whose appetite for knowledge in her field continue to grow by the day. Ruth just rounded off a course in digital filmmaking, a reason to celebrate the goodness of God, just like her namesake, Ruth Asong does in her music. Asong is currently building a rich gospel music career at a time Dr Robert Kargbo has engaged a writing journey he hopes to use in helping people solve interpersonal conflicts. His book, THE ACT OF SOLVING INTERPERSONAL PROBLEMS is in circulation and available of Amazon. These ingenious Africans and their works/projects, constitute this week's edition of AFRICAN FIESTA on Apex 1 Radio. The show comes up this Saturday beginning at 10 am EST (3pm gmt+1).
Join us:
Web : www.apex1radio.com
Mail : This e-mail address is being protected from spambots. You need JavaScript enabled to view it
Fb: https://m.facebook.com/Apex-1-Radio-wwwapex1radiocom-1594720084183001/
Tunein App: http://tun.in/sfljl
Last Updated on Friday, 20 August 2021 14:06