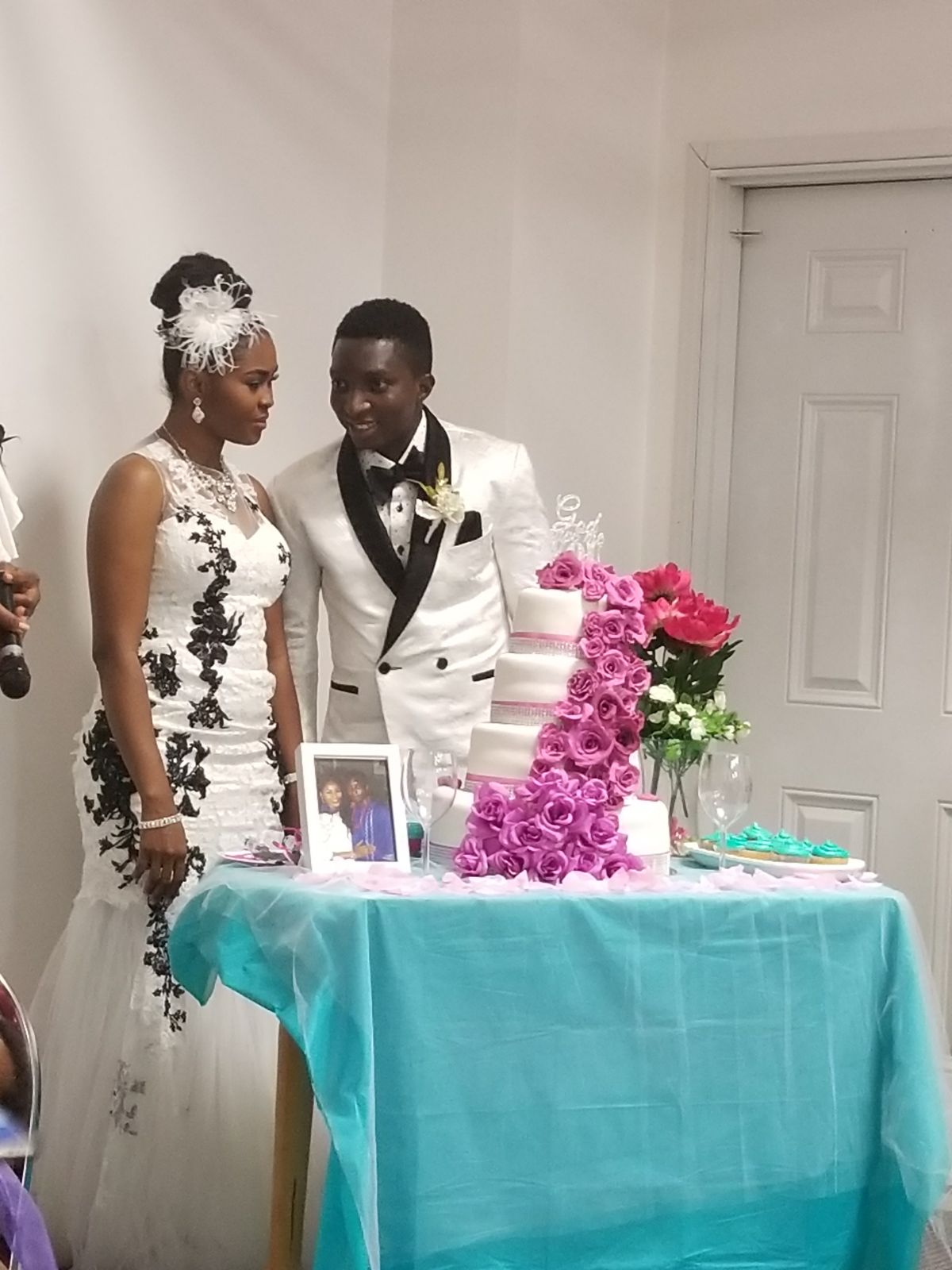 When we will not be writing about her music, as is the case in this report, we will simply be referring to Pandita Njoh as Mrs Ekun. The USA-based Cameroonian gospel artist, on Saturday, November 4, 2017, sealed a marital deal which has graduated her and young Edmound Ekun to the happy status of husband and wife.
The nuptial knot was fastened at a religiously-powered event that took place in the Ohio city of Fairfield, found within the Cincinnati metropolis.
As expected, scores of family members, colleagues and friends thronged the event venue to witness how the venerated praise singer was brilliantly obtaining her certification into a new form of art – the art of running a home as a wife.
For once, the song mistress was a student and this time, in a discipline that is new to her – marriage. That explains why the gospel singer, now Mrs Ekun and the soft-spoken gentleman who has from November 4 2017 become her spouse, gave their ears attentively to speakers at the event. One after the other, they mounted the rostrum to tell their respective stories about the couple.
In all of what the speakers who included Pandita's family members, friends and Men of God said, two things emerged – marital endurance and love. The couple was assured with all honesty that undesirable moments would characterize their matrimony. "That however doesn't mean you are going to separate, rather, you should gather inspiration from such moments to intensify the love you have for each other and pray harder," one speaker advised.
To Columbus Ohio-based Pastor Manaseh Omechamba who revealed that Pandita and Edmound were daughter and son from his hometown Mamfe (South West region of Cameroon), where they had all worshipped together, the American lifestyle, generally known to be disgustingly challenging, shouldn't be given a place to thrive in their matrimony. "Forget the American grammar and make your marriage successful," the Man of God said.
To the groom, his bonding to Pandita is the fulfillment of God's will and a blessing in abundance. "She is at the center of every good thing that has happened in my life," said the gospel singer's husband, as he looked directly into the latter's eyes. "And, I'm promising this audience here today that I'll live with her forever and nothing will separate us," the young husband pledged.
The highlight of the wedding evening was no doubt singing part of the event – Pandita's comfort zone. With pump and pageantry like she has never done before, she performed Hallelujah Praise, her current single to the utter satisfaction of her spouse. More music, supplied by the King's House Christian Center church band, characterized the entertainment and joyous phase of the wedding.
Also present were Franka Faith and Damaris Fazao, Pandita's close aides and gospel artists who accompanied the church orchestra in musically gracing the event.
Before Pandita, Alex Emile, another USA-based Cameroonian gospel music artist tied the nuptial knot in June 2017. The newly wed artist has spent several years in the song ministry. In 2013, she released her first single, Life Don Better. The video of Hallelujah Praise, the current one, was released over six months ago and has enjoyed a great feedback.
Last Updated on Sunday, 05 November 2017 03:16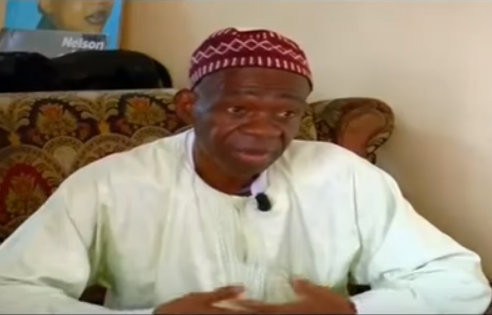 My effortful search for words to use in knitting this farewell piece to a man whose professional life heavily influenced me, never bore fruits. Such words turned out to be clearly hard to find and made this eulogy the most difficult writing assignment I ever encountered in my years of experience in print.
I dreaded doing this piece – I hoped I did not. I hoped I rather spilt ink, celebrating more of such glorious moments as Zachary Nkwo's Ultimate Commentary, which Fon Echekiye, one of the celebrity football commentator's disciples, presented as his last gratifying offer. I would rather have been happier reporting on a next such project which I conjectured would come, if not yesterday, today or even tomorrow.
But, that I was going to be weaving a piece of writing about my mentor, my dad in journalism and mightiest source of inspiration, in the past tense, is the last thought that could hover around my mind. It's seriously not a palatable exercise! However, as the circumstances have compelled me, so too have I had to heed to the call.
While struggling to find a silver lining that could console me out of the disturbingly thick dark cloud that fell on the Cameroonian media family, following his demise, I hung on my privilege first, to have known Zach (as we affectionately called him), secondly, to have been part of his editorial school, and thirdly, attended his school of life.
Just like scores of other young people of my generation, I was one of his disciples and we so unconditionally believed in the man. One common trait that was characteristic of our discipleship to the man, was the addicted love for his professional values which in most instances were unique. There was little that could be done to dissuade us.
My story with the legendary football commentator began in the early 80s when like millions of other Cameroonians, I could visualize the fleet-footed Roger Milla, agile Ebongue Ernest, skillful Tokoto Jean Pierre, catlike goalkeeper Thomas Nkono, etc, thanks to Zack's matchless play-by-play commentaries.
As I grew to discover a solid love in journalism, my interest gradually shifted from the picture of the talented footballers Zack had beautifully drawn on my mind via radio, to the art the great commentator was performing in such an extraordinary manner. Zack in the commentary booth, gesticulating, in the process of running those sassy commentaries, became the next set of images on my young mind. How and when I would have the golden opportunity of witnessing this unique artistic performance became the big dream. And, how and when such a dream would turn into a satisfactory reality, is what I waited for with an uncontrollable anxiety.
In mid-1993, during a maiden physical visit to a radio station, I met Zack for the first time. I had only visited CRTV Buea to take part in a radio show for pupils and students on vacation. Each day I showed up for Holiday Workshop, the said programme, I would spot the man who was later going to be my mentor, from a distance, but would lack the courage to approach and announce my long-time admiration for his craft. How was I going to line up my words before start delivering them to such a mighty house in journalism, if I had not sufficiently rehearsed them? Zack of course was and still is a 20-ton weight media personality.
It was not until June of 1996, when I found strength to meet the man and confess my love for his works. This time, I had made it to CRTV Buea as a journalism student on internship, from the University of Buea. That fateful morning, after the news conference, I mustered courage, walked into his office just next to the newsroom (for those who know the Likoko Membea building) and reported myself. In addition to my testimony of clinging to my radio set back in the 80s to feed on his commentaries, I revealed to Zack that I had a knack for sports reporting and would praise God forever, if he allowed me write and present papers on his week Sports Special show.
Zack wouldn't quickly fall for serious things. He would joke at everything and make fun of the most serious ones. The rest of the time I spent with the guru in his office that day was fun about everything else, except his success story in football play-by-play reporting and/or the Sports Special show I badly yearned to be co-opted in. He was neither friends with self-aggrandizement nor praises rained on him. To Zack, living a down-to-earth life was more important than the great strides he had made in football reporting.
However, at the end of the day, he gave me a topic for a three-minute report on the next Sports Special edition. My task was to do some analyses on the 1996 South West Second Division football championship which was ongoing. You can guess how I stayed awake all night, making sure I flexed all my writing muscles to impress the man whose record in the commentary booth has never been beaten. Also, I was going to be on a show that was widely savoured in South West and Littoral homes with unending appetite. Every such thought, prior my maiden participation on Sports Special was palpitating.
To be continued…….…..
Last Updated on Monday, 21 August 2017 16:56
Naomi Achu is very good on rap. Then, when she is powered by the Holy Spirit, she becomes excellent on the art. This is what the urban artist just experienced in her latest promotional track, Power of God, carved out from her current album.
The 4.20-minutes track whose video was released on Tuesday, July 18, 2017, features Pastor Okudi George, the renowned sound engineer and music producer. In Power of God, the USA-based Cameroonian musician comes out confidently, defying shame vis-à-vis the gospel. Rather, the Queen of Bamenda (as Naomi is affectionately called) is searching her spirit for the muscle with which she will combat the enemy.
The power in Naomi's latest extract lies in the use of words that depict the strength of God – glory, honor, power, redeemer, worship, Holy Spirit, elevate, gravitate, etc. The rapper intertwines these words magnificently to bring out the color of Power of God.
In a rare black and white music video style, the rap heroine and Okudi perform the dance in the best of the ability.
Apart from Power of God, Naomi also has Shower Your Blessings, another gospel track that is comprised in her 2016 album. Power of God can be watched on YouTube.
Meanwhile, George Okudi, featuring in the track has worked with scores of Cameroonian musicians including Alexis E. and Lucy Tene. Naomi Achu will be throwing more light on this latest project on Apex 1 Radio (www.apex1radio.com) in the coming days.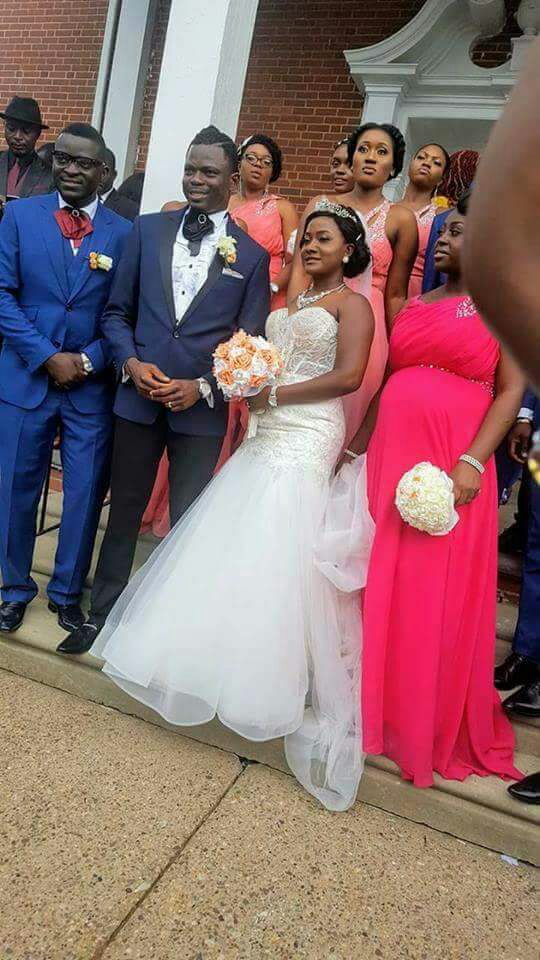 The one thing no one would have doubted about his wedding was the presence of beautiful music. Prior to the nuptial knot show, his fervent fans, friends and persons who have consumed his works in the past, had conjectured that Alexis E.'s humblest gift to his bride and guests to what turned out to be a classic wedding event, was going to be soul-searching music – the kind of works that have become the gospel music artist's hallmark. Indeed, it came to past.

This time, the targeted beneficiary of what author of Miracle (Alexis' 2016 album lead track) knows best, was the queen of the day – Ajebe Dione Marie-Terese, the beautiful bride who as from Saturday, June 17, 2017, became the spouse of the frontline gospel music artist.

In the first of the two latest tracks, purposely composed for his wife, the Music Man (as the USA-based Cameroonian singer is fondly called) paid tribute to his father in heaven for changing his life. As Alexis, clad in immaculate white agbada (traditional attire common of the people of the northern regions of Cameroon and Nigeria) danced his lovely spouse along into the celebration hall, for the traditional entry, the artist reminded his audience in Jehovah Oh Yeh that the same God who has done it to him, is the same who would do it to them. The sweetness in the message and melody attracted more wedding guests to the floor as they rained bank notes on the latest couple in town.

As if that was not enough, Marie-Terese, the wife of the Music Man got the second spoiling, this time, with a love track that whipped even those it was not meant for, off their feet. As the artist performed Marie-T, the said track, Alexis sang words of love into his gorgeously dressed bride's ears. He recounted the story of how his life has changed, thanks to his golden gift from God. "My life will never be the same again," the singer chanted. And added: "He who finds a wife, finds a good thing."

In the captivating zouk masterpiece, Alexis E confessed to Marie-T (as Ajebe Dione is affectionately called in the love song), that he was so happy to be her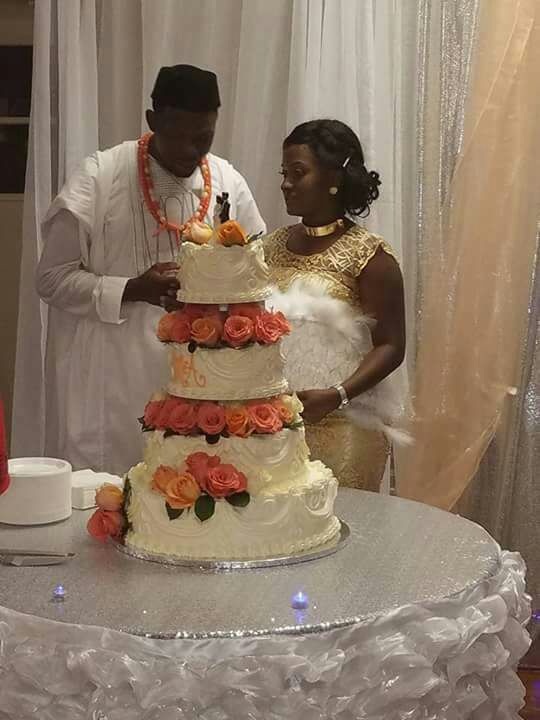 husband. The bride who at this point could not resist the palatability of this fantastic piece of a wedding gift was up dancing to tune of a track she was savoring for the first time.

The sight of the heart-to-heart song performance in honour of a bride plus the flare that usually characterizes the unique voice of the singer, quickly whipped emotions across the spines of whoever witnessed it, be they guests to the New Jersey event or viewers on facebook where Alexis' wedding was streamed live. "I couldn't help shedding tears of joy," a Minnesota fan of the gospel singer told TIPTOPSTARS. "Alexis is such a humble artist and I couldn't feel more proud of him – in fact, he is a blessing," she explained further.

The June 17 white and orange wedding of the popular, yet humble gospel music artist was an edifying package whose spectacular success was also largely thanks to Alexis' best man, Ntube McBright-Powell aka B1. The latter with whom Alexis virtually grew up played a salient role in the organization of the event, a specialty of the Bespontube Management outfit boss who doubles as a musician.

According to reports, the chief bridesmaid, Ekane Pearl and chairperson for the wedding, Danny Ndamukong, were wholly satisfied with the outcome.

Known for his wit in song composition, Alexis E has scores of beautifully crafted songs including Miracles, Finally, Dry Bones, Mega Things, It's Alright, What Shall I Give, Life and Everybody Hear This Song. He is observed to be endorsed with a very huge supply of inspiration and has the propensity to compose songs at the shortest notice.

His wedding came exactly nine months after the release of Miracle, his maiden gospel music album whose launching took place on September 16, 2016.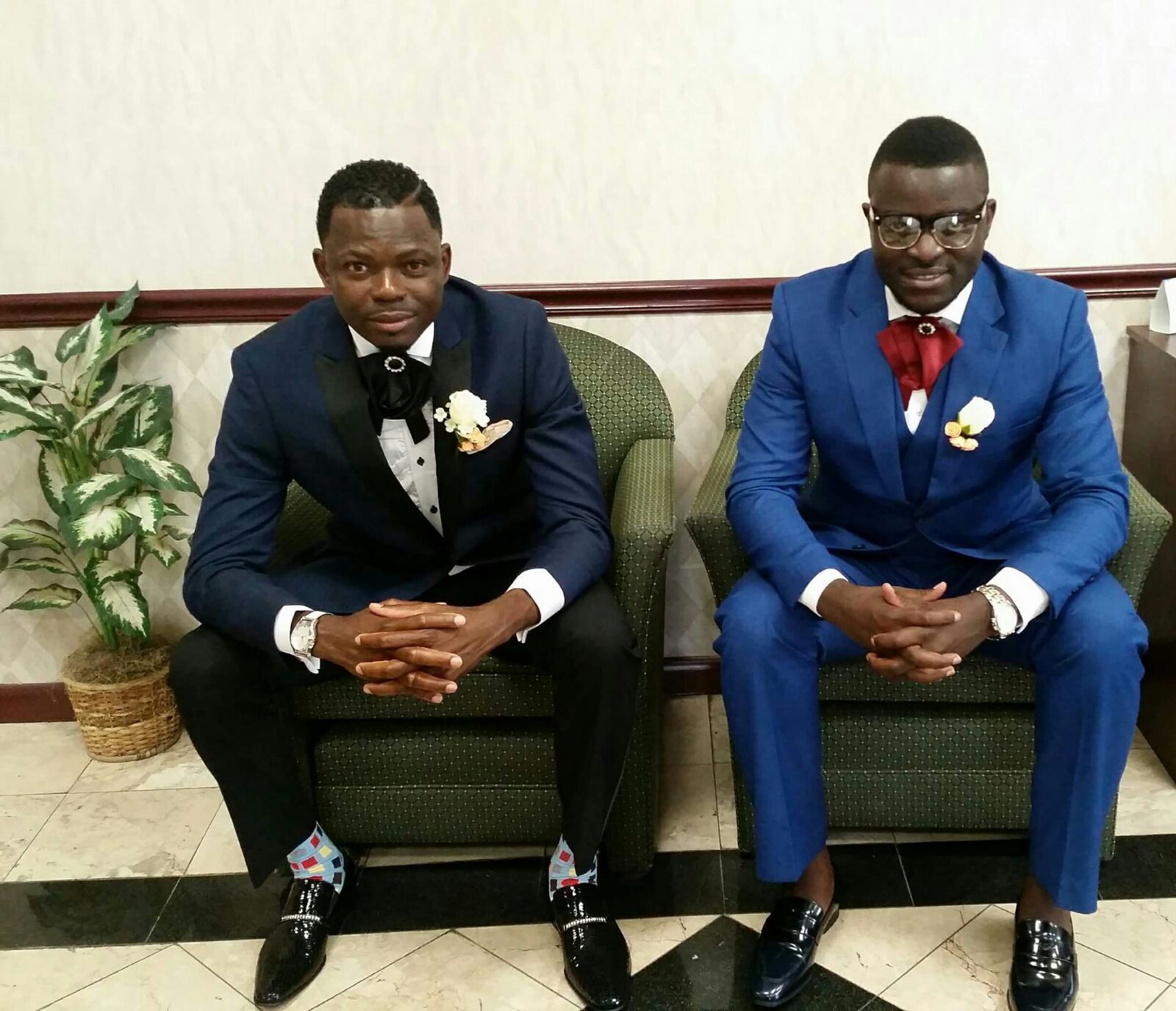 Last Updated on Sunday, 09 July 2017 15:22

In an upcoming 269-Seonds track anxiously awaited, Cameroonian gospel music artist, LIA, has explained why we undoubtedly become more strengthened, when we pick up born again status. Further enlightening TIPTOPSTARS on the message in Cos I'm Born Again, the singer holds that when we become born again, God lives in us and we begin to exhibit supernatural tendecies. "We are His representation and representatives. When we sing, He sings through us and we are excellent in the things we do," she admits.
According to the Canada-based gospel musician, the story in her new Single, produced by Rad, is a reflection of her experience in faith. "It relates to my life's journey and how God turned my sorrows into honour and my weeping into singing," says the singer, who is also a minster of the Word and a journalist.
Even before Cos I'm Born Again is made public, LIA says she can be caught all the time chanting the soul-searching Single to herself. "This track strengthens my faith, especially when faced by trials," she reveals. And adds: "I refuse to see challenges but choose to see God's glory and power above everything else, so I can stay focused on the calling entrusted to me."
Apart from English which takes a larger portion of the neatly crafted piece of music, Cos I'm Born Again is also sung in Ibo, Yorubo (Nigerian mother tongues) and some Ghanaian mother tongues. "This is in a bid to exalt and spread the Word of God further," the artist explains.
Cos I'm Born Again whose video sees the light of day next week, will be comprised in LIA's maiden nine-track album expected in the coming months. Other songs on the album titled Arise are Never Stop, Champion, You Are The Reason, Amazing Grace, Unstoppable, I'm Healed, Hosanna and Trinity. It will be uploaded on CDbaby eventually and will be available on iTunes Spotify as well.
It should be recalled that LIA (Lum Irine Asanji otherwise Lord Is Able) released a Single last year. Trinity, the said track has enjoyed a soothing acclamation from its audience.
LIA will be on Apex 1 Radio (www.apex1radio.com) in the next couple of days for updates.
Last Updated on Saturday, 10 June 2017 13:15